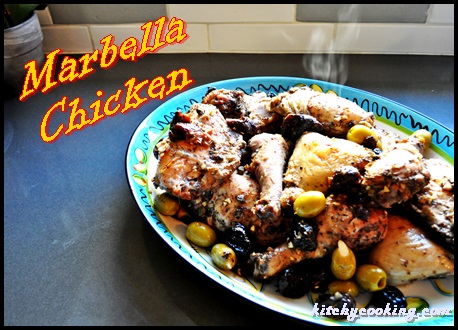 Every year Passover comes around I'm always struggling to figure out what to make for the seder. I mean, we can't have pork. No, I don't keep kosher, but I always try to follow the rules during the holidays; no pork means no ham. Beef is is a possibility but that usually takes more time than I have. So, all I'm really left with is chicken or lamb. The only issue with either of those is you usually need to make a lot because if your seders are anything like mine, there are usually tons of people at the dinner table.
For years my mom and I would always tear through her cookbooks looking for something that would feed the army coming through the door in a few hours.  Every year we made something different and survived. But one year my mother was at a brunch and tasted what she said was one of the best chicken dishes she'd ever had.  When she asked the host for the recipe, she directed my mother to the Chicken Marbella from the Silver Palate Cookbook. It's a cookbook that she'd been using forever and one of the first cookbooks I bought when I moved out on my own.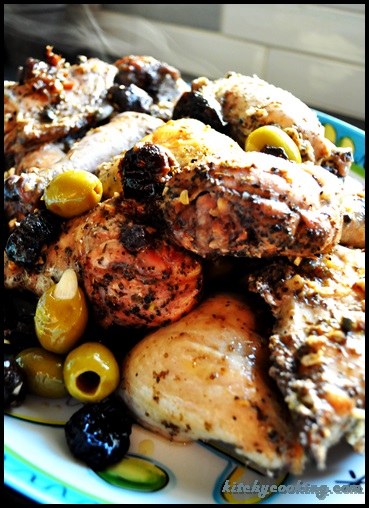 There are plenty of great dessert recipes in this book, and several main course dishes we've made over the years as well. But my mother always avoided the Chicken Marbella because of its ingredients. It calls for prunes and olives and brown sugar. Does that combination sound good to you? It didn't to my mother or me either. But this recipe showed me you can't always trust an ingredients list. I mean, just because the ingredients sound awful, doesn't mean that when mixed together they won't be amazing. And that's exactly what this recipe is: amazing. The fact that it tastes delicious and feeds a ton of people makes it ideal for either Passover or Easter.
While the recipe does take a little extra time because it should be marinated overnight, it's totally worth it. See, the longer it marinates in the garlic, salt, vinegar, oil and other ingredients, the more flavorful this recipe becomes. It's also that marinade that makes the chicken moist and even improves the longer it's in the refrigerator; and there's absolutely nothing better than flavorful moist chicken. The best thing about this recipe though, is the fact that you'll probably have leftovers. You'll be thrilled when you do because those leftovers are just as flavorful as the original no matter whether they're hot or cold. Between you and me, I actually like the leftovers better than the original. But I'll let you be the judge. The fact that it's been a favorite at the Silver Palate stores for decades practically guarantees it'll be a favorite at your house. It's a favorite at mine and is now the go-to entreé for big holiday dinners, especially Passover. Maybe it'll be your go-to, as well.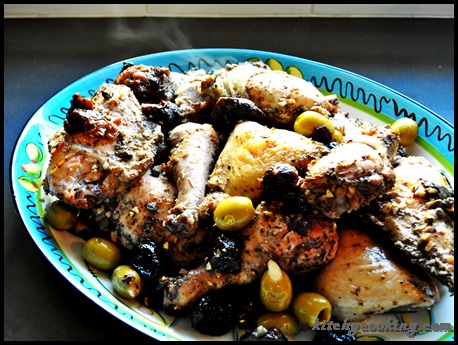 Marbella Chicken
Ingredients:
2 chickens, 3 pounds each, quartered
1 head of garlic, peeled and minced
1/8 cup dried oregano
salt and pepper to taste
1/4 cup red wine vinegar
1/4 cup olive oil
1/2 cup pitted prunes, chopped
1/2 cup Spanish Green Olives, pitted and halved
1/4 cup capers with the juice
3 bay leaves
1/2 cup brown sugar
1/2 cup white wine
1/4 cup Italian parsley, finely chopped
Directions:
Combine the first 10 ingredients (through the bay leaves) in a large bowl and toss to coat. Cover and marinate in the refrigerator overnight.
Preheat the oven to 350°F.
Arrange the chicken in a single layer on one or two large baking pans. Spoon the marinade over the chicken. Sprinkle the chicken with the brown sugar and pour the white wine around the poultry. Bake for 50 minutes to an hour, basting frequently with the pan juices.
Transfer the chicken, prunes and olives to a large serving platter with a slotted spoon. Drizzle the chicken with a few spoonfuls of the pan juices. Sprinkle with parsley and serve, passing the remaining juices in a gravy boat.