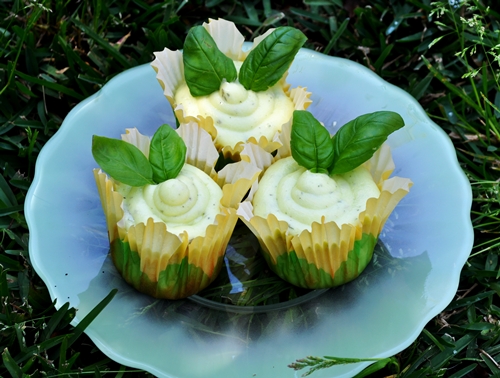 Earlier this week I was lucky enough to be stung by a bee.  Well, maybe lucky isn't the best word to describe the situation; unlucky's probably a better choice because let me tell you, if you've never been stung by a bee, IT HURTS! But anyway… something struck my as I watched that bee's life slip away. Although bees have a painful way of protecting themselves from danger, they also provide a wonderful ingredient for all us tea-drinkers: honey.
I've loved honey for as long as I can remember.  Whether it comes in a plastic bear or a jar, whether it comes from local wildflowers or across the sea, I can never get enough, no matter what form the honey takes.
Well, a little over a month ago I was at Camp Blogaway where I discovered a wonderful honey-based product: lemon honey crème from Honey Ridge Farms.  This product is so delectable it may become my go-to choice for which anything I would normally use honey.
Founded in 2004 by Leeanne Goetz, Honey Ridge Farms focuses on the creation of high-quality, all-natural specialty gourmet honeys and honey-based specialty foods, one of which is this wonderfully decadent lemon honey crème. After tasting it at Camp, I grabbed a couple extra jars to take home, determined to make something with it.  So, after much thought and several taste tests, I finally realized how I could use the crème (besides eating it by the spoonful), it would be delicious as a cupcake.
Since lemon and basil go so well together, I thought why not make some lemon cupcakes with the lemon honey crème hiding in the center. And the basil? That I turned into a thick buttercream with which to frost the tops.  The end result was more than I could hope for – a sweet & sour cupcake filled with thick & creamy lemon deliciousness that's topped with a sweet and slightly spicy buttercream.  It's a grown-up cupcake that absolutely screams summertime.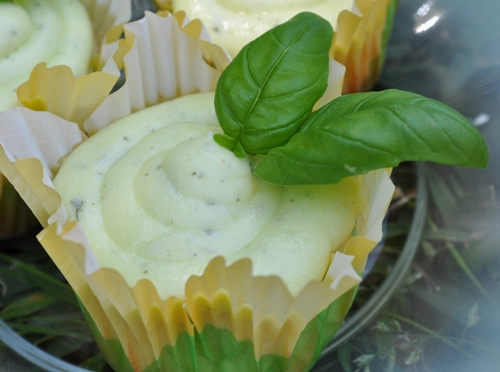 Lemon Honey Crème Cupcakes with Basil Frosting
For the Cupcakes
1-1/2 cups sugar
lemon zest from 2 lemons
1 stick unsalted butter, at room temperature
4 eggs
2-1/4 cups flour
1 Tbsp baking powder
1/2 tsp salt
1 cup buttermilk
1 tbsp + 5 ounces of lemon honey crème
Preheat oven to 350°F and prepare two cupcake tins with liners or non-stick cooking spray.
Place the sugar and lemon zest in a food processor and pulse until the sugar's fragrant and light yellow in color.  Transfer sugar mixture to a large bowl and mix with the butter in a stand mixer on medium speed until the butter and sugar are very light, about 3 minutes.  Add the eggs one at a time.
Meanwhile sift together the flour, baking powder and salt and set aside.
Beat in one third of the flour mixture at medium speed.  Add half the buttermilk and continue beating until combined. Continue alternating between the flour mixture and buttermilk until they're both incorporated.  Add the lemon honey crème and continue beating for another 2 minutes, until thoroughly mixed.
Pour the batter into the prepared cupcake tins and bake for 18-20 minutes, or until golden and a toothpick inserted into the center comes out clean.  Cool completely on a wire rack.
Once the cupcakes are cooled, hollow out a small circle in the center of each cupcake.  I used an apple corer, because it's much easier than a knife or spoon.
For the Basil Buttercream Frosting
1 cup water
1 cup fresh basil
1/3 cup crisco
1/4 cup unsalted butter, at room temperature
4 cups powdered sugar
2 tsp dried basil leaves
Stir fresh basil and water together in a small sauce pan over medium-high heat.  Bring to a boil, stirring occasionally and boil for 1 minute.  Remove from heat and let stand for 30 minutes.  Pour liquid through a mesh strainer into a container and discard basil leaves.  Set aside.
Combine crisco and butter in a large bowl and mix on medium speed in a stand mixer until light and fluffy. Slowly add powdered sugar and mix until well blended.  Add 1-3 tablespoons of basil tea and dried basil leaves and mix until well combined.  Continue beating until frosting is smooth and fluffy.
Once you have the hollowed-out cupcakes and buttercream prepared, fill the centers with honey lemon crème and top with basil frosting.