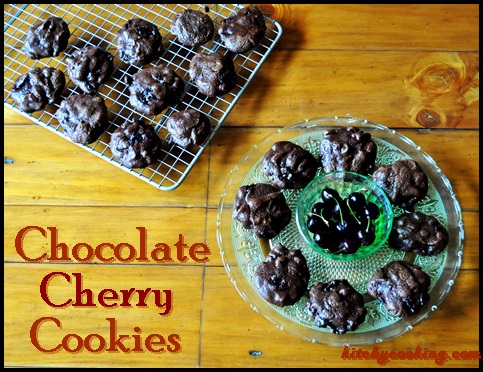 If there's one thing I love about the farmer's market, it's the constant discoveries I make each and every time I go. We're in the middle of cherry season and I love cherries. Every year I count the days from the moment the stone fruit season ends until it starts up again and it always starts with cherries.
If you're a cherry fan you know the classics like Bing and Rainier, but did you know there are several other kinds that all have slightly different tastes? There are Lamberts, Minnie Royals, Royal Anns and Stellas just to name a few. I've enjoyed both the Bings and Minnie Royals as well as the Rainiers, but last year I experienced a new cherry that absolutely blew my mind. They're called Tartarians and they're AH-MAZING!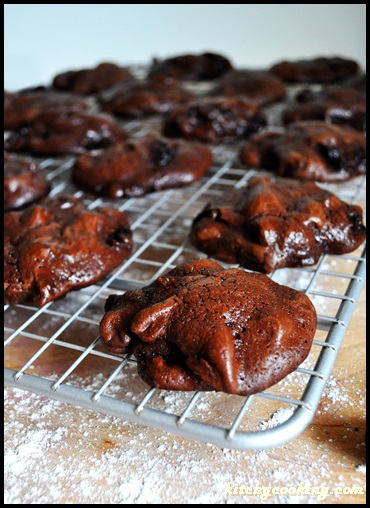 I don't even know how to describe these awesome little red spheres. They're rich and sweet and have such a powerful burst of cherry flavor. You only need to taste one before you're craving them all year long. I'm not kidding. After I sampled these delectable stone fruits last year, I couldn't get enough. And then like Keyser Soze, they were gone. Seriously. One week later I couldn't find them anywhere. So, I waited. And waited. And waited for the season to come back around.  As soon as cherries started popping up at the farmer's market this year I searched and scoured for those Tartarians. No one had them. But then last week, the vendor I bought the Tartarians from last year appeared, and he had them. Of course I bought a few baskets, and just like last year I came right home and created something sweet.
Last year I made some Cherry Peach Yogurt Pops. This year I decided to go for something a little richer. Something that would last on a platter or could be taken to a picnic or potluck. Something that you could eat with your hands and enjoy with either an after-dinner drink or a simple glass of milk. These cookies do all that and more. They're sinful, decadent and definitely worth a taste. I know I'll be making another batch. But it's gotta be soon because just like last year, I only have one more week before these cherries are gone. So, I'm grabbing a few more baskets because there's just no way I can wait another 11 months for that spectacular cherry flavor… or these cookies.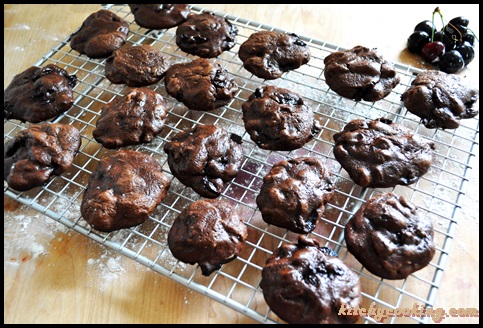 Chocolate Cherry Cookies
Ingredients:
2 1/2 cups semisweet chocolate chips
6 Tbsp flour
1/2 tsp baking powder
1/2 cup of sugar
2 eggs
2 Tbsp dark corn syrup
1 cup cherries, stemmed, pitted and chopped
Directions:
Preheat oven to 350°F.  Line 2 baking sheets with parchment paper.
Melt 1 1/4 cups of chocolate chips in a double boiler over medium heat. Cool for 15 minutes.
Sift together flour and baking powder in a small bowl.
Beat together the sugar, eggs and corn syrup in a medium bowl until thick, about 3 minutes.  Gradually beat in the melted chocolate, then the dry ingredients.
Fold in the remaining chocolate chips and cherries.  Freeze cookie dough for 15 minutes.
Drop heaping spoonfuls of batter onto each prepared baking sheet, spacing the cookies apart (they'll spread as they cook).  Bake until cookies are softly set, 15-20 minutes.
Cool the cookies on the baking sheets for 5 minutes.  Using a metal spatula, transfer the cookies to wire racks and cool completely.