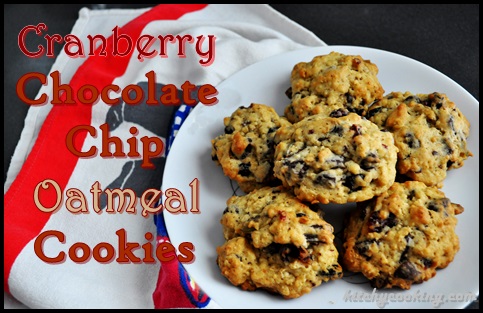 If you follow this blog, you know that I'm a huge cookie fan. But more than that, I'm a chocolate fan. Combining the two make me the happiest pinup in the world.
I've been making chocolate chip and oatmeal cookies since I could hold a spatula but I've never combined the two. Sure, I've tasted chocolate chip oatmeal cookies, I've just never made them. Then about a month ago Liz Berg of That Skinny Chick Can Bake posted a recipe for Loaded Oatmeal Cookies. Her recipe wasn't just loaded with oats and chocolate chips, but nuts and fruit as well. They sounded amazing and she said they were a big hit. So, I decided to try them. But before I did, I needed to make a few changes.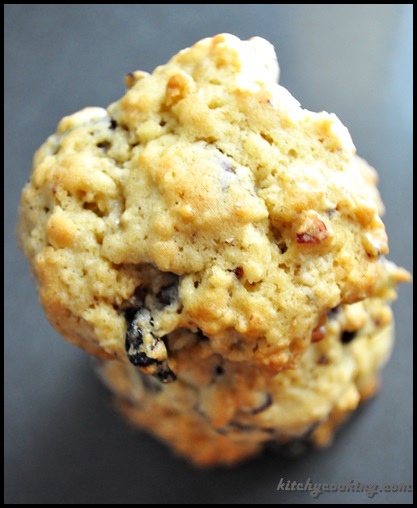 First, I live in a nut-free house since Hubs is deathly allergic to any and all nuts. Second, while I love cherries, we're right in the middle of cranberry season. I love chocolate and fruit together so I thought rather than dried cherries, I'd go with dried cranberries. They're a little more tart and would give the cookies a more festive, holiday feel. Sure these cookies will be great all year long, but they're perfect for your holiday party.
So, thanks, Liz for a great recipe that inspired this holiday twist. They were yummy and I can't wait to make them for my holiday party and many parties to come.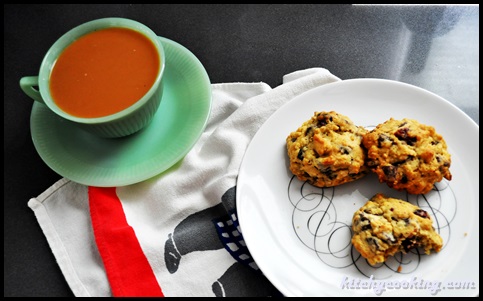 Cranberry Chocolate Chip Oatmeal Cookies
Ingredients:
2 cups flour
1 teaspoon baking powder
1 teaspoon baking soda
½ teaspoon salt
1 cup (2 sticks) butter
3/4 cup sugar
3/4 cup dark brown sugar
1 teaspoon vanilla extract
2 eggs
4 ounces bittersweet chocolate, chopped
1 cup semisweet chocolate chips
1 cup dried cranberries
2 cups old fashioned oats
Directions:
Preheat oven to 350°F and line a cookie sheet with parchment paper.
Whisk together the flour, baking powder, baking soda, and salt in a medium bowl and set aside.
In a large bowl combine the butter and sugars, and mix until well combined, about 4 minutes. Add the eggs, one at a time, and beat until well combined.  Add the vanilla and beat for another minute.
Chop the bittersweet chocolate into bite-sized pieces and set aside.
Slowly add the flour mixture, mixing well. Add the rolled oats, followed by the chopped chocolate. Mix well. Stir in the cranberries and chocolate chips. Chill for about 15 minutes before scooping onto the baking sheet.
Spoon the cookie dough onto the prepared baking sheet, and bake 12 minutes or until the cookies have set and are just starting to brown. Allow to cool completely on the baking sheet and serve.