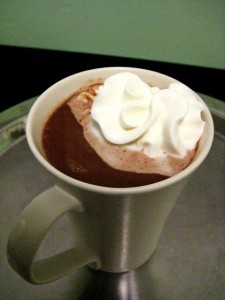 At the end of October I discovered the brilliant Cooking with Caitlin and their wonderful Foodies Night In on Twitter.  Foodies Night In is a group of food bloggers who get together every Monday from 4-6 EST and talk about a specific food topic from wine, to entrees, to entertaining. 
Of course the one I happened upon was all about chocolate.  Questions were asked, tips were given, and new food blogging friends were made.  It was so much fun and the best thing about it was it was 2 hours devoted entirely to chocolate.  I was in heaven.   We talked about the best kinds of chocolate to cook with, our favorite chocolate desserts and what some of our favorite alcohol/hot chocolate combinations were. 
One of my favorites is Hot Chocolate with a shot of Baileys Irish Cream.  There's nothing better after a day of skiing on the slopes.  So when I mentioned this on the #FNIChat (that's the hashtag we use on Twitter), I was shocked by how many people had never thought of putting those two things together.  And since so many people had never tasted this wonderful mug of heaven, I decided I had to post the recipe. 
I need to thank Rachel over at La Fuji Mama for directing me to Paula at Bell'alimento and her recipe for what has to be the absolute best hot chocolate on earth.  It's actually called Cioccolata Calda (that's Italian for hot chocolate) and it's amazing.  Not too sweet and so thick and rich, I almost wanted to eat it with a spoon.  I only made 1 small adjustment. That all important shot of Baileys.  But trust me, even without the alcohol, this hot beverage will make you stock up on all the Ghirardelli Midnight Reverie bars you can fit in your cupboard.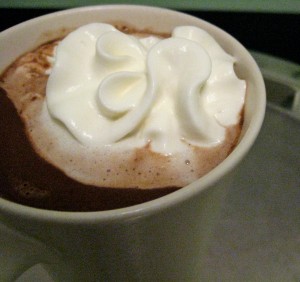 Hot Chocolate with Baileys Irish Cream
serves 2
100 g good quality bittersweet chocolate at least 70% or higher. (I used Ghirardelli's Midnight Reverie)
1 1/2 cups whole milk
2 Tbsp sugar
2 tsp corn starch
2 oz Baileys Irish Cream
In a saucepan over low heat add chocolate and 1/4 cup of milk.  Stir with a wooden spoon until the chocolate's melted.
Slowly add the rest of the milk until it's well combined.  Add sugar and mix well.
Pour a small amount of the chocolate mixture into a cup and add the corn starch.  Mix until well blended.  Pour this mixture back into the pan and continue cooking over low heat until it becomes thick and creamy and coats the back of the spoon.
Pour 1 ounce each of Baileys Irish Cream into 2 mugs.  Pour the hot chocolate into the mugs and serve. 
If you'd like to indulge even more, add a dollop of whipped cream or marshmallow fluff on top.