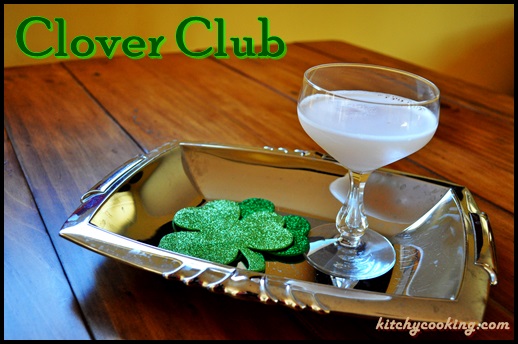 Since St. Patrick's Day is just over a week away I decided to bring you a cocktail that is neither green nor has Irish in the name. You're probably thinking "wait, what?! How can there be a St. Patrick's Day cocktail that is neither green nor Irish?" Easy, it has Clover in the title, and as you all know clovers are also big during St. Patrick's Day. But as I said this clover is neither green nor four-leaved. It is instead pale pink and seriously packs a punch.
The Clover Club was named for a group of Philadelphia journalists who met regularly from 1882 into the 1920′s at the Bellevue Hotel. Although the group was mainly made up of journalists, plenty of celebrities were invited to the party… pretty much to be heckled. But much like the Algonquin Circle, if you could get into the Clover Club, even if it was for just one drink, you were thought to be able to get in anywhere.
While the club started in 1882, the cocktail for which it was named was created around the turn of the century at the Bellevue. Although it's pink in color, Jack Townsend, the president of the Bartender's Union, was quoted in 1951 as saying "the Clover Club drinker is traditionally a gentleman of the pre-Prohibition school," a "distinguished patron of the oak-paneled lounge." In other words he's a man's man.
So on this Irish holiday men can feel confident drinking the Clover Club because it packs a gin-based punch while women can enjoy the cocktail because it's pretty in pink. And if anyone asks why in the world you'd be drinking a pink cocktail on a holiday that's all about being green, just quote the men from the Clover Club: "While we live, we live in clover; When we die, we die all over!" Happy St. Patrick's Day everyone.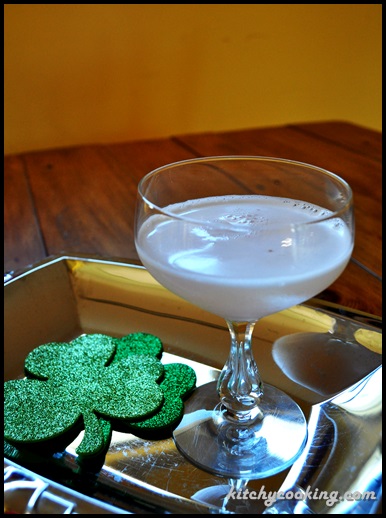 Clover Club
Ingredients:
2 oz. dry gin
1/2 oz. lemon juice
1 egg white
1/4 oz. raspberry syrup
Directions:
Pour all ingredients into a cocktail shaker with cracked ice. Shake vigorously for a minute, strain into a cocktail glass, and serve.  Note: Incidentally, if you add a sprig of mint for garnish, you'll have yourself a Clover Leaf Cocktail.