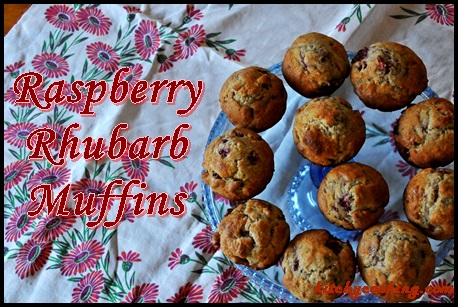 If there are two fruits I look forward to all year it's rhubarb and raspberries. While it's true that you can get raspberries year-round, they're at their freshest during the summer months. That's when they're sweetest and perfect for fruit salads, bars or cakes. The timing is perfect because it's also when rhubarb is in season. It's because these two fruits are available at the same time that I chose to make some muffins with them.
Now, I know that strawberries are usually the fruit chosen to go with rhubarb because their sweetness compliments the tartness from the rhubarb perfectly. But a few weeks ago I was at Melissa's Produce meeting and learning from Deborah Madison. In her newest cookbook, In My Kitchen, Madison has a recipe for a Rhubarb-Raspebrry Compote. I know, raspberries. She said that while strawberries are the obvious choice, she liked the combination of raspberries and rhubarb because it's not quite as sweet. I tasted that compote at Melissa's and it was deeeee-licious! It was that compote that made me want to add raspberries to these basic rhubarb muffins, and as expected, the final product? Awesome!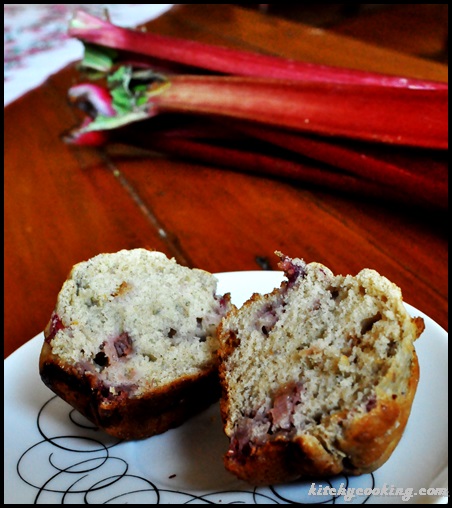 I'd been wanting to make these rhubarb muffins for a couple months now, but I had to wait for the rhubarb to come into season. Well, when the season got here, I unfortunately discovered that the vendor I get it from at the farmer's market may not have any this year because of all the rain we got. As you might guess, I was very upset. How could I make these muffins if I couldn't get rhubarb? Melissa's came to my rescue. They had a ton! So, of course I grabbed a bunch, and since I know that Melissa's will have rhubarb through September, I can make these muffins all summer long!
What makes these muffins a nice alternative to your standard blueberry is that they're not as sweet. Don't get me wrong, there's still a sweetness thanks to the cinnamon-sugar sprinkled-tops, but the diced rhubarb keeps that sweetness in check. It's that spectrum of flavors that makes these muffins the perfect breakfast choice. They're so good, you can eat them all by themselves, toasted with a little butter or as part of a bigger brunch spread. And if, after the first batch disappears, you find yourself craving another muffin or two, don't worry; with raspberries and rhubarb being so readily available throughout the summer, you can easily make these pastries all season long.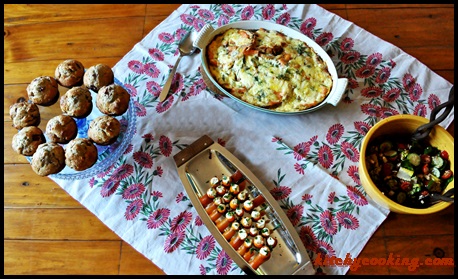 Rhubarb Raspberry Muffins (adapted from Fine Cooking)

Ingredients:
2 cups flour
3/4 cup sugar, divided
2-1/2 teaspoons baking powder
1-1/2 teaspoons cinnamon, divided
1/2 teaspoon baking soda
1/2 teaspoon salt
1 cup sour cream
1/2 cup (1 stick) unsalted butter, melted
2 eggs
1 teaspoon vanilla
1-1/2 cups rhubarb, diced
1 pint fresh raspberries
Directions:
Preheat the oven to 400°F and line a muffin tin with baking cups.
Sift together the flour, a half cup of sugar, baking powder, 1 teaspoon of cinnamon, baking soda and salt in a large bowl and set aside.
Whisk together the sour cream, melted butter, eggs and vanilla until smooth. Fold the sour cream mixture into the flour mixture until just combined. Gently stir in the rhubarb and raspberries until mixed.
Divide the batter among the muffin cups so the batter mounds slightly higher than the tops of the muffin cups.
Mix together the remaining sugar and cinnamon in a small bowl. Sprinkle about a 1/2 teaspoon of the cinnamon-sugar mixture over the top of each muffin.
Bake until the muffins are golden brown and a toothpick inserted into the middle of a muffin comes out clean, 20 – 25 minutes. Let the muffins cool on a rack in the pan for 5 – 10 minutes. Remove the muffins from the pan and let cool another 5 – 10 minutes and serve.