Passover – A Family Tradition
There are only two holidays in my family that qualify as important, must-be-with-the-family holidays – Thanksgiving and Passover.  Last year I didn't get to spend Passover with my family because I was about 37 weeks pregnant which means no travel.  Not even the six hour drive up the 5 to San Francisco.  So, not only did I have to swear up and down that I'd be here for Pesach (the Hebrew word for Passover) this year, I promised I'd come a week early so my parents could have plenty of bonding time with their 10-month-old grandson.  So, here we are, hanging out, playing and planning the menu for today's Passover feast.
My mother and I are both strong believers in "there's always room for one more", which while fun (or hectic depending on who you talk to) can sometimes create quite the party.  This year my mother has 18 people coming over.  Now you may be thinking "18 people. Oh my god, there's no way I could ever cook for that many."  Well, neither can I.  And honestly I won't.  I just don't have the time or the energy, especially now with a baby crawling around.  So each person attending is making something.  While some out there may see this as cheating, I look at it as a way to experience new dishes for a holiday meal that I've been having since I was born.  I mean, you'd be amazed how many different versions of gefilte fish I've had.  And yes, while the home made stuff may be better, my favorite is still, hands down, those that come out of the Manischewitz jar.
Anyway, this year, I'm making the Charoset.  The charoset may be a small side dish, but it's a very important part of the meal.  It symbolizes the mortar the Jewish slaves used to build the pyramids in Egypt.  It's one of the seven ingredients on the Seder Plate and is a very important ingredient in the Hillel Sandwich – a sort of appetizer that's the final nibble before the big meal.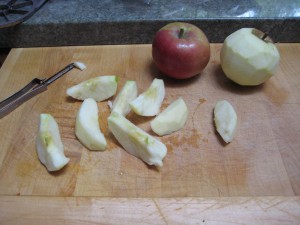 What I think of as the traditional charoset is very simple to make and can be made at least a day ahead.  It's apples and walnuts finely chopped with cinnamon and a dash of sweet red wine.  I usually use Manischewitz.  While this version is still my favorite, I've had to make some changes over the years since my husband is allergic to nuts.  These days I'm trying all different kinds of fruits from dates to dried apricots and all sorts of spices from the traditional cinnamon to all spice or nutmeg.  So, below are my traditional and not so traditional recipes for Charoset.
Traditional Apple Walnut Charoset
3-4 Granny Smith or Fuji Apples chopped.

1/2 cup walnuts

1 1/2 tsps of cinnamon

1 tbsp of sweet red wine like Manishewitz
Throw all the ingredients into the food processor and pulse until it's finely chopped. Transfer to a bowl and refrigerate.  Pull out at least 30 minutes before serving to bring up to room temperature.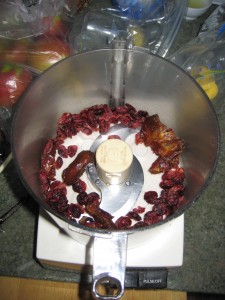 Harvest Charoset
2 pears chopped
3/4 cup dried cranberries
6 dates with seeds removed
1 tsp of ground cinnamon
2 tbsp of white wine (I use either a pinot grigio or a viognier)
Throw everything into the food processor and pulse until finely chopped.  Transfer to a bowl and refrigerate.  Pull out at least 30 minutes before serving to bring up to room temperature.