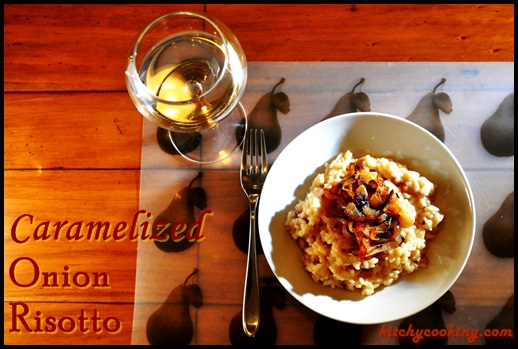 I was never a big fan of onions growing up. My parents on the other hand were huge fans. Liver and onions, French Onion Soup… they couldn't get enough. But me, I never wanted any of it. Sure, if there were sautéed onions in recipes that my mother made, I ate them, mainly because I couldn't taste them. But if I could see the onions or if they were raw, I wasn't having any of it.
Then something changed. I couldn't tell you when or where but somewhere along the line I started liking onions. It didn't matter if they were yellow, brown, purple, Bermuda, Scallion or Shallot. I enjoyed them all. While some fit certain recipes better than others (nothing beats a purple onion in a Greek salad), I tried to use as many as I could as often as I could. Onions got to be such an obsession that I now try to put some kind of onion in just about anything I cook whether it's a thick marinara sauce, a risotto or even my weekend scrambled eggs. And while I do love a good slice of raw onion on a freshly grilled burger, my favorite way to eat the vegetable is when it's been caramelized. Caramelizing the onion turns it from a sharp slap of flavor to a more subtle, sweet delight that goes well on just about everything.
So, you can understand my excitement when I saw a recipe for Caramelized Onion Risotto in Fine Cooking. As you all know by now I love risotto. If I was forced to eat it every night for the rest of my life, I'd be thrilled. I'd be big as a house, but I'd be thrilled. I mean, there are so many different variations. On this site alone, there's a broccoli rabe, a grilled kale, and a red wine version. While I know making risotto takes a little more time than a lot of other dinners, all that stirring is so worth the final result. And honestly, what's an extra few minutes when the final product is rich and creamy deliciousness?
Two cups of caramelized onions only improve upon this dinner delight. They're not just swimming throughout this hearty dish, they're piled on top too. It's an onion lover's dream dinner. Don't believe me? Whip up a batch and just try not to fall in love.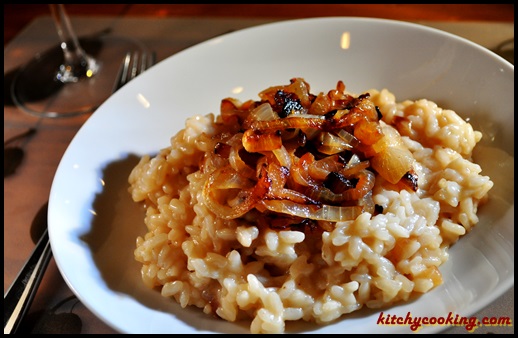 Caramelized Onion Risotto
Ingredients:
3 tablespoons olive oil
3 medium yellow onions, thinly sliced lengthwise
4 cups chicken broth
4 tablespoons unsalted butter
1/2 cup white wine (like a Chardonnay)
1-1/2 cups Arborio rice
1 cup shredded Parmesan cheese
salt and pepper to taste
Directions:
Heat the olive oil in a large sauté pan over medium-high heat until shimmering. Add the onions and reduce the heat to medium. Cook without stirring for 5 to 7 minutes. Continue to cook, stirring and scraping the bottom of the pot frequently with a wooden spoon until the onions are well browned, about 20 more minutes.
While the onions cook, combine the broth with 1 cup of water and set over medium heat until steaming hot.
Transfer the onions to a small bowl, cover, and keep warm. Add about 1/2 cup of the broth mixture to the pot and scrape up all the browned bits with the wooden spatula. Pour the liquid back into the broth mixture and keep warm. Wipe out the pan.
Melt 2 tablespoons of the butter in the pan over medium heat. Add the rice and cook until translucent around the edges, about 1 minute. Add the wine and cook, stirring, until absorbed. Ladle 1 cup of broth over the rice and cook, stirring constantly, until most of the broth has been absorbed. Continue to add the broth a cup at a time until the rice is tender, about 25 minutes. (You may not need all of the broth.)
Stir in the remaining 2 tablespoons of butter, the cheese, and all but 1/3 cup of the caramelized onions. Serve immediately, topped with the remaining onions.