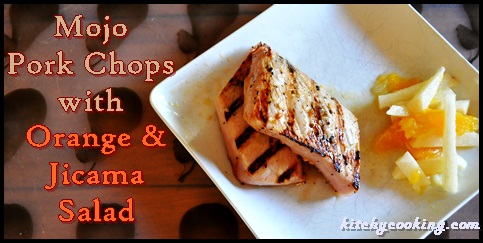 I discovered mojo a long time ago. I don't remember when exactly, I just remember that I liked it. A lot. What is mojo (pronounced MO-ho)? It's a garlicky, citrusy sauce that's often used as a marinade and a finishing sauce. It's Latin-based and it's always amazing, especially when served on or with pork. While you can buy the sauce at plenty of Latin markets, it's super easy to make. All you need is some garlic, some fresh orange juice and some spices. It's really that easy.
I said the mojo sauce is often used when preparing or serving pork and maybe even chicken. What I've never seen though is it used as a salad dressing. America's Test Kitchen changed all that. They made the marinade and then took half of it and used it for a simple salad of jicama and orange slices. This is why I'm such a fan of America's Test Kitchen. They introduced me to something that I ended up loving.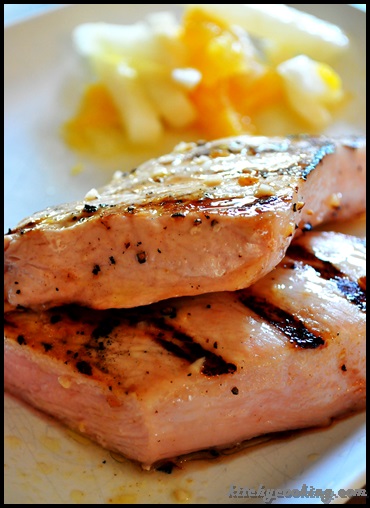 See, whenever I go to their site or cookbooks I always learn or discover something new and this recipe was no different. I was thrilled to discover that mojo can be used as both a marinade and a salad dressing. (Just make sure you separate them first. After all, you don't want to dress your salad with the same sauce your raw meat has been soaking in.)
But what really got me excited about this recipe is that it can be used any time of year. It's great during the winter months, but it's also ideal during the spring and summer. See, while the mojo works well no matter how you cook your protein, my favorite way to eat is when the protein is grilled. That way you not only get that delicious garlicky, citrus flavor, you also get some wonderful smokey undertones that make the meal even more complex, and thereby more satisfying.
Mojo Pork Chops with Orange and Jicama Salad
Ingredients:
2 oranges
1/2 cup olive oil
4 garlic cloves
1 teaspoon ground cumin
1/4 cup lime juice
1 tablespoon brown sugar
1/2 jicama, peeled and cut into matchsticks
2 tablespoons cilantro, minced
4 bone-in pork chops
Directions:
Cut away the peel and pith from the oranges. Holding the orange over a bowl, slice the membranes to release the orange segments. Set aside a 1/4 cup of orange juice.
Heat the oil in a small saucepan over medium heat until shimmering. Add the garlic and cumin and cook until fragrant, about 30 seconds. Transfer the oil mixture to a bowl and whisk in the lime juice, sugar and reserved orange juice. Let the mojo mixture cool.
Preheat a grill to 300°F.
While the grill heats, place the jicama, orange segments and cilantro in another bowl. Add a 1/4 cup of mojo and toss to coat.
Add the pork chops to a third bowl with another 1/4 cup of the mojo sauce and coat both sides of the chops. Sprinkle the chops with salt and pepper.
Grill the chops until the edges turn opaque. Flip and continue grilling until cooked all the way through, about 5 minutes. Transfer the chops to a platter and let rest for five minutes.
Drizzle the remaining mojo sauce over the chops and serve immediately with the orange salad.