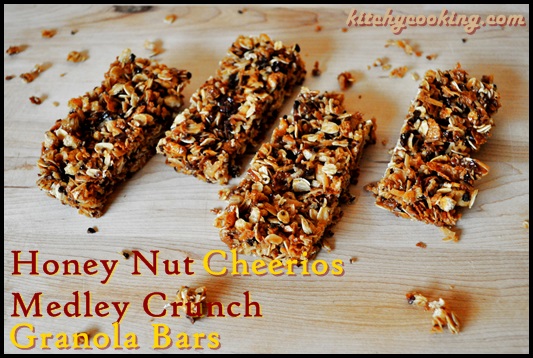 A few weeks ago General Mills was nice enough to send me a few boxes of cereal. I was ecstatic because I love General Mills cereals, especially Cheerios. See, I've never been much of a sugar cereal girl and since Cheerios are low in sugar and have a great crunch, they've always been my first choice when it comes to breakfast. I like the cereal so much in fact, I now give it to my boys.
Also included in the package was a box of General Mills newest cereal, Honey Nut Cheerios Medley Crunch. I was so excited. I love getting and trying new things, especially when it's food. Guess what? The Medley Crunch was delightful. It was sweet, but unlike other sugar cereals out there not over powering. And the oat clusters gave the classic Cheerio a nice crunchy blast of flavor that I'd be more than happy to eat every single morning.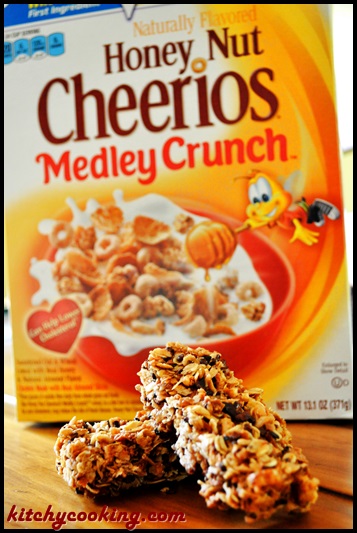 You're probably wondering what any of this has to do with granola bars. Well, while I was happily savoring the nutty flavor of this new breakfast cereal, another thought sprung into my head – "this would be a phenomenal granola bar." I don't know why I thought that, I just did. So it became my mission to create some granola bars using it. And I'm so happy I did. The bars were awesome – not too sweet and so much healthier than those other bars you get at the supermarket.
Unlike some of my other recipes though, these took a couple tries. See, I needed something sticky to hold the granola together, so of course I used honey. But I used too much in my first batch. Not only could I barely get the granola out of the pan, letting them cool for several hours did nothing to help. After five hours I still had a gloppy, sticky mess that clung to the plate. Needless to say, this batch went straight into the trash. Luckily all I had to do was cut the amount of honey I used in half and the next batch was perfect.
It was also during this second try that the idea of using cocoa nibs came to me. See, I love chocolate, but since I already had the sweet cereal and honey and sugar going into this recipe, the last thing I needed was another sweet ingredient. The nibs were perfect. I got the chocolate flavor I love so much without the added sugar. The end result was one of the best granola bars I've ever had. I can't wait to make another batch.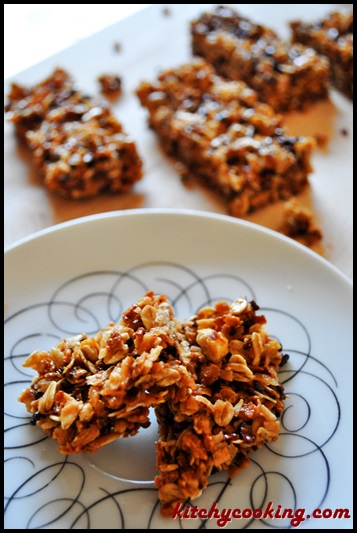 Honey Nut Cheerios Medley Crunch Granola Bars
Ingredients:
1-1/2 cups Honey Nut Cheerios Medley Crunch, crushed
1 cup oatmeal
1 cup shredded coconut
3 tablespoons unsalted butter
1/4 cup honey
1/4 cup brown sugar
1 teaspoon vanilla extract
1/4 teaspoon salt
1/2 cup Scharffen Berger Roasted Cocoa Nibs
Directions:
Preheat the oven to 350°F. Butter an 8×8 inch baking dish and line with parchment paper.
Toss the cereal, oatmeal, and coconut together on a baking sheet and cook for about 10 minutes, stirring occasionally, until golden brown and lightly toasted. Transfer the mixture to a large mixing bowl and set aside.
Reduce the oven temperature to 300°F.
While the oatmeal mixture toasts, place the butter, honey, brown sugar and vanilla in a medium saucepan and bring to a boil over medium heat. Cook for a minute or two until the sugar is dissolved and everything is combined. Pour this over the cereal mixture. Fold in the cocoa nibs and stir a few times until everything is coated with the honey mixture.
Pour the granola into the prepared pan and press into the pan until it's an even layer. Bake for 25-30 or until golden brown. Let cool for at least 3 hours.
Run a knife around the edge of the granola. Invert the pan and dump the large bar onto a cutting board. Remove the parchment paper and cut into squares. This should make about 10 good sized bars. Serve immediately or store in an air tight container for up to one week… if they'll last that long.