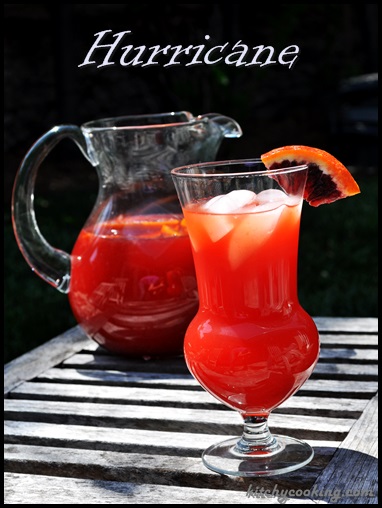 Most of the cocktails I make are for one or two people.  But every so often I need to make a pitcher because I'm having a party. See, it's so much easier to serve people when you make a big pitcher as opposed to shaking and mixing a separate cocktail for each and every guest that walks through the door. So, since Memorial Day is Monday, and the whole weekend is devoted to outdoor cooking and partying, now seemed like the right time to share a cocktail that's perfect for pitchers: the Hurricane.
The Hurricane is really an alcoholic punch made from a couple different alcohols and several different juices. It's nice and sweet and the color just screams "summer". Also screaming summer are those classic plastic red Solo cups. But while those cups do make serving cocktails to a large number of guests much, much easier, the Hurricane deserves to be (and should be) served in the stunning hurricane shaped goblet. After all, how do you think the cocktail got its name?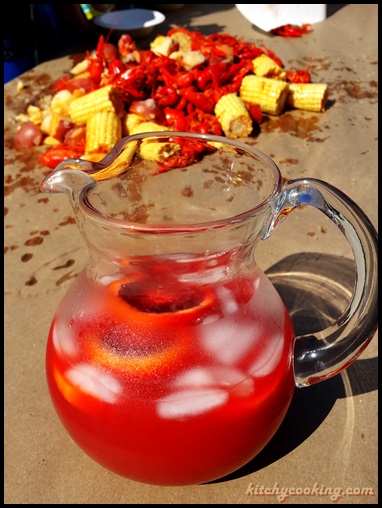 Although no one knows who's behind the delectable elixir, we do know where it was created: New Orleans' very own Pat O'Briens. As a matter of fact, they're still serving it to this day (though it's definitely not in its original form.) Now it tastes like a heavily boozed up glass of overly sweet Tang. But when the cocktail was originally created during WWII, it was a drink to be reckoned with. See, back then they didn't have powdered fruit punches or pre-mixed cocktails. Back then a cocktail was made with what you had on hand, and during the 40's, bars had a lot of rum on their hands. What they really wanted was whiskey. But since whiskey was so hard to import during the war, distributors forced bars to buy large amounts of rum in order to secure a single case of good whiskey. The bartenders at Pat O'Briens decided to put all that rum to good use and came up with the cocktail we now know as the Hurricane. Serving it in a glass shaped like a hurricane lamp only added to the cocktail's panache.
While you can absolutely make this drink for one, it's ideal for a party. It's pretty, it's potent, and if served in a beautiful hurricane glass, it's a hit.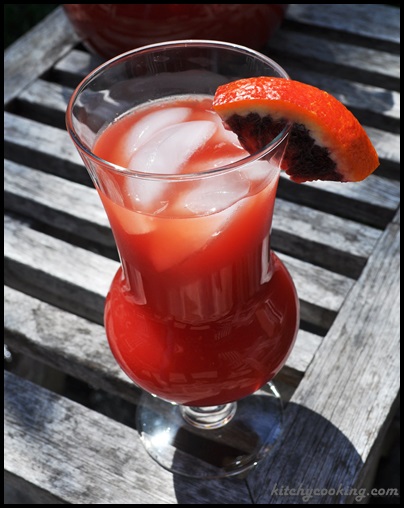 Hurricane (serves at least 10)
Ingredients:
12 oz. light rum
12 oz. dark rum
10 oz. grenadine
10 oz. fresh orange juice
10 oz. fresh lime juice
3 – 5 tablespoons superfine sugar (depending on your taste)
1 large orange, sliced
Directions:
Mix all the ingredients, except the orange slices, together in a large pitcher until the sugar dissolves. Add ice and the orange slices.
Serve in tall glasses over ice with a straw.