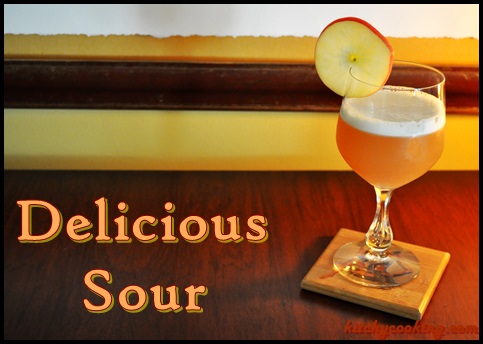 Apples seem to be taking over the blog. Not just mine, but a lot of food blogs. It's all because Thanksgiving is next week and apples are of course a big part of the celebration. You can find them in pies, stuffings, sometimes they're even added to cranberry sauces. So I thought if we're going to be eating all these apples, why not drink them as well?
I know I did an apple cocktail last week, but I wanted to keep the trend going since there are just a couple weeks left to fall and as I said apples are all the rage right now. Unlike last week's Applejack Rabbit which is made with just a few ingredients, the Delicious Sour is more complex and so a more robust cocktail. While both are good, what makes this one "delicious" is the peach brandy and egg white.
Yes, this is another classic that uses a raw egg. But as with other classics, you don't need to be afraid of the egg. Instead, relish it. See, the egg white, which is very common in classics like the sour and the flip, are used because they add a nice, rich texture to the drink. It also adds a thick foam to the top that looks really pretty and finishes it off. How do you get this thick froth? By shaking the hell out of the drink. The shake emulsifies the cocktail, causing that pretty froth I've been talking about and love so, so much.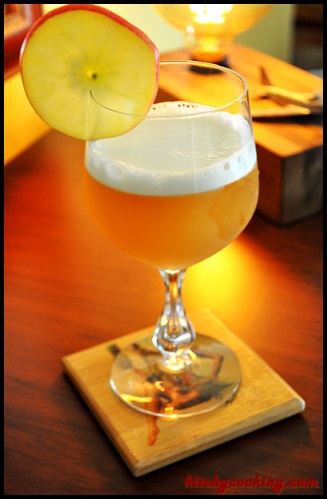 Now, I know with all the salmonella outbreaks, there's cause for worry and a lot of you may not like the idea of using raw eggs in your cocktails, but I'm here to tell you the odds of getting salmonella are pretty slim. There's supposedly only 2 – 5 bacteria per egg, and if you keep the egg cold, there's even less of a chance of getting sick. As a matter of fact, according to the American Egg Board, on average only one in every 20,000 eggs might be infected with salmonella. But if you're still concerned about getting sick, there is a way to get that great froth without the threat of salmonella: just use a pasteurized egg.
The Delicious Sour hails to us from 1892 when it first appeared in William Schmidt's book The Flowing Bowl. He created all the cocktails in his book and some of them even tasted good. The fact that it uses Applejack only adds proof to the cocktail's age. See, Applejack has long been considered the original American native spirit. According to Laird's website, Robert Laird was a Revolutionary War soldier serving under George Washington. Washington was a huge fan of Applejack, so the Laird family supplied the troops with Applejack. Schmidt took what he knew about sour cocktails and put his own spin on it by adding the hearty American spirit.
Now, I know a cocktail called "delicious" is quite a name to live up to, but I'm here to tell you Schmidt aptly named this drink. It's very, very good and that thick layer of froth only adds to its deliciousness.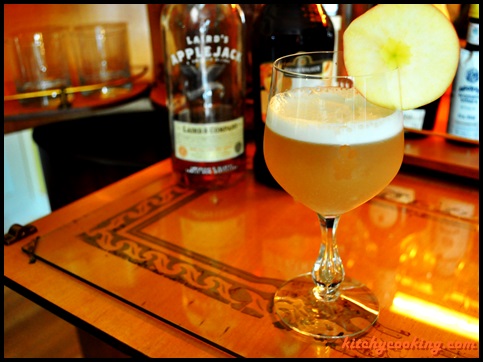 Delicious Sour
Ingredients:
2 oz. Applejack
2 oz. peach brandy
1 oz. lime juice
1 teaspoon sugar
1 egg white
Directions:
Pour all the ingredients into a cocktail shaker. Add ice and shake vigorously for at least a minute.
Strain into a coup or cocktail glass and serve.