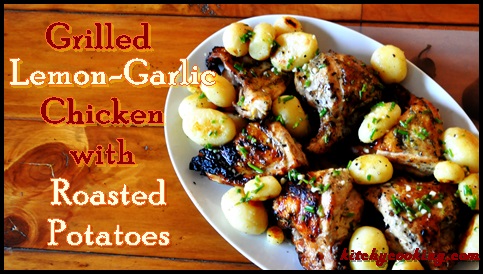 It was 102° here yesterday. 102. I've been living in Redondo Beach for over ten years, and I don't think it's ever been that hot here. I mean, I live 10 blocks from the ocean. It's supposed to be cooler on the coast, not stale and sweltering. But I unfortunately can't control the weather, and evidently Mother Nature is in the mood for a heat wave. So, while I should be thinking about pumpkin and apple pies, I'm thinking about grilling dinner outside instead.
My favorite thing to grill is chicken. It's easy, it's versatile and while I love hot dogs and hamburgers, grilled chicken just seems a little more special. But it's only special if you prepare it correctly. Trust me, you don't want to just throw some plain old boneless chicken breasts on the grill. They're much more interesting if you marinate them or have a sauce you can ladle over them. This recipe has both.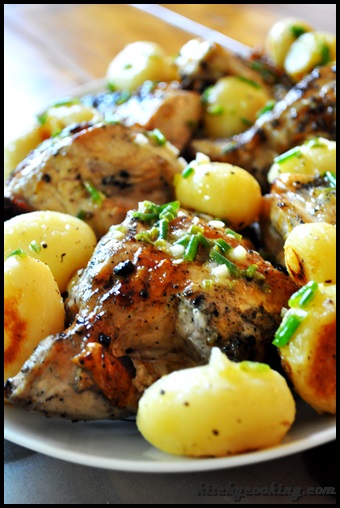 I'm all about juicy chicken and one of the best ways to get juicy chicken is to marinate it. Soaking it in oil and juices for a few hours fills the chicken with tons of flavor while keeping it nice and moist. Marinating is really the only way I make chicken because I hate it when it's dry. There's absolutely nothing worse than dry, rubbery chicken, which unfortunately is what you'll get if you leave it on the grill too long. But a simple marinade of garlic, lemon zest and plenty of olive oil will give you nice, moist chicken that has some great flavor.
If you want even more flavor, adding a dressing with some of the same ingredients as the marinade puts the chicken dinner over the top. Now you not only have lemon and garlic seeping from inside, you have a tangy garlicky sauce that's delicious on top of the chicken as well.
So while I know I'll be roasting turkeys and baking plenty of pies (hopefully) in the very near future, for now, it's all about the grill.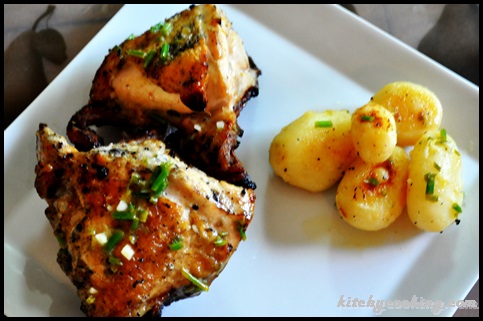 Grilled Lemon-Garlic Chicken with Roasted Potatoes
Ingredients:
4 bone-in, skin-on chicken breasts, halved
3/4 cup olive oil, divided
1 tablespoon lemon zest
3 tablespoons lemon juice
3 garlic cloves, minced and divided
1 tablespoon Dijon mustard
1/4 cup chives, chopped
salt and pepper to taste
2 pounds baby Dutch yellow potatoes, peeled
Directions:
Whisk together a quarter cup of olive oil, the lemon zest and half the garlic in a large bowl. Place the chicken in the bowl, turn to coat, and set aside for at least 20 minutes and up to an hour.
Whisk the remaining olive oil, garlic, lemon juice, mustard and chives together in a separate bowl and set aside.
Preheat a grill to 350°F.
Season the chicken with salt and pepper. Place the chicken on the grill, skin side down and cook until the skin is crispy and lightly charred, about 4 minutes. Flip and continue cooking until the meat is cooked all the way through, 10 – 12 minutes. Transfer the chicken to a platter and tent with foil.
Preheat the oven to 400° F.
Toss the potatoes with 2 – 3 tablespoons of olive oil and then roast the potatoes until tender, about 7 minutes. Transfer the potatoes to the platter with the chicken. Drizzle the chicken and potatoes with the mustard/chive dressing and serve.