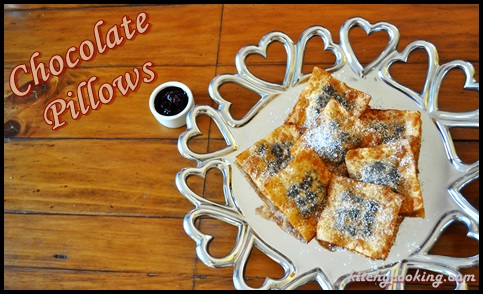 Valentine's Day is Sunday and if you're anything like me, you want to make something chocolate to serve your sweetie for dessert on this most romantic of evenings. But if you're also like me, you don't really want to spend too much time making it. After all there are much more important things to get to after dinner. Well, thanks to the folks at Melissa's Produce, I have a dessert that doesn't take too long to make and is absolutely delicious.
Melissa's was nice enough to send me a package of their won ton wrappers in anticipation of Monday's Chinese New Year. But I didn't want to make your standard won ton filled with shrimp or cream cheese. Instead I'd recently seen a recipe in Better Homes and Gardens that stuffed the wrappers with chocolate! I thought it was such a neat idea, I decided to do the same thing.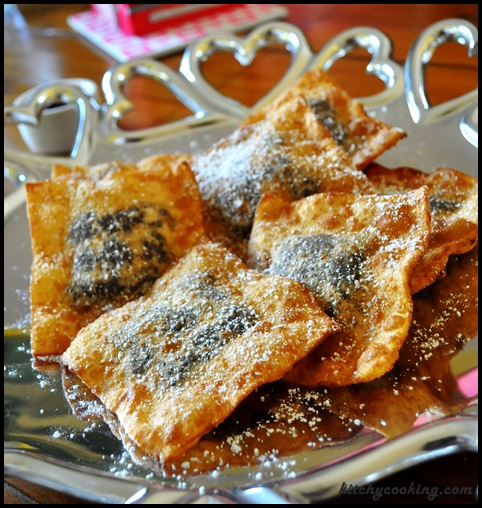 They were sooooo yummy. These little pockets are crunchy on the outside and filled with hot, melted dark chocolate on the inside. While each pillow takes a little time to put together, it only takes about a minute to cook them. But don't let the effort involved dissuade you from making this dessert. Maybe instead of going out to an overpriced dinner, you stay in and have a cooking date. Making dinner and dessert together is way more satisfying than simply buying it, and you get to enjoy the process as well as the finished product. For my money that's a win win and a really fun night in.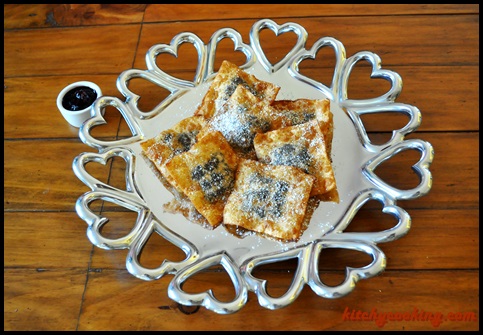 Chocolate Pillows
Ingredients:
1/2 cup port
1 tablespoon sugar
1 teaspoon balsamic vinegar
1/4 cup dried bing cherries
1-1/2 cups vegetable oil
14 wonton wrappers
1 egg, beaten
1 cup bittersweet chocolate chips
Powdered sugar
Directions:
In a small saucepan bring the port to a boil. Reduce heat and simmer, uncovered, for 3 to 4 minutes or until reduced to by half. Whisk in the sugar and cook for another minute. Add cherries and cook for 2 more minutes, stirring occasionally. Remove from the heat and cover to keep warm.
Meanwhile, heat the oil in a saucepan over medium heat until the temperature reaches 350°.
While the oil heats, lightly brush the edges of one wonton with the egg. Place a handful of chocolate chips (I used 9) in the center of the wonton wrapper. Place another wonton wrapper on top and press the edges together to seal.
Cook the filled wontons in the oil, one at a time, for 1 minute or until golden brown, flipping at least once so they brown evenly. Remove with a slotted spoon and drain on paper towels. Repeat the process with the remaining won ton wrappers and chocolate until you have 14 chocolate pillows.
Dust with powdered sugar and serve with the cherry port sauce.
Disclosure: This is not a sponsored post. Melissa's provided me with the won ton wrappers for recipe testing. As always, any opinion expressed is my own and is not influenced in any way by the manufacturer/PR firm as I only review products that I have personally tested and endorse.