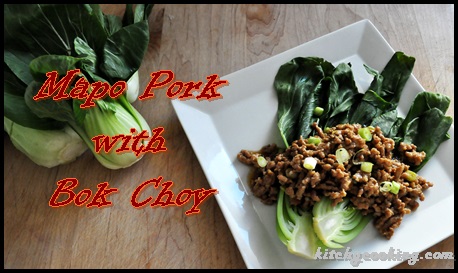 I have a confession to make: I'm an addict. A food magazine addict. It's true… I have tons and tons of food magazines. They're mostly Fine Cooking, but there are also a few Better Homes and Gardens, some Food and Wine's as well as two or three America's Test Kitchens. I've used them all and for some reason I just can't bare to get rid of them, mainly because I continue to go back to them for recipes or dinner ideas.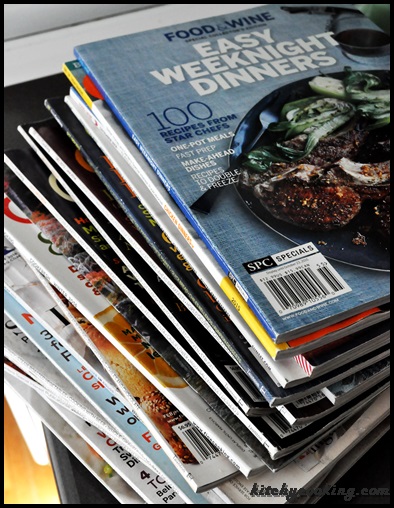 One such recipe is this delicious Mapo Pork with Bok Choy. It came from one of my Food & Wine's and is utterly delicious. But better than that, it's super easy to make. All you need is some ground pork, a few heads of bok choy and some Asian sauces.  It's really just an easy way to have some Chinese food in your home without having to order in.
If you're worried about where you can get bok choy, you're not alone. I love bok choy but was never sure where to find it. I had it all the time when I got Chinese food, and I love it on it's own. I've even had it as the main greens in salads. But where could I buy some? There is one vendor at my farmer's market who sells it. There are Asian markets of course, but unfortunately there aren't that many near me. Then one day an amazing thing happened. While in the produce department at my local grocery store I spotted a pile of bok choy. A whole bunch! So, now whenever I'm in the mood for sautéed bok choy, this pork recipe or even just a salad, I run to Ralphs and grab some. It's that easy for me, which means it's probably that easy for you.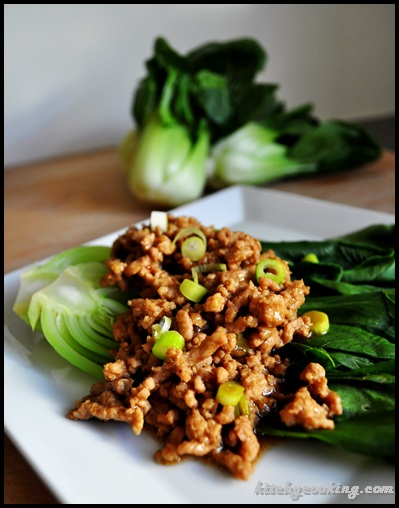 So, while I have piles and piles of magazines, and a corner of my kitchen that's covered in recipes, it turns out those piles are actually good for something. They allow me to occasionally flip through the stacks and find new recipes or if I have a specific craving, they let me revisit some of my old favorites. And that's why I keep all those magazines. They may be from two or three years ago, but they all have at least one or two recipes I love and continue to go back to again and again.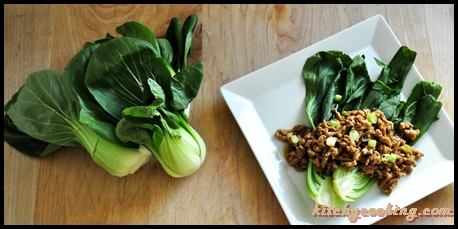 Mapo Pork with Bok Choy (adapted from Food & Wine)

Ingredients:
1 tablespoon cornstarch
1 tablespoon olive oil
1 pound ground pork
1 garlic clove, minced
2 tablespoons hoisin sauce
2 tablespoons soy sauce
salt and pepper to taste
3 scallions, thinly sliced on the angle
4 heads of baby bok choy, halved lengthwise
Directions:
Whisk together the cornstarch and one cup of water in a small bowl and set aside.
Heat the oil in a large skillet over medium-high heat until shimmering. Add the pork and a generous pinch of salt, and

stir, breaking up the meat, until crumbly and browned, about 3 minutes.

Stir in the garlic, hoisin and soy sauces and cook, stirring, until fragrant, about 2 minutes. Stir in the cornstarch slurry and simmer until thickened, about 2 minutes. Remove from the heat, stir in the sliced scallions and set aside.

While the pork cooks, add about an inch of water to a large stock pot and bring to a boil. Add the bok choy, cover and steam until crisp-tender, about 5 minutes.
Transfer the bok choy to 4 plates. Spoon the pork mixture over the bok choy, sprinkle with more sliced scallions and serve.