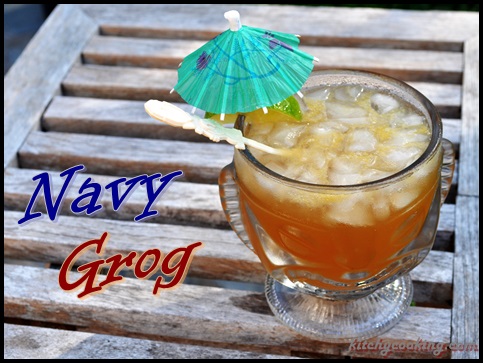 If you were following my Instagram feed last week, you know I was in Hawaii. To me Hawaii means warm climates, warm water, beautiful sandy beaches and tiki statues. It also means awesome tropical cocktails. I don't know if you knew this but more often than not, these same tropical cocktails tend to go by another term: tiki cocktails. It makes sense if you think about it since so many of the Hawaiian islands and resorts are covered in tiki statues. So… since we were in the land of the tiki, I thought I'd share a classic tiki concoction this week: the Navy Grog.
This drink, like most tiki concoctions, is all rum which means it packs quite the wallop; again, just like most classic tiki drinks. But unlike a lot of the tiki cocktails, the Grog doesn't use just one rum and a variety of tropical fruit juices. This cocktails actually uses 3 different kinds of rum… and a variety of tropical fruit juices. It's actually those three different rums, culminating in a small batch, that sets this drink apart and usually why it has a limit of 2 on most tiki menus. At its core the Navy Grog is rum, citrus juices and honey. After that people get creative by adding passion fruit, a spiced rum or even a cinnamon or allspice syrup. If that sounds like too much trouble or too complicated, sticking with the original formula makes for a very tasty cocktail.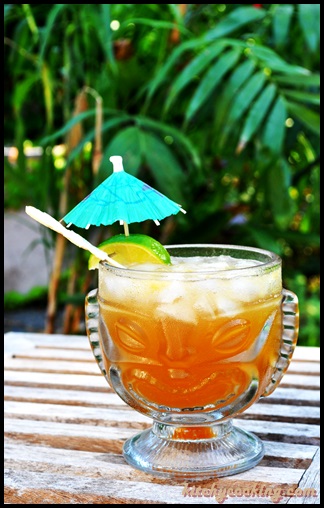 Legend goes that the original formula was created by Don the Beachcomber around 1941. Unfortunately you won't find the original formula anywhere (including on this blog) because Don decided shorty after he came up with the cocktail to keep its formula a secret. See, rum wasn't a popular drink originally. It was considered the poor man's alcohol. But once Don started adding fruit juices and specialty rums from around the globe to his drinks, all that changed. The tiki cocktails became quite popular, so of course other bars all over the states started adding Don's cocktails to their menus. And if they were going to add Don's cocktails, they wanted to make sure they made them correctly. This meant poaching his best bartenders. Of course all his bartenders knew the recipes, so they made Don's cocktails elsewhere which quickly made Don's special tiki drinks commonplace and uninteresting. After a year or so of this, Don hired new bartenders but refused to share his recipes, thereby making them unique again since there were only a handful of bartenders who knew how to make the perfect Zombie, Mai Tai or Navy Grog.
It could be argued though, that Don is not the original creator of the Navy Grog, but rather the Royal Navy. See, they were actually the first ones to mix rum with fruit and water way back in 1756. Since the water was stored for long periods of time, it would turn kinda slimy and gross. To make it more appealing, the sailors would add cinnamon, rum and lemon juice. The rum would help the water keep longer and the citrus juice added vitamin C which would help fight off scurvy and other diseases common among sea folk at the time. So, while Don created his own recipe for this delicious drink, he clearly took his idea (and maybe some pointers) from the Royal Navy.
So, while this may not be Don's actual Navy Grog, it's pretty close. If that bothers you, don't worry. After two of these you really won't care (or remember) where it came from. All you'll know is that you're enjoying a very good, albeit very strong cocktail.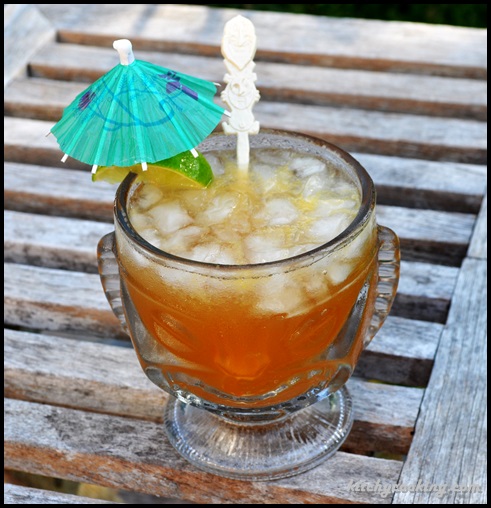 Navy Grog
Ingredients:
1 oz. light rum (like Bacardi Silver)
1 oz. dark rum (like Myers Dark)
1 oz. Demerara rum (or a small batch)
3/4 oz. fresh lime juice
3/4 oz. grapefruit juice
3/4 oz. honey
1 oz. club soda
Directions:
Warm the honey in a small sauce pan over a low flame.
Pour the honey, the rums and the fruit juices into a cocktail shaker. Add ice and shake vigorously.
Strain into a collins glass or tiki mug filled with ice. Top with soda. Garnish with fruit, a flower or a little umbrella and serve.