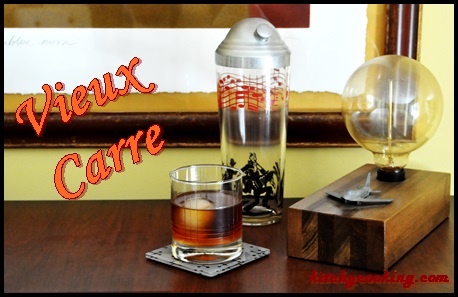 I love New Orleans. I've only been there twice, but I can't wait to go again. It's not just the laid back attitude, it's the food, the art, the music and especially the cocktails. They're delicious and believe it or not, a lot of the classics we love today have come from this city: the Hurricane, the Ramos Gin Fizz and my husband's personal favorite, the Sazerac. While I've made and tasted most, until now I'd never tried the Vieux Carré.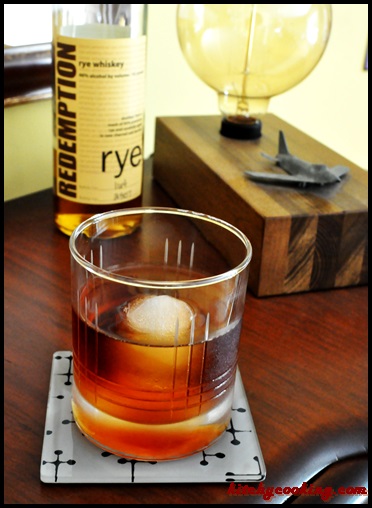 It's delicious and may very well be my go to for winter whiskey cocktails from now on. See, I've always liked the Sazerac and this cocktail is very similar in that it also uses rye whiskey (one of my favorite liquors) and Peychaud's bitters. But that's where the similarities end. From there, the Vieux Carré goes slightly sweeter thanks to some sweet vermouth, cognac and a teaspoon of benedictine. Poured over a large ice cube, it's definitely tasty and absolutely perfect for winter and early spring.
While the Sazerac was created in the early 1800's, the Vieux Carré was created a whole century later at the Monteleone Hotel.  That's right, a hotel. Although this hotel still exists today, the bar where the cocktail was created does not. Yes, there's still a bar in the Monteleone, but it's the Carousel Bar now, and it's definitely worth a visit. Not just for the fact that the bar continuously spins, but because the Carré is one of their most popular cocktails. It's even on their bar menu as a tribute to the old Swan Bar and head bartender, Walter Bergeron. It's a fitting tribute since Bergeron supposedly created the cocktail as his own tribute to the different ethnic groups of New Orleans: the Benedictine and cognac were for the French, the rye was for the Americans, the sweet vermouth for the Italians, and the bitters was for the Caribbean influence. All those traits could be found in the French Quarter which back then was often referred to as the Old Square or the Vieux Carré.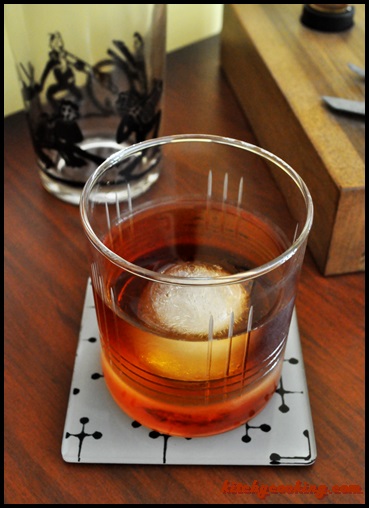 You can still find all those French Quarter influences today in the food and the people. If you can't make it out to New Orleans though, you can still taste those influences by simply stirring up a Vieux Carré. And if you're a rye whiskey fan, trust me when I tell you this is one cocktail that will have you draining your rye bottle again and again.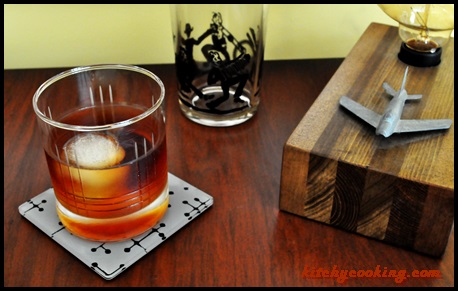 Vieux Carré
Ingredients:
3/4 ounce rye whiskey
3/4 onuce cognac
3/4 ounce sweet vermouth
1 teaspoon Benedictine
1-2 dashes Angostura bitters
1-2 dashes Peychaud's bitters
Directions:
Pour all ingredients into a mixing glass. Add ice and stir until chilled. Strain into an old fashioned glass filled with ice and serve.