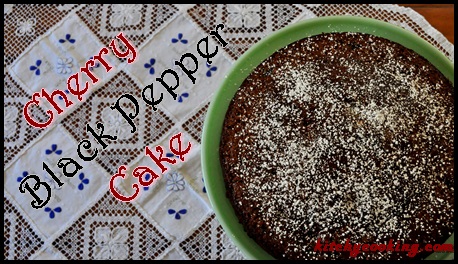 Every summer for the past 10 years, we've gone up north to Marin County to spend a week on the beach with my family. It's a nice break from the hustle and bustle and (as long as it's not fogged in) it's a beautiful week with plenty of paddle boarding and swimming. Being up north means checking out the San Francisco Chronicle on a regular basis and that means getting a whole new list of recipes that I don't usually get to see.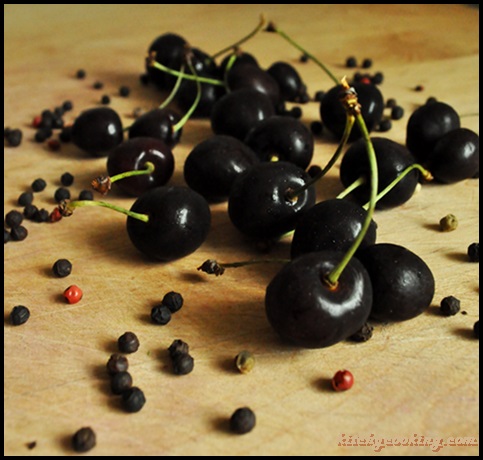 Last year we were up there for my mom's 70th birthday and while perusing the Chronicle, I spotted a dessert that sounded amazing. It was a Cherry Black Pepper Cake from Nik Sharma. Unfortunately, I had to wait a whole year before I could make it because cherries aren't in season in Los Angeles in July. Down here, cherries are only around for about a month to six weeks starting in mid-May. And my favorite cherries, those Tartarians I've talked about, are around for even less time than that: about three weeks. So, as soon as those cherries showed up at the farmer's market, I grabbed a basket and got to work.
I'm sure you've noticed this cake has black pepper in it. I know, black pepper? What's a teaspoon of black pepper doing in a cake? When I read the recipe I was so confused. I mean, pepper belongs in an appetizer, a side dish, or an entreé. It doesn't belong in a dessert. But I love cherries and the idea of a cherry cake with a little spice intrigued me. So, I took the plunge. After all I'd been waiting a year to make this cake, it seemed silly to back off now just because I wasn't used to adding that much heat to a dessert. Sharma's choice to use the pepper is genius. See, the cherries are so sweet, the pepper adds a nice spice that amplifies that sweet flavor.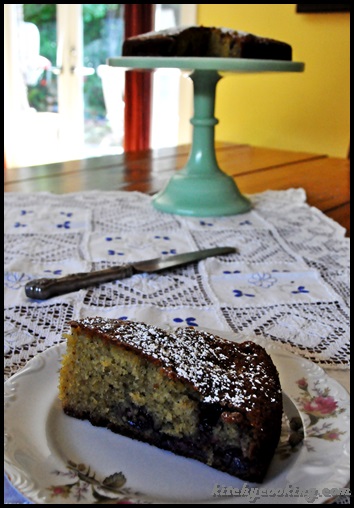 But those sweet and spicy flavors aren't the only thing that made me want to make this cake. It also uses almond flour which gives the cake a subtle nuttiness that works well with the cherries and pepper. When all these flavors come together you get a cake that's a perfect end to a nice summer meal or a backyard barbecue. So, while I was bummed I couldn't make this dessert when I originally read the recipe last July, it was absolutely worth the wait.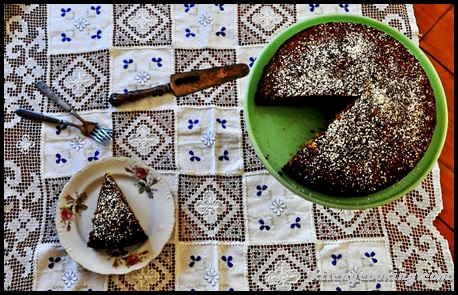 Cherry Black Pepper Cake
Ingredients:
1-1/4 cup + 1 teaspoon flour
1/2 cup almond flour
1 teaspoon baking powder
1/2 teaspoon baking soda
1 teaspoon ground black pepper
1/4 teaspoon salt
3/4 cup unsalted butter
3/4 cup sugar
4 eggs
1/4 cup milk
1 teaspoon Cherry Heering
2 cups pitted cherries
Directions:
Preheat the oven to 350°F, grease a 9-inch springform pan and line with parchment paper.
Sift together the 1-1/4 cups flour, almond flour, baking soda, baking powder, pepper and salt in a large bowl and set aside.
Cream the butter and sugar together on low speed until combined. Add the eggs one at a time until mixed together.
Mix in half the flour mixture. Mix in the milk and Cherry Heering. Then mix in the remaining flour until combined.
Toss the cherries with the remaining teaspoon of flour. Fold the cherries into the cake.
Pour the batter into the prepared pan and bake for 45 minutes, rotating the pan half way through. When ready a toothpick should come out clean when inserted.
Let cool on a rack for 10 minutes. Then remove from the pan and let cool completely. Dust with powdered sugar and serve.