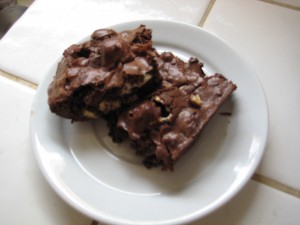 I love chocolate.  There. I've said it.  I love chocolate.  I'm probably a chocoholic, but I refuse to admit I have a problem.  So what if I buy a Reese's Peanut Butter Cup whenever I go grocery shopping.  Or end each day with a couple scoops of Dreyer's Slow Churned Double Fudge Brownie ice cream (which by the way is some of the best low fat chocolate ice cream on the market today). These are the things that make me who I am.
Since I'm a huge chocolate fan, most of my desserts are some sort of chocolate concoction.  In fact if I know I have to make a dessert, I scour my recipes and look for something of the chocolate kind.  So, I was thrilled when my mom passed her brownie recipe on to me. I make it all the time and it always calms the chocolate beast inside. The secret – the two different kinds of chocolate chips.  What's even better is that the recipe makes so many, I usually have a few left over for myself and hubby.  So, without further ado – the chocoholic's brownie.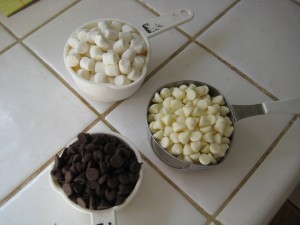 Chocoholic's Brownie
1 cup of butter (2 sticks)
4 squares of unsweetened chocolate
2 cups of sugar
4 eggs
1 cup of flour
1 tsp vanilla
1 cup semi-sweet chocolate chips
1 cup white chocolate chips
1 cup mini-marshmallows
1 cup walnuts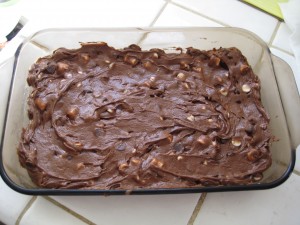 Melt the butter and chocolate in a small pan over a low flame.  Pour the melted butter and chocolate into a mixing bowl and beat in the sugar one cup at a time.  Beat in the eggs one at a time.  Add the vanilla. Gradually mix in the flour.  Then add the semi-sweet and white chocolate chips, the marshmallows and the walnuts.  (If you want to make the brownies less gooey or chocolatey or have a nut allergy any of the last four ingredients can be left out. I haven't used nuts for the past six years since my husband's allergic.) 
Pour the batter into a greased 9×13 pan and cook at 350 for 45 minutes. (I like my brownies really fudgy so I only cook them for 40 minutes.) Let them cool in the pan for 10 minutes before cutting.  Makes about 20 brownies.