Coffee Chocolate Chip Ice Cream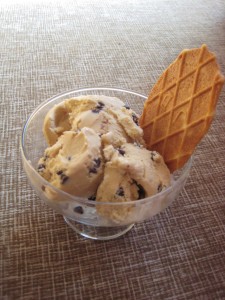 I'm not sure if I've mentioned this, but I'm married.  For almost six years now.  And if you're married you know part of  the wedding process is registering for gifts. I registered for a lot of kitchen ware because I love to cook.  But as with every bridal, wedding and/or baby shower, there are people that get you gifts that were no where on the registry.  I received such a gift. It was a Cuisinart Ice Cream Maker and ice cream cookbook. I never returned it because I'm a big ice cream fan and I always thought I'd use it.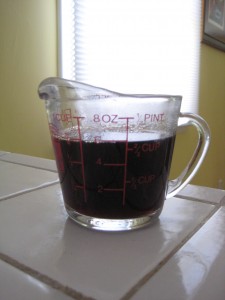 So, one day soon after the wedding I cracked open the cook book only to discover all the measurements were in metric.  Needless to say I closed the cookbook, put it back on the shelf and packed away the ice cream maker saying I'd do something with it some day.  Well, that day has come, six years later.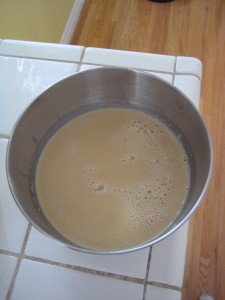 I love coffee ice cream.  And recently I discovered Ben & Jerry's makes a spectacular coffee ice cream called Coffee, Coffee, Buzz, Buzz.  It's rich, strong coffee ice cream with big chunks of chocolate chips in it.  Why they don't sell this flavor in the stores is beyond me.  You can only get it at an actual Ben & Jerry's "scoop shop", and of course there aren't any near me.  So, I decided to pull out my ice cream maker and make my own. While it wasn't quite as strong as Ben & Jerry's, considering it was my first time using the ice cream maker, I was very pleased.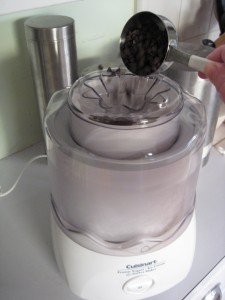 I whipped up the ice cream two weeks ago.  It was super yummy, but somehow, I've made it last.  The question is, will you?
Coffee Chocolate Chip Ice Cream
1 1/2 cups heavy cream
1 1/2 cups skim milk
3 egg yolks
3/4 cup sugar
3/4 cup of your favorite coffee
1/2 cup of semi-sweet mini chocolate chips
Combine egg yolks and sugar in a bowl and blend with an electric beater for about five minutes.
Heat milk and cream in a pan but do not boil it.  Once scorched turn off heat.
Slowly add 1 cup of hot milk mixture to the egg mixture, all the while beating rapidly.  Once mixed, pour egg mixture back into pan with the rest of the hot milk mixture.  Beat the whole thing with a whisk.
Heat the mixture over medium heat, stirring constantly for a few more minutes until it thickens and coats the back of a wooden spoon.  Turn off the heat.
Pour the mixture into a bowl, cover and put in the refrigerator until it's completely cold – this could take four or five hours.
Once cold, pour into your ice cream maker and follow the machine's directions.  Five minutes before it's done churning, add the chocolate chips.  Once finished churning, place the ice cream in an air tight container in the freezer for at least two hours and serve.
Makes about 2 quarts.