Mocha Fudge Chocolate Dream Cake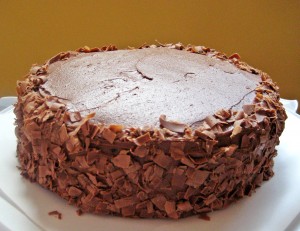 A few friends and I got together last week to attend the Comedy & Magic Club's annual birthday bash.  Every year during the month of July they get several comics together to perform.  This year it was 16 comics for 16 dollars.  So since we all like to laugh, we reserved a couple tables and went.  As it turned out not only was the club celebrating another birthday, so was one of my friends.  We wanted to do something special for her, so I offered to make a cake.  Everyone was on board, but there was a small problem – I had no idea what kind of cake to make.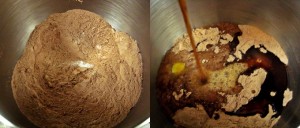 After a moment or two of panic, I decided to do what I've been doing a lot of recently – I turned to the plethora or food bloggers I follow.  And as I suspected, I found several yummy ideas.  Since my friend loves chocolate, I knew I had to make a chocolate cake.  No problem there.  The only problem – trying to choose which of the mouth watering recipes to use.  I couldn't do it.  So I finally decided to take the two that I liked the best and combine them.  What I ended up with was an amazingly, delicious, moist chocolate cake.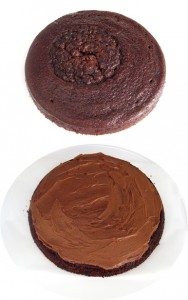 Now you're probably wondering who I chose.  Since I have no problem giving credit where credit is due, the blogs that helped me create this cake were My Baking Addiction and Picky Palate.  Both recipes sounded too good to pass up.  I loved the unique idea of coffee in My Baking Addiction's Black Magic Cake.  But Picky Palate's idea of adding ice cream and hot fudge sauce to her Ice Cream Sundae 4 Layer Cake sent me into an "I-must-try-this" tizzy.  So, I did.  Let me tell you, my mouth (along with the mouths of several of my friends) has never been happier.  I'm definitely going to make this cake again.  Now all I need is a reason.  Hmmm….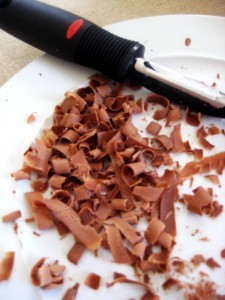 Mocha Fudge Chocolate Dream Cake
Makes 10-12 servings
2 cups of sugar
1 3/4 cup flour
3/4 cup Hershey's cocoa
2 eggs
1 cup buttermilk or sour milk*
1 cup of your favorite strong black coffee
1/2 cup vegetable oil
1 cup Vanilla ice cream
1/4 cup hot fudge sauce
2 tsp baking soda
1 tsp baking powder
1 tsp salt
1 tsp vanilla extract
Chocolate Frosting
1 cup (2 sticks) unsalted butter at room temperature
2 cups powdered sugar
4 Tbsp Hershey's unsweetened cocoa
4 Tbsp Dutch cocoa powder (I use Ghirardelli)
2 Tbsp milk
Preheat the oven to 350 degrees F.  Grease two 9-inch round cake pans.
Sift together the sugar, cocoa, flour, baking powder, baking soda and salt in a large bowl.  Add the eggs, buttermilk, coffee, vegetable oil, and vanilla extract.  Mix together on medium speed.  Once blended, add the hot fudge and ice cream and mix again on medium speed for another minute or two.  (The batter will be thin.)  Pour evenly into the two prepared cake pans.
Bake for 35-40 minutes or until a wooden toothpick inserted into the center of the cake comes out clean.  Cool for 10 minutes.  Remove from pans and let cool completely on a wire rack.
*To sour milk: add 1 Tbsp of white vinegar to your cup of milk and stir.
To prepare the chocolate frosting:  Cream butter, sugar, and cocoa in a mixer on medium speed for 2-3 minutes.  Gradually add milk until combined.
Once the cake is cooled, place the bottom layer on a cake stand spread the top with frosting.  Place the second layer on top of the first, and frost the top and sides of the cake with the remaining frosting.
Oh and those chocolate curls on the sides?  Picky Palate made it super easy.  Just take your favorite block of chocolate (I used Cadbury) and a vegetable peeler and peel the chocolate bar to get curls.  Press the curls onto the side of the cake, refrigerate for about an hour, and serve.