Easy Enchilada Bake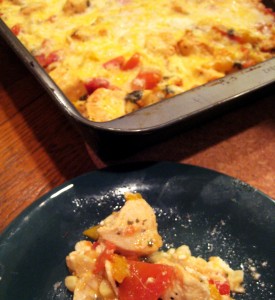 I hate to admit it, but sometimes there are days when I just don't want to cook.  You know the days I'm talking about: the ones where you're running around like a chicken with your head cut off and you still aren't able to get everything done on your "to do" list. These are the days when the idea of prepping, stirring and turning on the stove just turn me off.  Instead, all I really want to do is put my feet up and have my fully trained kitchen staff whip me up whatever I desire and serve it to me while I watch the most recent episode of The Vampire Diaries. But since I don't have a fully staffed kitchen just yet, what I used to do instead was grab a couple slices of bread, some cheese and whatever deli meat was in the fridge and slap together a mediocre sandwich. 
Unfortunately now that I have a toddler, making myself an unsatisfying sandwich isn't really an option.  He needs a decent meal.  Three to be exact.  These are the days I scour the internet, my cookbooks and/or my brain for a quick and easy option that will not only provide a nice meal for the family, but have enough for leftovers the next day. 
This Enchilada Bake is one such option.  It's super easy to make, takes only about 40 minutes to cook and the only preparation needed is to buy the ingredients at the grocery store, whip them together, throw them in a casserole dish and bake it in the oven.  And the turn out – deee-licious.  My 17-month-old son even wanted seconds. 
Another awesome thing about this entree, since it's Mexican, you can make it as mild or as spicy as you like.  You can add whatever vegetables you have in the fridge and while I used chicken for my version, you could just as easily substitiute carne asada or even skirt steak.
So the next time you want a simple meal that's really filling and the whole family will love, give this Enchilada Bake a try. I promise you won't be disappointed.
Easy Enchilada Bake
1 lb boneless, skinless chicken breasts, cut into bite-sized pieces
1 large onion, diced
1 large green or yellow pepper, diced
1 package of frozen corn, thawed and drained (I used fresh corn that I just sliced off the cob)
2 cups of salsa (as mild or as spicy as you like)
4 flour tortillas
1 cup sour cream
1 1/2 cups of shredded jack and cheddar cheese
Preheat the oven to 400 degrees F.
Cook the chicken, onion, and pepper in a large skillet over a medium heat for about 10 minutes or until the chicken is cooked through.  Stir in the salsa and corn and cook for another two minutes.
Arrange 4 tortillas on the bottom of a 13×9-inch baking dish.  Layer half each of the chicken mixture, sour cream and cheese over the tortillas. Repeat  the layers so that you have at least 2 layers of chicken, sour cream and cheese. 
Cover the dish with tin foil and bake for 30 minutes.  When the timer goes off, remove the tin foil and bake for another 10 minutes.  Let cool for 5 minutes and serve.