Mashed Yams and Apples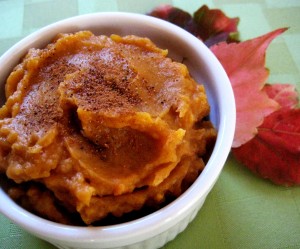 Yams are a huge part of Thanksgiving dinner.  They've always been one of my favorite sides, especially since I'm not a mashed potato fan.  I pretty much like them any way you want to serve them: sliced, whole, in a casserole with marshmallows on top, mashed… every year it's something different at my house.  And every year I lick the plate clean.
Well, last year I was about to start making baby food since my son had just turned six months-old.  Since you're supposed to start with vegetables, I had plenty of yams for pureeing.  But I also had a bunch of apples.  And since apples and yams go so well together, I thought what if while making food for Aidan, I whipped up a side dish for Thanksgiving? I already had all the ingredients, all I needed to do was make enough to feed 20 people.  So I baked all my yams and apples, threw in some cinnamon and allspice, pureed the whole bunch, and voila, a yummy side dish that's perfect for the holidays.  And as my son can attest, is also a great first food for babies.
Mashed Apples and Yams
(Makes 8 servings)
4 lbs of yams
2-3 apples, (I like Granny Smith or Gala) peeled, cored and cut into 1 inch pieces
4 Tbsp butter
1/2 tsp cinnamon
1/2 tsp allspice
Wrap yams in tinfoil and bake them in a 375°F oven for 1 hour and 30 minutes. When they're done, they should be soft to the touch and oozing juice.
While the yams are baking, cook the chopped apples in a pot of boiling water until tender, about 7-10 minutes.  Drain, pat dry, and place in food processor.
Pull the yams out of the oven and scoop the meat of the yam out of the skin and into the food processor with the apples.  Blend the apples and yams together until smooth.
Add the butter and spices and blend until the butter is melted.
Serve immediately. 
This dish can be made a day ahead, just cover and refrigerate. When ready to serve, place the yam and apple mixture in a large saucepan over medium-low heat until hot. Transfer to serving dish and serve.
For the mommies:  Not only is this a great side for Thanksgiving, since it's mashed yams and apples, this is a great first food for babies 6 – 10 months-old. Just make sure it's not too hot and baby can have Thanksgiving dinner with you and the family (or any other time of the year).
**As always, this is based on my own personal experience. Please check with your baby's pediatrician on introducing solid foods, as these suggestions may not apply to your infant. **