Pumpkin Pudding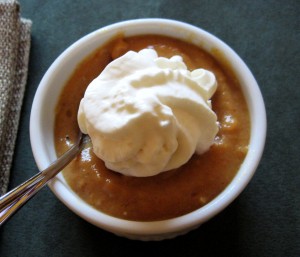 As I mentioned in an earlier post this month I am not a fan of pumpkin pie. I find it flat and boring.  But I do love pumpkin, pumpkin bread, pumpkin cheesecake, pumpkin waffles… pretty much anything else except pumpkin pie.  And of course I'm in charge of a dessert for Thanksgiving this year since I love making sweet things.  The past couple years I've made Pumpkin Flan, and while it's been delicious and a big hit, I don't like to make the same things over and over again.  Just like pumpkin pie, they become stale and flat.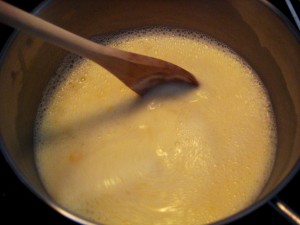 So this year I found a recipe for pumpkin trifle.  I was so excited. I love trifle, but to me it's always been a spring or summer dessert because it usually calls for the fresh fruits and berries that only come out between April and August.  So when I saw a recipe for Pumpkin Trifle I was hooked. This would be this year's dessert.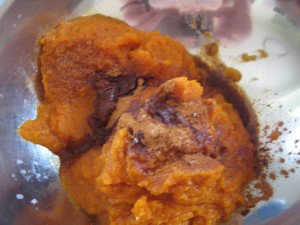 Now unfortunately this is not the recipe for Pumpkin Trifle. That will come later. But what this is a recipe for is one component of the trifle and is actually just as good on it's own.  Even better, it's served in little ramekins so every person at your Thanksgiving table can have their own.  It's pumpkin pudding.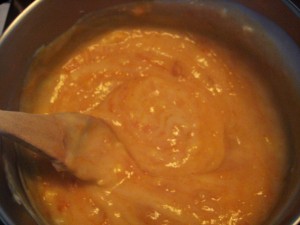 This pudding isn't heavy like other puddings.  Since it's adapted from Cooking Light it's got an airiness that makes it rich without weighing you down.  Adding this pudding to your buffet will actually allow guests (and you) to sample the other desserts you have lined up.  So instead of the same old pumpkin pie this year, offer this delightful little dish. Everyone can get their pumpkin on and still have enough room for that beautiful caramel apple pie or chocolate torte.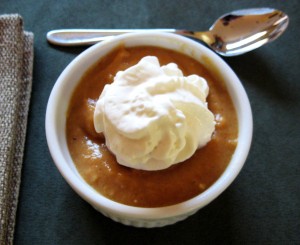 Pumpkin Pudding
(Serves 4)
1/2 cup sugar
2 Tbsp cornstarch
1 3/4 cup 1% low-fat milk
1 large egg
1/2 cup of canned pure pumpkin
2 tsp vanilla
1/2 tsp cinnamon
dash of nutmeg
Combine 1/2 cup of sugar and 2 Tbsp cornstarch in medium sauce pan over medium heat.
In a separate bowl whisk together the milk and egg until well combined.
Gradually add the milk mixture to the sugar mixture, stirring constantly.  Bring to a boil and continue cooking for another minute, stirring constantly.  The milk mixture should thicken and coat the back of a spoon.  Remove from heat.
In a separate bowl, mix together the pumpkin, vanilla, cinnamon, and nutmeg until well combined.  Gradually add it to the milk mixture, whisking constantly.  Cook over low heat for 3 minutes or until heated through, stirring constantly. Do not boil. 
Divide pudding equally between 4 ramekins, cover with plastic wrap and chill for at least 2 hours.  These can be made a couple days ahead, just keep them covered and refrigerated.  Then garnish with a dollop of whipped cream and serve.