Sweet Potato Marshmallow Bars with White Chocolate Chips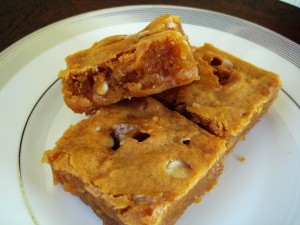 Last week Kelly over at Evil Shenanigans posted a recipe for White Chocolate, Cranberry, Pecan and Sweet Potato Cookies. While the pictures looked amazing and made me want to eat each and every one, I realized I'd never thought about using sweet potatoes to make a cookie.  Then I remembered there's sweet potato pie and that great Thanksgiving dish sweet potato casserole with marshmallows.  So I started thinking, what if that sweet potato casserole were a cookie bar? I was immediately taken with the idea. I just had to try it. So, I did what every mom-turned-amateur-baker would do and ran to the grocery store to get some marshmallows and sweet potatoes.

I made the first batch, using my Chocoholic's Brownies recipe as a base.  They didn't turn out.  Actually they were more like sweet potato fudge, just too gooey to cut into little bars.  I realized I needed more flour. So I tried again. This time, success! It was much easier to cut and the bars actually held their shape. They were still just as sweet and gooey, but now they tasted more like a cookie bar than some sort of pie filling.  I also think they'd be great with pecans, but since my husband's allergic to all nuts, I didn't add them to my batch.  I'd highly recommend throwing in at least a half cup, though. (And if you do, please let me know how they turned out.)
So, if you're like me and you believe that sweet potatoes should be a nice side dish and nothing else, these bars will absolutely change your mind. They changed mine.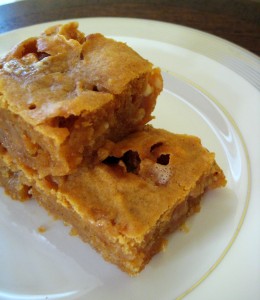 Sweet Potato Marshmallow Bars with White Chocolate Chips
1 stick of unsalted butter
1/2 cup of packed brown sugar
1/4 cup of white sugar
1 tsp vanilla
1 egg
1 cup sweet potato, pureed
1 1/3 cups flour
1 tsp baking powder
1/2 tsp salt
1/2 tsp cinnamon
dash of ground nutmeg
1 cup white chocolate chips
1 cup mini-marshmallows
1/2 cup chopped pecans (optional)
Preheat the oven to 350°F. Grease a 9×9 baking pan.
In a medium bowl, cream together the butter and both sugars until light.  Add the egg and vanilla and blend.  Add the pureed sweet potato and mix until well blended.
In a separate bowl sift together the flour, baking powder, salt, cinnamon, and nutmeg. Gradually add it to the sweet potato mixture and blend until just combined.
Fold in the white chocolate chips, marshmallows, and pecans.
Pour the dough into the prepared pan and bake for 40-45 minutes until golden brown and a toothpick, when stuck into the cake, comes out clean.  Let cool for 15 minutes.  Cut into squares and serve.