Marshmallow-stuffed Chocolate Cookies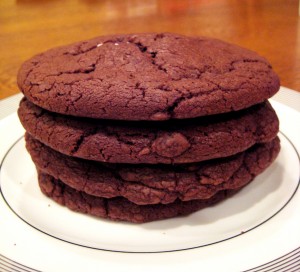 The other day I had a serious chocolate craving.  The kind where I had to have chocolate immediately and I didn't care what form it came in.  I'll get these cravings every once in a while and my husband knows enough to stay out of the way.  If I have to cook, okay.  If I have to run out at 11:30 pm, fine.  Never any questions, just do whatever I have to to feed the beast.
Well, I wasn't in the mood to run out.  So I started scouring my kitchen for something. I looked in the fridge, the freezer, the cupboards, there was no chocolate anywhere to be found.  All I had were a couple bags of semi-sweet chocolate chips and while I seriously debated tearing open one of those bags and downing every single chocolate chip inside, I decided there had to be a better way.  So I started doing what any sane (maybe not) food blogger would do and began hunting through some of my favorite foodies, most of whom you can find in my blog roll, to see what they had that I could whip up with my chocolate chips.
I landed on these amazing Chocolate Ganache-Stuffed Cookies from Amy over at Sing For Your Supper.  I'd made them once before and while they were awesomely delicious, there just wasn't enough chocolate in them to satisfy my craving.  But those cookies got me thinking…  I remembered I had some mini-marshmallows and I love the taste of melted marshmallows.  And then I thought of those wonderful Scotchmallow chocolates from See's Candies which are marshmallow and caramel covered in dark chocolate and the idea came to me.  What if I reversed Amy's brilliant concoction so the chocolate was on the outside and those delicious melted marshmallows were on the inside? There'd be plenty of chocolate to sooth the beast screaming inside of me and I'd get a chewy, gooey surprise in the middle as an added bonus.
The result was better than I ever could have imagined. Amy's hubby came up with the name "Transformer Cookies" for her delicious creation.  Well, if hers are the decadent Optimus Prime, then mine are the evil Megatron. (Excuse the geekiness, my husband's starting to wear off on me.)  Both are worth eating – one's just a little more villainous than the other.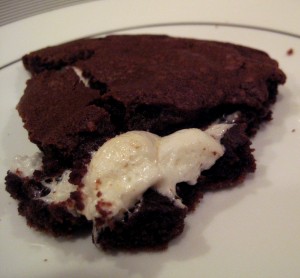 Marshmallow-stuffed Chocolate Cookies
1 12 oz package of semi-sweet chocolate chips
1/2 cup butter (1 stick)
1/2 cup sugar
2 eggs
2 cups flour
1 tsp baking powder
1/2 tsp baking soda
1/4 tsp Kosher salt
1/2 cup mini-marshmallows
Preheat oven to 350°F.  Pour the chocolate chips into a glass bowl.  Microwave on medium-high until melted, stirring every 30 seconds. Cool.
In a large bowl, mix together the butter and the sugar until thick and creamy, about 1 minute.  Gradually mix in the melted chocolate until well combined.  Mix in the eggs.
In a separate bowl, sift together the flour, baking powder, baking soda and salt.  Gradually add the dry ingredients to the chocolate mixture until just combined.  Chill for at least 30 minutes.
To assemble: Scoop out a spoonful of the chocolate cookie dough and flatten with the palms of your hand.  Place 3 or 4 mini-marshmallows in the middle and cover with another scoop of flattened chocolate cookie dough.  Seal the edges.  Place each cookie a couple inches apart on an ungreased cookie sheet, as they will spread while baking.  Bake for 12-15 minutes.  Let them cool on the cookie sheet for 5 minutes and serve.