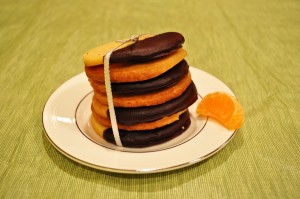 I recently visited the House of Balsamic for a balsamic tasting.  As I mentioned in my previous post, I tasted some amazing vinegars, but my favorite by far was the Balsamo di Arancia – the orange balsamic vinegar.  Since I purchased it, I've used it over pancakes and waffles and added it to Patron for a wonderful after dinner drink.  But it was watching an episode of Top Chef that I came up with the best idea yet.
In case you're not a fan, Top Chef is a reality show on Bravo that pits professional chefs against each other with the goal of being the last chef standing and winning $100,000. I love watching this show because not only do I get to watch great chefs come up with wonderful recipes, there's also plenty of drama and cat fights to make the show truly popcorn-worthy.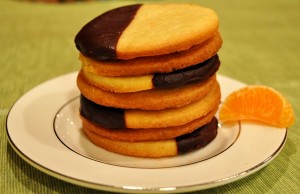 Well, a few weeks ago the Quick Fire Challenge was to make the best cookie.  While Dale won with his Pretzel & Potato Chip Shortbread Cookie with Salted Caramel Chocolate Ganache, Tiffany made a delicious looking Shortbread Cookie with Lemon Zest, Rosemary and Thyme.  Her cookie got me thinking… what if I used orange zest instead of lemon and my awesome new orange balsamic vinegar instead of vanilla extract?  A delectable new cookie was born. 
Now all I needed were some cookie cutters.  Yes, I know, a baker without cookie cutters… it's hard to believe.  But now that I had a new recipe brewing inside me I had reason to run out and get some.  I of course brought my little monkey along, which is why I didn't just have pretty round cookies, but a few airplane-shaped ones as well.  But no matter the shape, the cookie was just as scrumptious as I imagined.
 Orange Balsamic Shortbread Cookies
Ingredients
7 oz butter
1/2 cup sugar
2 tsp orange balsamic vinegar
2 cups flour
1 orange, zested
1 bar (about 4 oz) dark chocolate, melted
Directions
Preheat oven to 350°F. 
Cream butter and sugar together until light and fluffy.
Mix in orange balsamic on medium speed.
Gradually add flour until just combined.  Then mix in the orange zest.
Roll out the dough between two sheets of parchment.
Cut the cookies using a cookie cutter and place on well-greased cookie sheets.  Bake for 10-12 minutes or until golden.  Let cool. 
While the cookies are cooling, melt the chocolate in a double boiler over medium-high heat.  Once the chocolate's melted, dip the shortbread cookies half-way into the chocolate.  Lay on a sheet of parchment paper and let cool completely.  Serve.