Doughnut-Apple Cobbler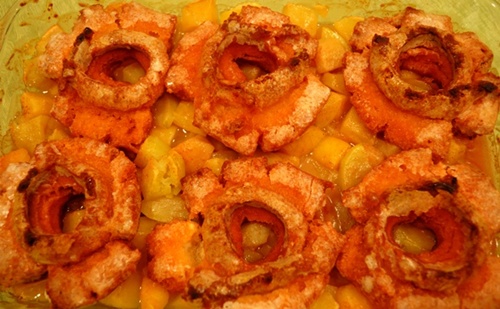 As I'm sure you've noticed, desserts are something of which I'm a huge fan.  It doesn't matter if it's chocolate or fruit, cupcakes or ice cream.  If it's sweet, I'm in.  And if it's easy, I'm at my mixer in a matter of seconds.
So, a few weeks ago I made my first impulse buy at the grocery store .  No, it wasn't a candy bar or Star Magazine.  It was a Better Homes and Gardens Special Interest Magazine.  And this month's special interest? Ultimate Casseroles!  When it comes to easy dinners I'm all about the casserole. Just take some of your favorite ingredients, throw it into a casserole dish and bake.  But casseroles mean dinner, and if you follow my blog, you know my dinners are now relegated to She Knows where I do the daily dinner column "Tonight's Dinner." 
Now, you're probably thinking, "Wait, I thought this was about dessert.  Why's she talking about dinner?"  That's because the back of this magazine had several recipes that were dessert casseroles. I didn't know that casseroles could also be desserts, did you?  Well this magazine set me straight.  There are some wonderful appetizers and some even better desserts. And easy… oh my god.  This doughnut-apple cobbler is just one example.  If you love apples, you're going to love this dish. 
What I love about this recipe is the fact that I didn't have to make a crust.  If you've read previous posts, you know I'm not a big fan of crust.  Unless it's meringue or cookie, I'm out.  But there was no crust here.  There wasn't even rolling oats and flour together like you usually do for a cobbler.  All I had to do was purchase a few doughnuts and those were my crust.  I used glazed old fashioneds since those are my favorite.  But you can use sugar or even cinnamon-sugar doughnuts if you want.  Or if you're really daring, you can make your own doughnuts.  I didn't have the time, so I bought mine. 
After you purchase (or bake) your own doughnuts, all that's left to do is peel and cut the apples, toss them with a little flour and sugar, pour them in a casserole dish, place the doughnuts on top and bake. So easy, right?  And it tastes superb. The soft sweet cake of the doughnut coupled with the crunch from the apples, make this a wonderful alternative to your standard apple pie.  Add a big scoop of French vanilla ice cream on top and you've got a delicious dessert for any occasion.
One more thing. While this post has absolutely nothing to do with vinegar, I want to send out a big CONGRATULATIONS to Lisa Fink of Fink Girl who won my balsamic giveaway a couple of weeks ago.  Lisa, I hope you enjoy your vinegar.
Ingredients
6 medium Granny Smith apples
2 medium McIntosh apples
2 medium Pink Lady apples
1 large lemon
1/2 cup sugar
1/3 cup flour
1 Tbsp cinnamon
6 glazed old-fashioned doughnuts
5 tbsp butter, melted
Directions
Preheat oven to 375°F.  Peel, core and cut apples into wedges; halve wedges crosswise so the pieces are smaller than 2 inches. 
Juice the lemon, retaining as much pulp as possible.  In a large bowl, toss the juice and pulp with the apple wedges. 
Add sugar, flour, and cinnamon and toss until apples are coated.  Arrange apples in a 3-quart rectangular baking dish.
Top apples with doughnuts and drizzle with melted butter.  Bake for 20 minutes.  Cover with foil to prevent over-browning and bake for another 20-25 minutes or until filling is bubbly.  Serve warm with a scoop of vanilla ice cream.