Strawberry Meringue Cake and an Anniversary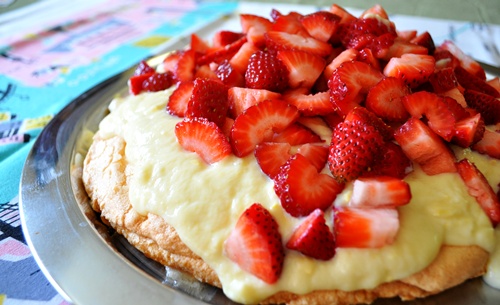 (sung to the tune of Happy Birthday.) Happy anniversary to me, happy anniversary to me, happy anniversary to me…Happy anniversary to meeeeee.
I can't believe it's already been a year since I started Kitchy Cooking.  Actually it's been a little over a year.  My first post was written for Passover and since Passover was at the end of March last year I'm a couple weeks late.  But then I thought rather than celebrate my anniversary on a specific date, why not celebrate it on a specific holiday? After all the holiday was the reason I started my blog in the first place.  So since this is my blog and I make the rules, I'm going to celebrate my anniversary every Passover; that means some years my anniversary will be in March and some years it'll be in April.  But don't worry, every anniversary will be a recipe perfect for Passover, which I think is fitting seeing as how I celebrate that holiday every year anyway.
Thinking back over the past year, I realize how much I've accomplished.  I've grown as a blogger.  I've grown as a photographer.  Just look at this picture from one of my first posts.  I can't tell you how desperately I want to go back and change my photos, but then I think I should keep them to remind myself how I've grown.  But what I'm most proud of is that I've actually started creating a few recipes of my very own.  I'm no longer simply copying or recreating other recipes.  That is the accomplishment I'm most proud of. 
When I started this blog I just wanted to share some of my favorite family recipes with newlyweds and new parents.  I wanted to show recently married couples that it was possible to make delicious dinners or desserts for the whole family in a pinch.  Sure, there are some recipes that take a little longer, but those are the ones that usually provide plenty of left overs.  I wanted to prove that you could put together a delectable party without stressing about what to make or how to go about it.  And while some posts don't have anything to do with entertaining, I enjoy writing and creating the recipes so much I still want to share them with you.
So with that in mind, here is a new dessert perfect for that Passover Seder you're planning.  I found this dessert over at Saveur and as I've started to do more and more, I put my own spin on it.  I mean sure, meringue, hazelnuts, whipped cream and strawberries all sound amazing, but my husband's allergic to nuts.  So, since I want him to be able to eat whatever I make, nuts are always automatically excised from any recipe.  Then I thought, whipped cream's sorta boring, so what else goes well with strawberries and meringue? Why vanilla custard of course. So I subbed the whipped cream for custard and got a delicious cake that's the perfect ending to a warm spring Passover Seder.
 Strawberry Meringue Cake
Ingredients
10 egg whites
2 1/2 cups sugar
3 Tbsp cornstarch
4 egg yolks
3 cups milk
2 tsp vanilla extract
1 pound strawberries, hulled and sliced into large chunks
Directions
Preheat oven to 325°F.  Line a baking sheet with parchment paper and set aside.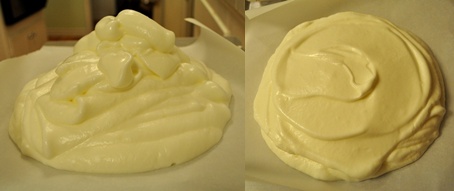 Beat the egg whites until stiff peaks form.  Gradually add 1 cup of sugar and continue beating until stiff peaks.  Fold in 1 more cup of sugar.  Pour meringue into center of prepared baking sheet.  Using a rubber spatula, carefully spread meringue out into an 8-inch-wide circle (it will look like a tall cake).  Bake meringue for 20 minutes, reduce to 275°F and bake until golden brown and crisp on the outside while still gooey on the inside, about 40 minutes more.  (The meringue may crack while cooking, but that's okay.)  When done, turn off oven and leave cake inside overnight.  DO NOT open oven door.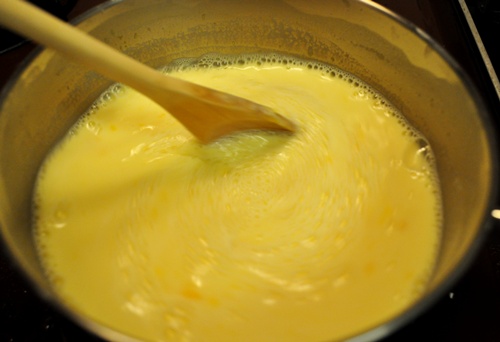 While the meringue is baking, prepare the custard.  Bring remaining sugar (1/2 cup), cornstarch, egg yolks, and milk to a boil in a large sauce pan over medium heat, stirring constantly with a whisk.  Continue whisking constantly until thickened, about 20-25 minutes.  Remove from heat and stir in vanilla extract.  Place heavy duty plastic wrap on surface to prevent "skin" from forming and chill for at least 2 hours or overnight.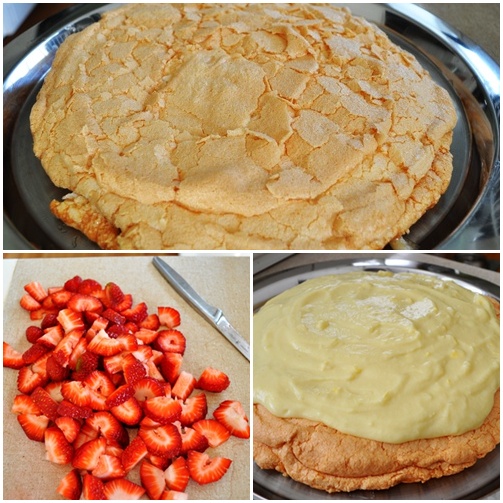 To assemble cake: carefully run a spatula or knife under bottom of meringue to loosen it and transfer the meringue to a cake stand or serving platter.  (I needed a couple spatulas and an extra set of hands to transfer the meringue, but if you have a pizza spatula, that's perfect.  Also if meringue cracks a bit more during the transfer that's okay.)  Spoon 1 1/2 cups of custard over the meringue and spread into an even layer.  Heap strawberries on top of custard and serve immediately.  If you have leftover custard serve it in a side dish for guests to dollop on top of their cake.