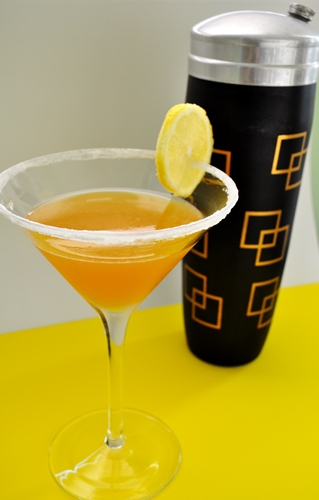 I've never been a fan of orange liqueur.  Grand Marnier? Blech! Cointreau? No thanks. Triple Sec? Only if it's mixed into something.  I like my oranges in either fruit or juice form.  (Which is why I'm especially partial to the Screwdriver, but that's for another post.)  But just because I'm not a fan doesn't mean I'm not willing to try them on occasion, especially if they're mixed into a classic cocktail; which brings me to today's post: the Sidecar
I've heard about the Sidecar for years, but never tried it because it consists of two spirits of which I am not a fan – Cointreau and Cognac.  But for you, dear readers, I'm willing to push my hatred aside, especially since it comes in a tall martini glass.  And I have happy news to report. The Sidecar is actually quite yummy! I now understand why it's one of the few drinks to survive the Prohibition. The orange and lemon flavors add a delightful tartness that confuses the tongue just long enough to miss the bite of cognac.  Add the sugar rimmed glass and you've got a classic that deserves to be in any speakeasy.
As I said, the Sidecar dates back to before the Prohibition.  But it's beginning is a little hazy.  Some believe It was created in a Parisian bar during WWI and named for an American army captain whose preferred form of travel to and from the bar was in a motorcycle sidecar.  During one visit he was under the weather and asked the bartender to give him something that would make him feel better.  Since brandy was used in those days for medicinal purposes, the bartender poured the captain a glass and added the Cointreau and lemon juice for an extra kick of vitamin C.  I know, it sounds a little far fetched, doesn't it?
Well if you don't like that story, here's another version: the sidecar was actually created at London's famous Buck's Club in the 1920's.  It's often credited to one of the bar's most popular bartenders, Pat MacGarry.  But however and wherever the cocktail was created, at least one thing is hold true – it's definitely been around since at least the Prohibition, making it a true classic cocktail.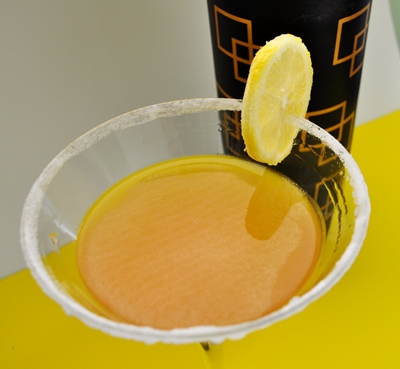 Sidecar
3/4 ounces Cointreau
3/4 ounces lemon juice
1-1/2 ounces cognac
Rub the rim of a chilled martini glass with lemon and dip in sugar.
Pour all the ingredients into a cocktail shaker filled with ice.  Shake well and strain into the chilled martini glass. Drink and be merry.