Tom Collins for Father's Day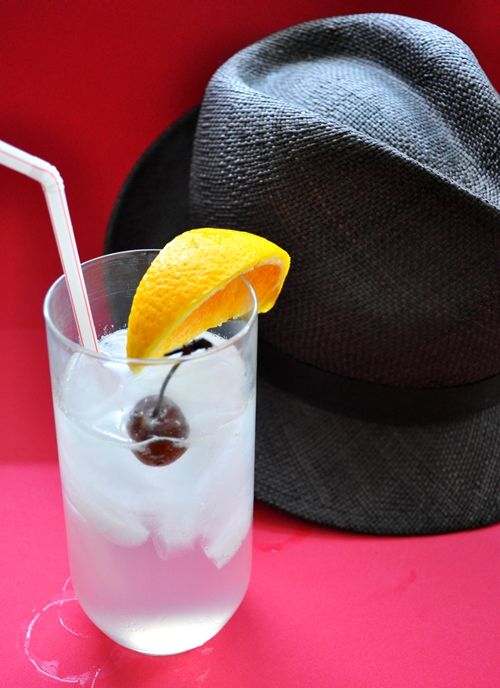 It's Father's Day on Sunday. A lot of you will probably be grilling some cut of meat on the barbecue and having a drink or two.  It could be beer, but since it's June and (hopefully) warm, why not have something a little more refreshing?  This year, why not treat your dad to a Tom Collins?
The Tom Collins has been around since 1874 so easily falls into the classic category.  It's evidently named after The Great Tom Collins Hoax of the same year.  See, there was this practical joke that people played on each other where they'd find a friend drinking at their favorite tavern and then proceed to tell them how there was this loud guy, Tom Collins, bad mouthing him at another local haunt.  Well, the friend would get so upset he'd march right over to the other bar and ask for Tom Collins.  Of course Tom wasn't there because Tom didn't exist.  This happened so often, that Jerry Thomas included a drink named after the hoax in "The Bartender's Guide".  So now when people went looking for Tom Collins instead of finding a person, they received the drink.
So why did I choose the Tom Collins for Father's Day? I guess because of the name.  No, neither my husband nor my father are named Tom, but it just seemed to fit.  It's a man's name and to me the Tom Collins has always been a man's drink.
Although my father never taught me how to drink, he did teach me that if you're going to buy liquor, you should always try and buy the best. Never, ever buy blended scotch – single malt is the only way to go.  (I actually passed this piece of advice on to my husband and he's never looked back.) The older the alcohol the better and if you're buying whiskey, buy Wild Turkey (my grandfather's drink of choice).
Of course he's taught me a few other things… like how to love any team from Boston even though I'm a born and bred California girl.  How to throw a ball and fly a kite (not necessarily at the same time).  While we never spent much time talking about life and love (that's what moms are for), he was always there when I needed him and even though I'm currently speeding through my 30's, I'm still his little girl. And always will be.  And I'm okay with that. Actually I love it.
So, Dad, here's to you.  Gin may not be your drink of choice, but it's tall, cool and smart… just like you.
Tom Collins
2 oz gin
1 oz lemon juice
1 tsp super fine sugar
3 oz club soda
1 marachino cherry
1 orange slice
Pour the gin, lemon juice and sugar in a collins glass filled with ice.  Stir and top with club soda. Garnish with a cherry and an orange slice and serve.