Summer Bourbon Peach Hand Pies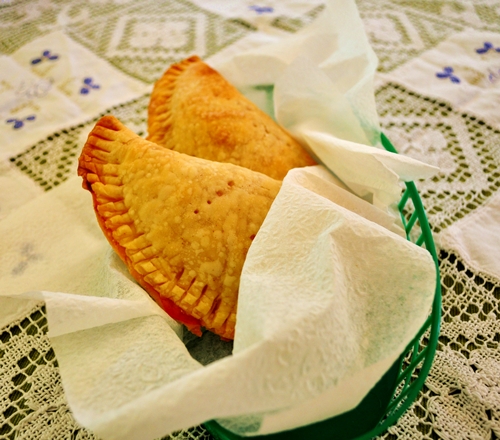 A few weeks ago I made an impulse buy at the checkout of my grocery store. I picked up Better Homes and Gardens Sunday Dinners magazine. The cover recipe looked really good and when I flipped through there were several more recipes that looked just as scrumptious. One was a recipe for Summer Peach Pie Twisters that just sounded amazing, especially since peaches are in season right now.
In case you don't already know, I'm a huge fan of summer for a number of reasons. I can finally bust out my sandals and show off my monthly pedicure, the beach becomes a regular hangout, and most importantly deliciously sweet fruit is back in season. Almost every Tuesday you can find me at my local farmers market buying enough fruit to open up my own fruit stand. One of my favorite fruits to stock up on are peaches. But they have to be yellow. I just don't understand this white peach craze. Yes, they're good, but in all honesty, they're just too sweet for me. I like my peaches to have a little zing, a little pucker. In short, they need to be a little more tart for my taste, so I stick with yellow. But I digress.
While I love to eat peaches plain, I have no problem with a peach pie or tart. I saw this recipe for the Twisters and I knew I had to make them, especially since I had the perfect opportunity.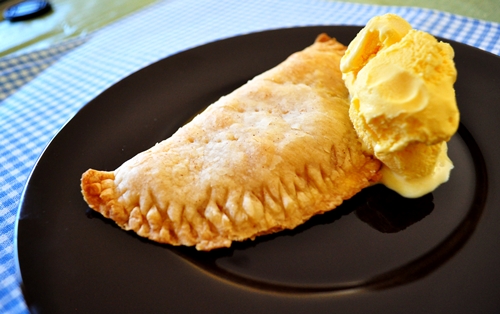 My friend, Ali, is a huge Sugarland fan and since they were going to be performing, she wanted to do a girls night out, complete with dressy outfits, cocktails, munchies, and yes, a limo. So of course I jumped on board. Since we would be in a car and then at an outdoor arena, I knew I needed to make something of the finger food variety. These twisters were almost the perfect answer. I say almost because BHG's recipe called for folding back the dough to expose the yummy peach filling and that just wouldn't work for me.
See, since we were all dolled up for our night without men, I knew we weren't going to want anything messy. That meant hand pies would be the better choice since they're completely sealed. Thanks to Deb over at Smitten Kitchen, I found a recipe she made where her pies were sealed and added a touch of bourbon; and since bourbon always makes everything better, I took Deb's recipe and the recipe from BHG and made my own Summer Bourbon Peach Hand Pies. And Oh. My. God. were they good! The perfect no mess dessert for a delightful picnic on the beach or a rockin' concert for the girls.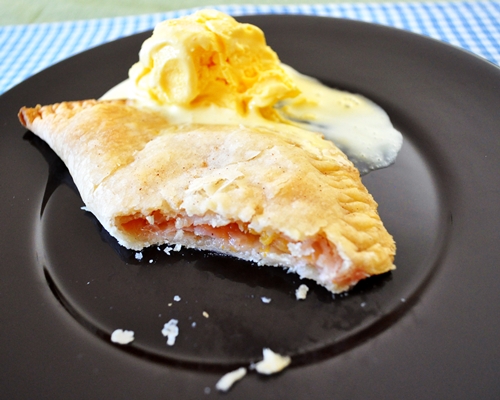 Summer Bourbon Peach Hand Pies
2 (15 ounce) packages rolled refrigerated unbaked pie crust
2 pounds peaches, peeled and chopped
1/4 cup flour
1/4 cup sugar
1-1/2 teaspoons bourbon
1/2 teaspoon vanilla extract
1/2 cup mini marshmallows
1/2 teaspoon cinnamon
2 tablespoons cinnamon sugar
Let pie crusts stand according to package directions. Preheat oven to 400°F. Line 2 baking sheets with parchment paper and set aside.
For the filling, in a medium bowl mix together the peaches, flour, sugar, bourbon, vanilla, mini marshmallows and cinnamon until well combined.
Unroll the pie crusts and cut into 4-inch circles. (If you re-roll the scraps of dough you should get 12 circles out of all four crusts.) Spoon 1-2 tablespoons of filling onto one half of each circle of dough. Brush a little water around the circumference of the dough and fold it in half so the dough comes down over the filling. Seal the hand pie with the back of a fork. Repeat the process with the remaining dough.
Place the hand pies on the parchment lined baking sheets. Prick each pie 2 or 3 times with a fork so steam can escape. Sprinkle with 2 teaspoons of cinnamon sugar.
Bake for 15-18 minutes or until filling is bubbly and pastry is golden brown. Cool on baking sheet and serve plain or with vanilla ice cream.