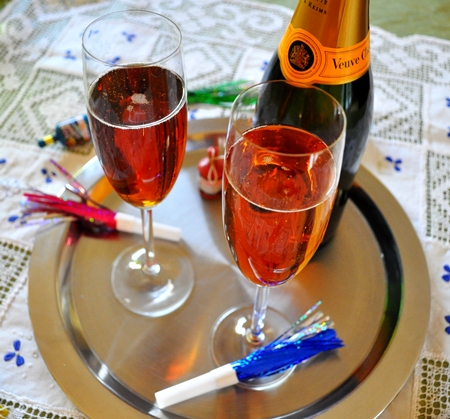 New Year's Eve is tomorrow night. Time to say good-bye to 2011 and hello to 2012.  What do you have planned for the evening? A night of partying or are you going to keep it low key and stay in? Since we have a toddler and I'm pregnant, the hubs and I decided to go low key this year. But that doesn't mean we're not gonna open up a bottle of bubbly after the little guy goes to bed and toast to the excitement that awaits.
But plain old champagne is just that, old. There are some delicious champagnes that should probably never be tampered with – Dom, Cristal… you know those super high end brands that the celebrities are always toasting with and spilling all over themselves.  But then there are the lower end that while decent on their own, deserve to be mixed with other liqueurs every now and then. This is when I pull out the Creme de Cassis and make myself a Kir Royale. It's sweet, and sparkling and the perfect way to celebrate. And since it's so easy to make, it should absolutely be on your list of champagne cocktails this New Year's Eve.
Now I know it looks and sounds like some newfangled concoction, but believe it or not the Kir Royale has been around since WWII. It originated in Burgundy, France in the '40s and is named after Félix Kir who was a hero in the French Resistance during the Second World War. After the war was over, he became mayor of Dijon and kept the distinguished position until his death in 1968. Kir was very interested in supporting local products from Dijon and created a drink called the Kir by combining the local peasant white wine with the sweet local black currant liqueur, Creme de Cassis. Kir's recipe was a huge success in Burgundy and became so popular, it spread all over France, finally reaching the upper class who thought it would be more appropriate to use champagne instead of the peasant wine and thus the Kir Royale was born.
So whether you're going out or staying in, turn your champagne into French high society by adding a little Creme de Cassis. Not only is the Kir Royale beautiful to look at, it's delicious as well.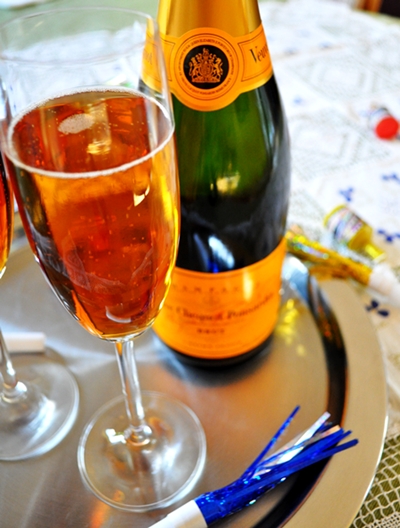 Kir Royale
1/2 ounce Creme de Cassis
4 ounces champagne
Pour the Creme de Cassis into a champagne flute. Add the champagne and enjoy.