El Presidente Cocktail
April 27, 2012
by Jennifer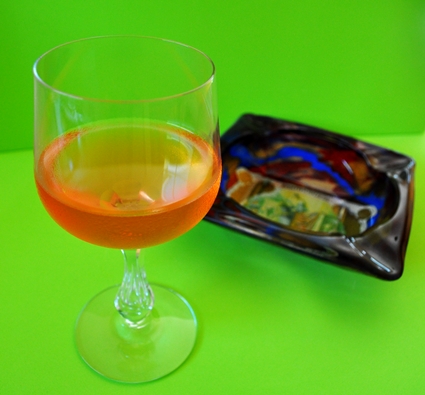 Since Cinco de Mayo is over a week away, I thought I'd devote my next two cocktail posts to drinks that would be fitting for the Mexican holiday. Although this one has a Cuban base, it had such a nice Spanish ring to it, I thought it would be perfect for the upcoming holiday. What makes this cocktail an unusual choice for Cinco de Mayo is that it's not a tequila based drink. In fact, it is a rum based drink, which makes sense considering it's Cuban and not of Mexican descent.
The drink was first created by American bartender, Eddie Woelke, while working at the Jockey Club in Havana during the Prohibition. The "presidente" for which the cocktail is named is Gerardo Machado who ruled Cuba with an iron fist from 1925 to 1933.  Woelke created the drink to please Americans who would travel to Cuba to drink legally during the Prohibition. The ships would leave the U.S. bound for Cuba and as soon as they entered international waters, teams of stewards would circulate through the ship bearing cocktails, like the El Presidente, for the passengers.
While it's true this cocktail is probably not your standard choice for Cinco de Mayo, it's just as easy to make as the more common margarita and might be a nice change of pace for the big day. But if you'd still rather consume a margarita, why not try the blood orange version? And if you're wondering about that other classic tequila drink, the Tequila Sunrise, don't worry, that's next week's cocktail du jour.
El Presidente
Makes 1 cocktail
Ingredients:
1-1/2 ounces white rum
3/4 ounce orange curaçao
3/4 ounce dry vermouth
dash of grenadine
Directions:
Pour all the ingredients into a cocktail shaker. Add ice and shake vigorously.
Strain into a cocktail glass and serve.