Strawberry Rhubarb Muffins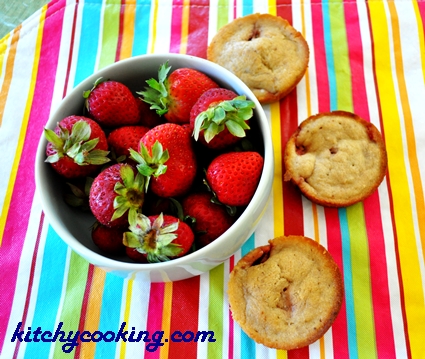 Sorry for being MIA the past few weeks but I'm still getting used to the schedule (or lack there of) with a toddler and an infant. But since I know rhubarb will be disappearing from the farmer's markets soon, if it hasn't already, I wanted to tell you all about these yummy muffins I made. Please, don't ask me how I found the time (or energy) to make them, but I did and they are super delicious.
I came up with the idea because I've been seeing a lot of rhubarb at the farmer's market recently. My mom used to make rhubarb all the time whenever it was in season. It was delicious. Both  sweet and tart – a wonderful summer time treat. I haven't had much since I left home though, mainly because it was hard to come by. But since I've been seeing it at the farmer's market, I decided to relive my youth and pick some up.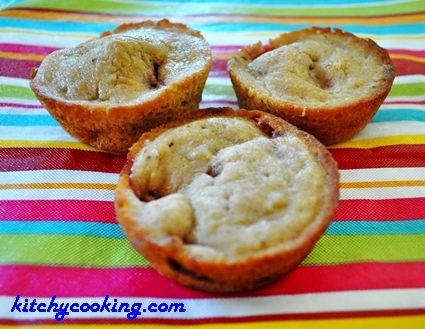 I love strawberries just as much as rhubarb and strawberry muffins used to be something that I'd get every weekend at Peet's Coffee during the summer months. Unfortunately, Peet's quit selling those wonderful muffins and I've been craving them ever since. Then I remembered whenever my mom made rhubarb she'd always make it with strawberries. So I thought why not combine the two? I know they go well together and this way I'd satisfy two cravings in one.
I was right, both cravings satisfied. Unfortunately a new one's cropped up in its place. Now all I want are more strawberry rhubarb muffins. Guess I'd better run and pick up some more rhubarb at the farmer's market before it's gone.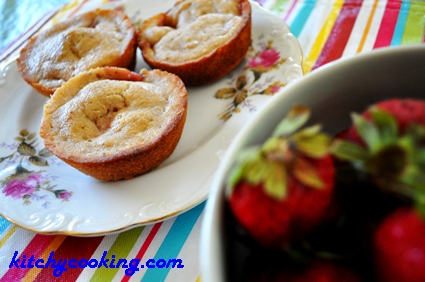 Strawberry Rhubarb Muffins
1 pound rhubarb cut into 1/2-inch pieces
1/4 cup water
1 cup sugar, divided
1/2 cup butter
2 eggs
1 teaspoon vanilla
1 cup light sour cream
1 cup pastry flour
1 cup all-purpose flour
1 teaspoon baking powder
1/2 teaspoon baking soda
1/4 teaspoon salt
1 pound strawberries, hulled and chopped
Directions:
Place chopped rhubarb, water and a quarter cup of sugar in a large saucepan and cook over medium-low heat, stirring frequently, until rhubarb is tender, about 20 minutes. Remove from heat and let cool.
Preheat oven to 400°F.
While the rhubarb cools, cream together the butter and remaining sugar in a large mixing bowl until light and fluffy, about three minutes. Mix in the eggs and vanilla. Fold in the sour cream.
In a separate bowl combine the flours, baking powder, baking soda, and salt.
Stir the dry ingredients into the butter mixture until just combined.
Fold in the cooked rhubarb and strawberries.
Fill greased or paper-lined muffin cups two thirds full. Bake for 20-25 minutes or until muffins are golden and a toothpick inserted comes out clean. Cool in the pan for 10 minutes and serve.