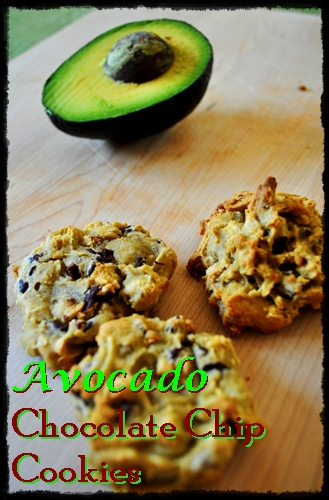 If your curling your lip in disgust, don't worry, you're not alone. I did the exact same thing when my trainer told me about them. I mean why in the world would you put avocado and chocolate chips in the same cookie? One's great for salads, dips and baby food and the other is the perfect dessert ingredient. They don't seem to have anything in common and yet they make one of the best cookies I've ever tasted.
Not only are these chocolate chip cookies super yummy, they're rich, chewy and super healthy. You may think avocados are fattening but it turns out that the fat in them is the good kind of fat that's easily burned for energy. Wouldn't it be great to have cookies that add energy rather than suck it like so many of the desserts we usually ingest?  I think so.
Now you may be wondering how a whole avocado fits into a cookie.  That's easy.  Since the avocado lacks a lot flavor it makes the ideal ingredient when it comes to desserts. This creamy fruit (yes, it's a fruit because of its pit) actually makes the perfect substitute for butter or cream. And that's exactly what I used it for. Instead of the standard cup of butter that usually goes into my chocolate chip cookies, I only used five tablespoons. Five tablespoons! That's not even a whole stick.  And you know what? I didn't miss the butter in the cookies at all.  They were still just as rich as they were when I made them the regular way with all butter and no avocados.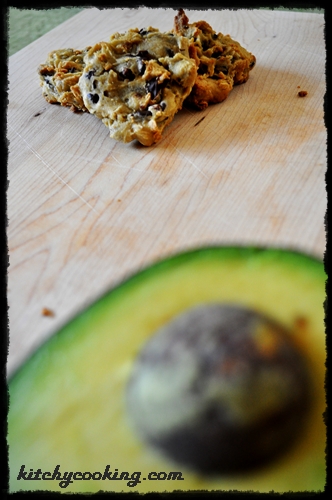 The one thing I wasn't expecting with these cookies though, was that they didn't expand while cooking. They maintained their spoon-like shape from when I put them on the cookie sheet.  So, yes, the cookies were smaller than expected but they were still just as yummy. And since they were smaller and healthier, I could have three or four and not feel guilty.  And isn't that what we've all been searching for for decades anyway: a way to eat numerous cookies without the guilt?  I know it's something I've wanted for as long as I can remember.
These avocado cookies got me thinking: what other vegetables could I use to make tasty desserts healthier?  Kale inside brownies? Ancho chilis inside a chocolate cake? Why not? I mean, we already have carrot cake and zucchini bread. Who knows how many possibilities there are. I can tell you one thing for sure. I'm now on a mission to find out.  Any suggestions?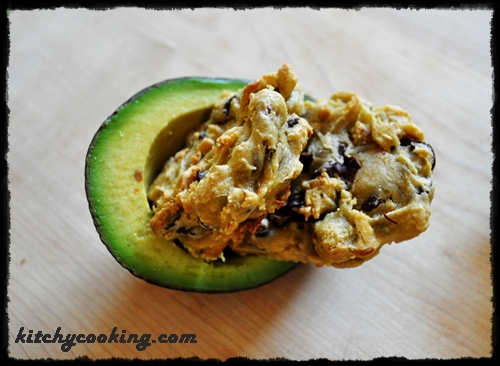 Avocado Chocolate Chip Cookies
Ingredients:
2-1/4 cups of flour
1 teaspoon baking soda
1 teaspoon salt
1 teaspoon vanilla
5 tablespoons butter
1/2 of a large ripe avocado
1/2 cup brown sugar
1/2 cup sugar
2 eggs
1 (12 oz.) package chocolate chips
1/2 cup oats
1 cup chopped pecans or walnuts (optional)
Directions:
Preheat oven to 350°F.
Sift the flour, baking soda and salt together in a medium bowl and set aside.
Mix together the butter, avocado, sugar and brown sugar in a large bowl until light and fluffy. Add the eggs one at a time.  Add in the vanilla and mix until combined.
Gradually add in the flour mixture until just combined.
Fold in the chocolate chips, oats and nuts.
Using a large spoon, drop rounds onto an ungreased cookie sheet. Bake for 8-10 minutes or until golden brown. Cool for 10 minutes on a wire rack and serve.