Pigs & Pinot 2013
April 10, 2013
by Jennifer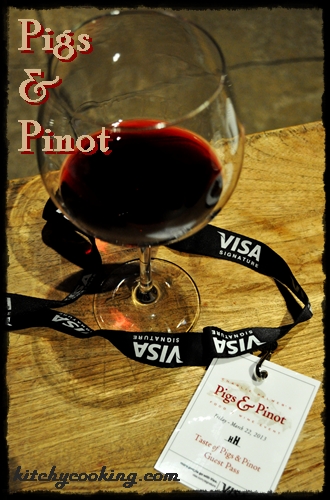 Two years ago I was lucky enough to score tickets to Charlie Palmer's annual Pigs & Pinot event up in Healdsburg, California. My hubs and I had such a wonderful time at the Taste of Pigs and Pinot, we decided to go again this year.  And just like last time, the event was well worth the pricey ticket.
For those of you who don't know, Charlie Palmer's Pigs & Pinot is a weekend devoted to, you guessed it, pinot noir and pork.  Over the course of the two day event there's everything foodies and wine connoisseurs desire from dinners to seminars and smackdowns all revolving around pinot noirs and every kind of pork dish you can think of. Although you can buy tickets for each and every seminar and dinner that take place over 48 hours, Hubs and I opted to attend just one event. But it's the event that kicks off the whole weekend and one that I believe is the best of the bunch – the Taste of Pigs and Pinot.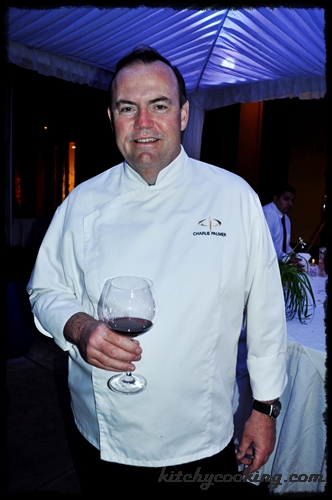 This dinner of sorts finds foodies like myself sampling 60 pinot noirs from all over the world and all the tasty pork dishes that different local and foreign chefs have created to go with them. So yes, if you don't like pinot noir or pork than this weekend is not for you. But if you're anything like me and adore bacon, pork chops, pork belly and a delicious big bodied pinot, then you have to get a ticket to this event next year.  But in case I haven't sold you yet, here's a sampling of what we had.
We started with celebrity chef Elizabeth Falkner's delicious pork belly on a cheddar biscuit. The only seasoning on this tidbit was the spicy ragout sandwiched between the biscuit and grilled pork belly. And that's all you needed. Even without the ragout the bite was so good, Hubs and I went back for seconds and thirds.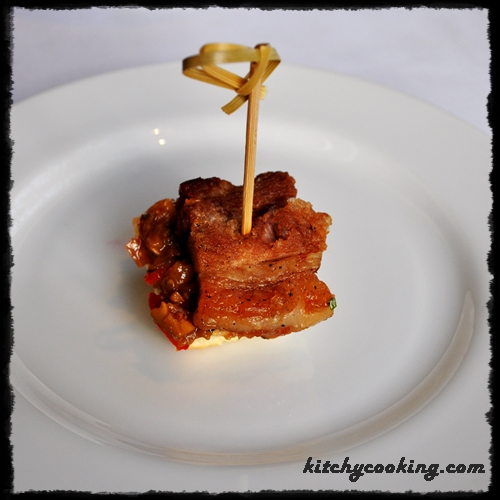 We segued out to the tented area where we sampled delicious wines from Kosta Browne and La Crema, and tasted the awesome pork infused chocolates from the Healdsburg Toffee Company. I know it's hard to believe that chocolate and pork go together, but I'm here to tell you, those were some of the best chocolates I've had in ages. As a matter of fact, the next day I went to the local candy store just to purchase a half pound of their truffles and caramels.   Even though those chocolates were spectacular, the best tidbits were yet to come as they were hidden in the Carriage House in back.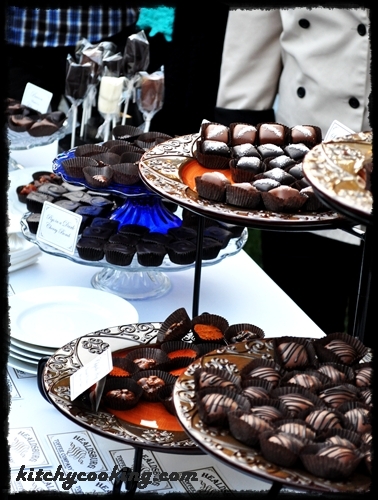 The carriage house had barbecued ribs, little meatball subs and these amazing quail egg BLT's. There was a long line for the ribs, so I didn't get to try those. But the mini meatball sandwiches from Scopa were waaaay better than anything you'll find at your local sub shop. Although they were a little spicy for my taste, that didn't stop Hubs from going back for thirds and fourths. But the best tidbit of the evening had to be the Quail Egg BLT from Barndiva. I know, I know how special could a BLT really be? Spe-cial! And what made this classic sandwich so spectacular, you ask? The tomato jam. I don't know how they made it, but I seriously could have eaten this jam straight out of the jar with a spoon and been completely satisfied. I remember enjoying the food Barndiva had to offer when I attended the Taste of Pigs and Pinot two years ago which pretty much means just one thing – the next time I go to Healdsburg, I need to have dinner at this restaurant.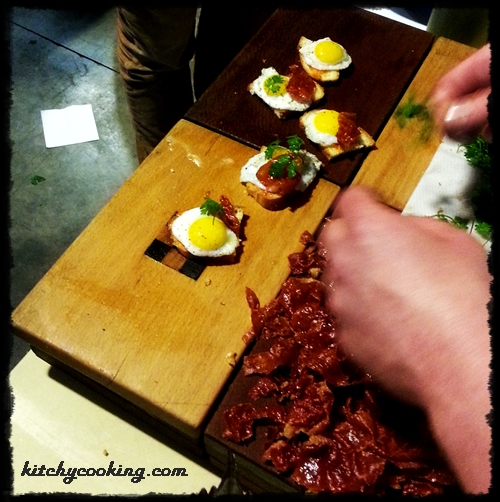 The last tidbit I'll crow about was the rich and creamy New England Clam Chowder with a pinot braised pork belly and cinnamon pork chocolate truffle from Peloton Catering. Not only was this chowder some of the best I've ever had, I learned something new from chef, Tim Vallery. Evidently all New England clam chowder has bacon in it. And if it doesn't have bacon or some other form of pork belly then it isn't really New England clam chowder. Thankfully Vallery's chowder did have pork in it and even though that pinot braised bacon was no bigger than the head of a tack, the flavor it infused in the spoonful of chowder was enough to make me want to run right out and make my own pot: something I may just have to do in the very near future. While the chowder was damn good, the truffle was even better. The chocolate was rich and thick and melted in my mouth unlike any chocolate I'd had before. Even the chocolates from Healdsburg Toffee Company couldn't compare to this ball of awesomeness. I wish I could order a pound, that way I'd have my very own truffles to dip into whenever I needed to satisfy the chocolate beast.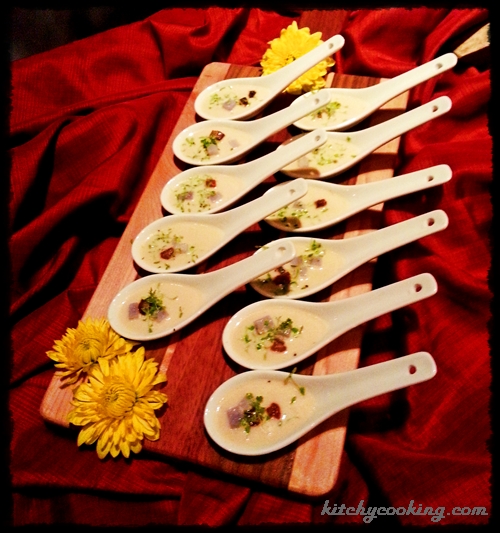 Although all of these tasty tidbits were enough to satisfy any foodie, you wouldn't have Pigs & Pinot without the pinot. There were several succulent wines, but since I was unable to taste all 60 wineries represented, I'll tell you the few that were our favorites. As I mentioned earlier Kosta Browne was a nice subtle wine, HKG, DeLoach, and De La Montanya  were also delicious.  But the real reason people attend this grand event isn't for the food or the ability to taste 60 wines from all over the world, it's to find out who's going to take home the trophy for best pinot noir. This year went to a local – the Roth Estate 2010 Sonoma Coast Pinot Noir. And unlike the runner up, a pinot from New Zealand, this wine deserved the win. It was full bodied and much easier to drink than some of its more expensive competitors.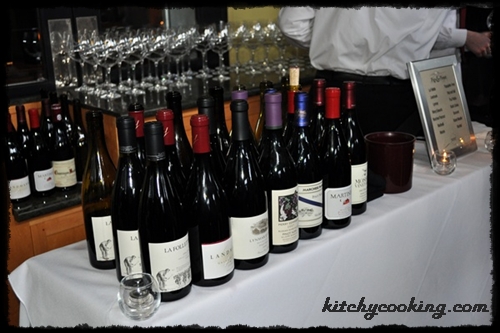 Overall the evening was definitely a night to remember and the perfect introduction of what to expect the rest of the weekend. But a night like this, with all that wine and food from celebrity chefs isn't free. Tickets cost $175 per person. Why so pricey? All the proceeds are split between Share Our Strength, a national non profit focused on ending childhood hunger in America, and local Healdsburg education. But when you consider all the amazing food and wine that comes with that hefty price tag, you begin to understand why Pigs & Pinot sells out every year.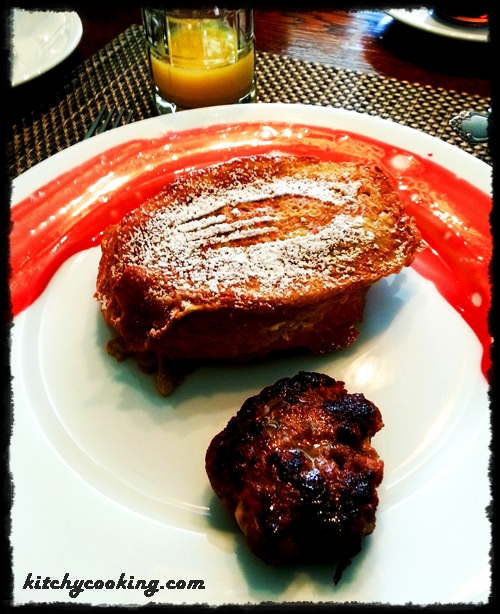 Before I forget, my foodie trip to Healdsburg wouldn't be complete without the spectacular 3-course breakfast provided by the lovely Haydon Street Inn. Most bed & breakfasts are known for their breakfasts but not their beds. The Haydon should be known for both. Not only did the bed provide a wonderful night's sleep, breakfast the next day was one of the best I've ever had. The scone and smoothie shooter were the perfect way to wake up your taste buds from a night of drinking. And the bourbon-fried apples definitely let you know owner and chef John Harasty spent 12 years as the executive chef of Churchill Downs, Kentucky, the place where bourbon was invented. But those two courses pale in comparison with the third and final course: a cream cheese stuffed french toast coupled with a delicious homemade apple sausage patty. Even if I weren't ever to attend another Pigs & Pinot, I would find a way to spend another night (or two) at the Haydon Street Inn.