Strawberry Jello with Peaches & Cream Filling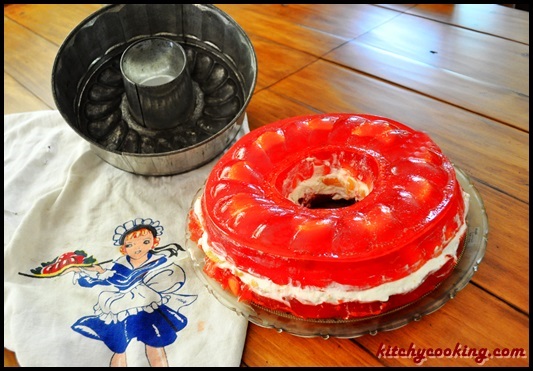 As you know I attended camp over Memorial Day. While there I met the wonderful and super talented Kelly Jaggers of Evil Shenanigans. She's an awesome baker who I've been following for awhile. Every time she posts something sweet and delicious, I want a bite. Well, I finally got my wish since she was kind enough to bring an amazing Blueberry Coffee Cake to camp to share with everyone. It was out of this world. So, when I asked her how she got her blueberry layer so rich and thick, she whispered it was Lucky Leaf pie filling. I couldn't believe canned pie filling could taste that good. I wanted to try more. So Lucky Leaf sent me some cans of pie filling and recruited me to participate in today's virtual picnic potluck. (If you'd like to see what the other party goers brought to our virtual potluck, check out the hashtag #luckyleafluckyme on Twitter.)
I love picnics because they scream summer to me. There's nothing better than sitting on the beach or mountaintop with your family or that special someone and eating yummy treats. I even like to have them in my own back yard on occasion just to change it up. So what's perfect for a summer picnic? Why a jello mold of course. It's great for kids and adults alike.
My mother's been making this mold ever since I was a kid and her mother made it before her. (As a matter of fact the pan I used to make this treat, the one in the photo, was my great aunt's.) Here's what's great about a jello mold: it looks beautiful, tastes even better and is the perfect potluck treat. But here's what makes my grandmother's so unusual and a little more interesting. She used to put a layer of sour cream in the middle to cut the sweetness. It was a nice tart shock to the tastebuds that made everyone, yours truly included, come back for seconds. Granted that layer of creamy goodness does add an extra step to the molding process, but the end result is soooooo worth it.
What does all this have to do with pie filling? Well, my mother and grandmother always just used plain sour cream in their molds and put fruit in the gelatin. But then I thought, what if I put fruit in the cream as well? It would cut some of the tartness while creating a yummy fruit and cream combo. Lucky Leaf's Pie Filling was the perfect answer, especially since the filling is ready to eat right out of the can.
Although I used strawberry flavored gelatin and peach pie filling for this recipe, you can mix and match as you see fit. I'm sure the cherry filling mixed into some sour cream would be delicious with a peach or orange flavored gelatin.  You could even add nuts or use pears or cranberries instead of apples and grapes. My mother always added chopped pineapple and walnuts to her molds, but since I'm allergic to pineapple and the hubby can't eat nuts, I had to leave both those ingredients out.  Guess it's a good thing I'm not allergic to peaches or pie filling otherwise this yummy treat would never have been created.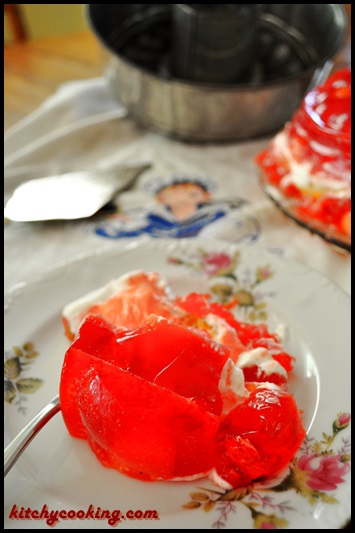 Strawberry Jello with Peaches & Cream Filling
Ingredients:
2 (6 oz.) packages of strawberry flavored gelatin
1 (8 oz.) can mandarin oranges, drained
3 apples, peeled and chopped
2 cups green seedless grapes, cut in half
1 (16 oz) container of sour cream
1 (21 oz.) can of Lucky Leaf Premium Peach Pie Filling
Directions:
Spray a piece of paper towel with cooking spray and use it to grease the inside of a 10-inch bundt pan; set aside.
Prepare one package of gelatin according to the package directions.
Place the mandarin slices along the top of the pan in a circle. Pour 1 cup of the gelatin over the mandarin slices so they're just covered. Place the mold in the fridge and chill for at least two hours or until set.
Pour 3 more cups of the liquid gelatin mixture over the set gelatin. Sprinkle 1-1/2 cups of chopped apples and 1 cup of grapes throughout the gelatin and chill for at least two hours or until gelatin is set.
While the gelatin chills, whisk together the Lucky Leaf peach filling with the sour cream until well combined. Spread the peach mixture over the chilled gelatin. Chill in the refrigerator for at least 30 minutes.
Prepare the second package of gelatin using 1 cup of boiling water and 3 cups of cold water.  Gradually pour the rest of the liquid gelatin over the peach mixture. Sprinkle the remaining apples and grapes throughout the liquid gelatin and chill in the refrigerator for at least 3 hours or up to over night.
When ready to serve, place a large platter over the bottom of the bundt pan. Invert the pan and shake once or twice. Gently lift the pan off the jello mold. Garnish with grapes or mint leaves and serve immediately.
Disclosure: Lucky Leaf provided me with all the pie fillings and no other compensation in exchange for this post. All opinions expressed in this post are my own.