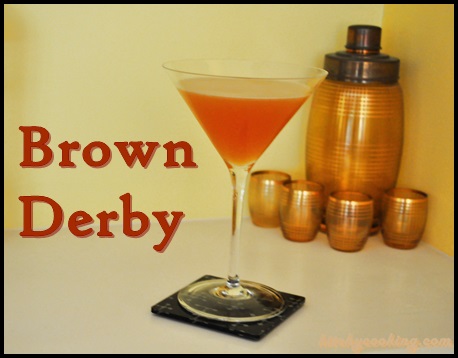 Since we're right smack dab in the middle of Bourbon Heritage Month, I would be remiss if I didn't introduce you to another bourbon cocktail for your Friday Happy Hour. So, today I present the Brown Derby.
Yes, this cocktail was named after that famed Los Angeles restaurant, The Brown Derby. But funny story, this cocktail was not created at the restaurant. The cocktail was originally called the De Rigueur and could be found in Harry Craddock's 1930 Savoy Cocktail Book. Sometime after Craddock's book made the rounds another famous Los Angeles restaurant of the time, the Vendome, decided to rename the popular beverage. They titled it the Brown Derby, maybe as a tip of their hat to their friendly competitor. Since The Brown Derby restaurant was such a hot spot (there were three of them in their heyday) the name stuck.
Like the restaurant, this cocktail is also a classic. Similar to a whiskey sour, it's mixed with citrus juice and a sweetener. In this case the citrus is grapefruit and the sweetener is a honey syrup. The combination makes for a delightful cocktail that's both sweet and sour at the same time. Plus the sweetness of the bourbon pairs nicely with the honey. And here's the real kicker, since there are so many bourbons and so many different honeys, each cocktail will have a slightly different flavor. So, if you have a favorite bourbon (mine's Woodford) and a favorite honey, go ahead and mix up a Brown Derby using those. But give another bourbon a try too because you never know, you just might like the alternative Derby better than the first. Hmmm… now that sounds like a challenge even I can get behind.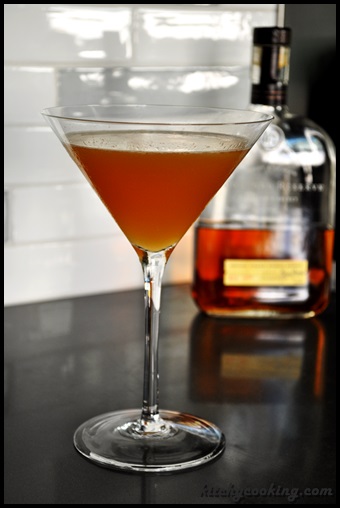 The Brown Derby
Ingredients:
2 oz. bourbon
1 oz. grapefruit juice
1 oz. honey syrup (1:1 honey to water)
Directions:
Pour all the ingredients into a cocktail shaker. Add ice and shake vigorously for at least one minute. Strain into a cocktail glass and serve.