Grilled Skirt Steak with Fruit Salsa
September 24, 2014
by Jennifer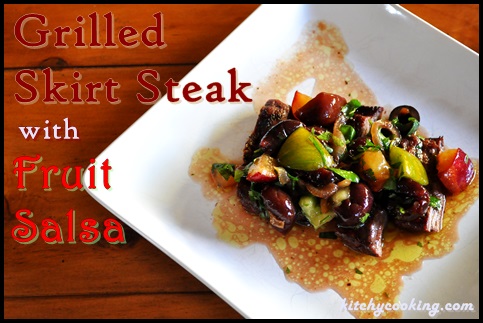 Summer is coming to a close, which means soon all those delicious stone fruits will be gone. But don't cry just yet. There are still a few days of warm weather left and all that beautiful fruit is still available, which means there's still time to make this wonderful dinner.
I found this recipe while flipping through my Food and Wine Magazine. I've always loved steak, especially when cooked on the grill. But I never thought about ladling fruit over it. If I put anything on top of my steak, it's usually an herbed butter or some type of gravy. Sometimes for flavor, I'll marinate the meat in a fruit juice or soy sauce. But whole pieces of fruit chopped up and served with the meat had never crossed my mind.
This salsa isn't just made up of fruit though. It's got onions and olives in it as well. So while the sweet flavors of the cherries and plums definitely stand out, the savory flavors of the onions and olives add a nice balance. And even though I used Lindsay's California Green Ripe olives for my salsa, a plain black olive would work just as well. The important thing though, is to have all the flavors meld together, and a saltier olive, like a Kalamata, would overpower the salsa, turning it into a very different dish.
But the dish I made, green olives and all, was so tasty I'll definitely make it again. See, I wasn't the only one excited about this meal, my boys were too. Not that it's any surprise, I mean, who can say no to cherries and plums? Yes, I said cherries and plums.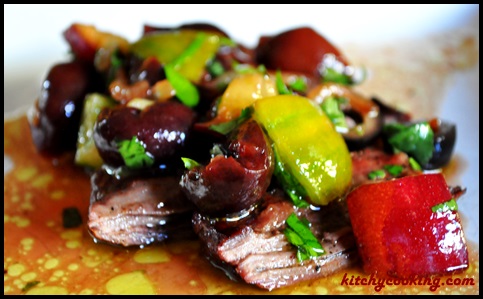 Grilled Skirt Steak with Fruit Salsa
Ingredients:
4 tablespoons olive oil, divided
1-1/2 tablespoons red wine vinegar
1 tablespoon soy sauce
1 small onion, thinly sliced
1 large green tomato, cored and chopped
1 large plum, chopped
1/2 cup cherries, pitted and quartered (frozen is okay as long as they've been thawed)
1/4 cup pitted green olives
2 tablespoons fresh basil, finely chopped
2 tablespoons Italian parsley, finely chopped
2 tablespoons cilantro, finely chopped
salt and pepper to taste
1 (2 pound) skirt steak, cut into 4 pieces
Directions:
In a large bowl, whisk 3 tablespoons of olive oil with the red wine vinegar and soy sauce.
Heat the remaining olive oil in a small skillet over medium heat. Add the sliced onion and cook, stirring, until softened, about 3 minutes. Scrape the onion into the vinaigrette and let the mixture cool.
Add the green tomato, plum, cherries, olives, basil, parsley and cilantro. Toss well, season with salt and pepper and set aside.
Preheat the grill. Brush the steaks with olive oil and season with salt and pepper. Grill the steaks over high heat, turning once, until lightly charred outside and medium-rare within, about 6 minutes. Transfer the steaks to a carving board and let rest for 5 minutes, then thinly slice across the grain. Place the steaks on 4 plates, top with the fruit salsa and serve.