Blackeyed Peas with Bacon and Pork
December 31, 2014
by Jennifer
Eating blackeyed peas on New Year's Day is supposed to bring you good luck for the year, so a lot of people eat them as a side or as the main dish. One of the most popular choices out there is Hoppin' John which is a blackeyed pea dish that's made with ham hocks and rice.
I've heard of the tradition for years, but I've never tried blackeyed peas. I don't know what it was about the peas, but I was just never interested in them. I think a lot of it has to do with the fact that most of the time the peas are dried, which means you have to soak them for hours and that's before you can even start cooking them. I just don't have that kind of time. When I buy beans, they're usually canned which means they're all ready to be eaten, you can just rinse and go. So, you can imagine how thrilled I was when Melissa's Produce sent me 2 boxes of steamed blackeyed peas. Not only were they already steamed and ready to eat right out of the bag, they taste really, really good.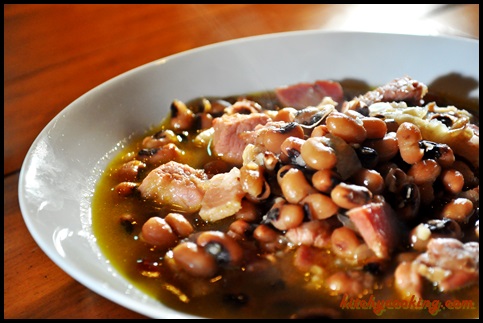 While they were delicious plain, I wondered how much better they'd be with some bacon and spices. Luckily I wasn't the only person out there who wondered. There were several recipes, but it was Patrick and Gina Neely's that I found the most intriguing… probably because it called for several pieces of thick bacon. But it wasn't just the bacon that made this recipe so lip smacking good; it was all the spices and their suggestion to smash a half cup or so of the peas to make the broth thick and creamy. Sure, there were a few changes I made to suit my family, but overall the recipe that I used (and will continue to use) is theirs.
Needless to say, I'm so happy Melissa's sent me the peas. Thanks to them I'm now a convert and this delicious dish will be my family's New Year's Day dinner for many years to come. Why not make it yours?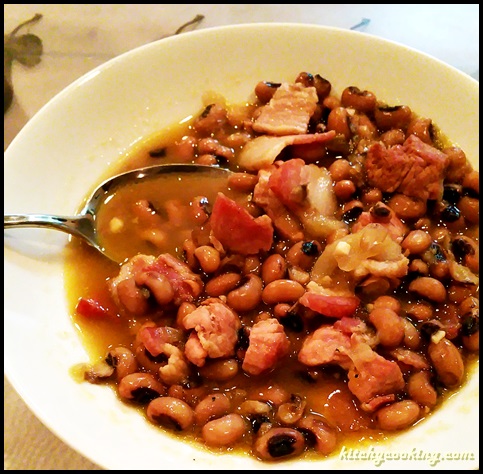 Blackeyed Peas with Bacon and Pork
Ingredients:
2 tablespoons olive oil
6 oz. boneless pork loin, cut into 1/2-inch cubes
4 strips of thick bacon chopped
1 onion, chopped
4 garlic cloves, minced
1-1/2 teaspoon salt
1 teaspoon ground black pepper
dash of cayenne pepper
1 teaspoon garlic powder
4 cups chicken stock
3 bay leaves
2 boxes of Melissa's blackeyed peas
Directions:
Heat the oil in a large pot over medium-high heat. Add the pork and sear until browned on all sides, about 5 minutes.
Add the bacon, onion and garlic and cook until tender, about 6 minutes.
Add the salt, black pepper, cayenne and garlic powder and cook until the pork mixture is coated, another minute or two.
Pour in the stock, add the bay leaves and bring the whole mixture to a boil. Reduce the heat to low, cover and let simmer for at least 30 minutes.
Add the peas to the pot and continue to simmer, covered, for another 30-45 minutes. A few minutes before serving smash half a cup of the peas with a spoon and stir in to the broth for a creamier texture. Ladle into bowls and serve.