Holland Razor Blade
January 1, 2015
by Jennifer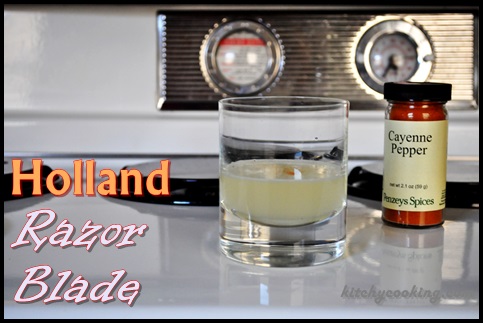 I know Fridays are usually my cocktail days, but since today is New Year's Day and the day after New Year's Eve, I thought I'd change things up and post my cocktail today. See, I had a feeling there might be a few of you who'd need a pick me up. You know… a drink that will help you get back on your feet after a night of seriously heavy drinking. Well, if anything will pick you (or wake you) up, the Holland Razor Blade is definitely it.
Made with gin, lemon juice and a dash or two of cayenne pepper, this hair of the dog, is sure to open up your eyes, get your blood pumping and get you back on your feet for the Rose Parade, the Rose Bowl or anything else you might have planned for today.
Hailing from 1931, this cocktail was introduced to Charles H. Baker by a Hollander on an international morning flight because he was in desperate need of a wake up call. Like most cocktails of its day, drinks created pre and during Prohibition were heavy on the liquor and light on the mixers. This cocktail is no different. It's mostly gin, and a strong gin at that.
While most of us (me included) prefer English gin like Beefeater, Tanqueray or Old Tom, Holland gin like Genever has a bolder flavor and so packs a much bigger punch, hence its use in this pick me up. But if you don't own any Dutch gins, an English gin is a fine substitute, as it's really the cayenne pepper that gives this cocktail it's eye-opening flavor.
So while you're frying up those greasy eggs and bacon, make sure you pour yourself a Razor Blade. The eggs and bacon might settle your stomach, but this sharp blade will open your eyes.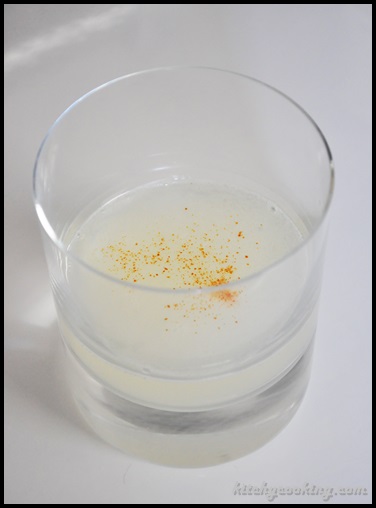 Holland Razor Blade
Ingredients:
2 oz. Holland gin (like Genever)
juice of half of lemon
2 – 3 dashes of cayenne pepper
Directions:
Pour the gin and lemon juice into a cocktails shaker. Add ice and shake vigorously for 1 minute. Strain into an old fashioned glass and dust with cayenne pepper. Serve.