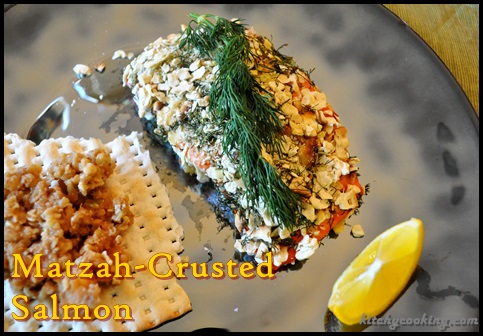 Breadcrumbs are a staple in my house.  Mainly because my sons are big fans of anything breaded. While chicken tenders are their first choice when it comes to dinner, they've also been known to gobble down the occasional fish stick or piece of pork schnitzel. If the protein can be breaded, they're in. That's why I always have a box of breadcrumbs on the shelf. I use at least a cup or two a week, whether it's as a coating or to add depth to something as simple as a meatball. But what do you do when Passover comes around and there's no bread for eight whole days? You find alternatives.
One such alternative is this delicious matzah-crusted salmon. I discovered this recipe about three years ago in Better Homes and Gardens and I've made it every Pesach since. See, while it's pretty easy to get through the first two or three days of Passover, making dinner for the next five gets kind of tricky once you realize you still can't eat any bread or pasta or anything else that's been made with wheat, oats, rye, barley, or spelt. Let me explain.
When the Jews escaped Egypt, they didn't have enough time to let their bread rise. So, instead of nice loaves of bread to sustain them in the desert, all they had to eat were the flat matzah crackers. Every Passover Jews all over the world stop eating leavened bread for eight days and eat matzah to commemorate this historic event.
This recipe not only helps fulfill that meal void you may find yourself in late in the Passover week, it also helps use up the extra matzah you probably have on the shelf. And it's sooooo much tastier than a fourth or fifth day of matzah and haroset sandwiches… trust me. But the best thing about this recipe is that much like those breaded chicken tenders or fish sticks, my boys lapped it up. And they lapped it up because the very healthy, delicious salmon was covered with a yummy, crunchy, kosher crust.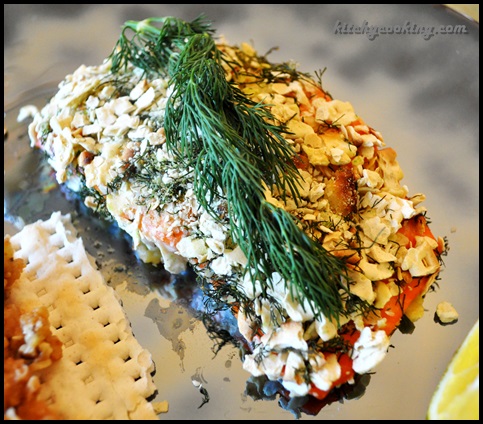 Matzah-Crusted Salmon
Ingredients:
2 squares of matzah
2 tablespoons fresh dill
2 teaspoons salt
1 teaspoon pepper
3 tablespoons olive oil
4 skinless salmon filets
Directions:
Preheat the oven to 450° F. Drizzle olive oil in a large baking dish and set aside.
Place the matzah, dill, salt and pepper in a food processor, and process until you have coarse crumbs; transfer to a shallow bowl.
Brush each of the salmon fillets with oil and dredge in the matzah mixture until fully coated; press the matzah onto the salmon to make sure it sticks. Place in a prepared baking dish and bake, uncovered for 10-13 minutes or until fish flakes easily. Serve immediately with lemon wedges and fresh dill.