Triple Chocolate Hatch Chili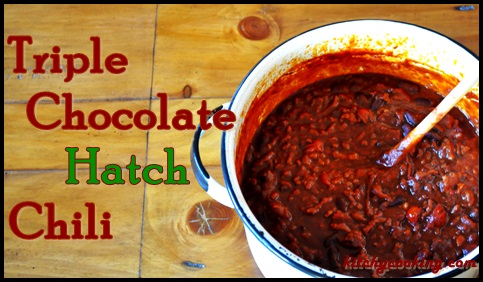 I know a big bowl of chili seems like an odd choice when it's 200° outside, but there are two events happening this week that are chili worthy: Labor Day is today and football season officially starts.
Now, I know there are plenty of people out there who have already been watching football games and wondering how your team is stacking up for the season. But I haven't. I'm one of those people who doesn't believe in the preseason. To me, the preseason doesn't count. It's just practice. It's not going to get you to the playoffs or the Superbowl so it doesn't mean anything. Yes, it's good to have practice games so you know where your strengths and weaknesses are, but it doesn't count toward the bigger picture. This week however, this is the week that matters. This is the week when the wins and losses actually mean something. This is the week where we know where we're headed for the rest of the season and who we really have to watch out for.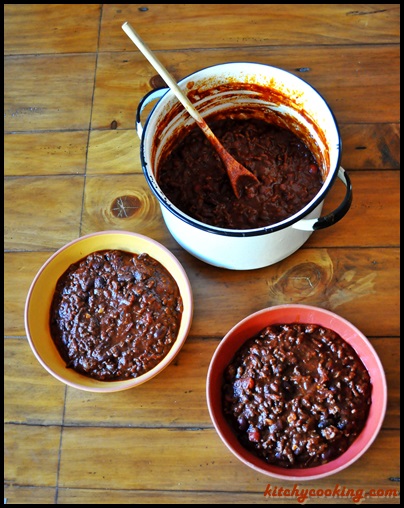 Since it's opening weekend and chili and football go together like parties and beer, I thought I'd share a new recipe. The fact that it's also Labor Day makes it even more harmonious. See, Labor Day and chili also just happen to go together like parties and beer. I know that burgers and hot dogs are the popular choice for Labor Day festivities, but did you know that chili is also one of the most consumed recipes this holiday weekend? It's true! The fact that Hatch chiles just happen to be in season for a few more weeks, makes this recipe primed for the making.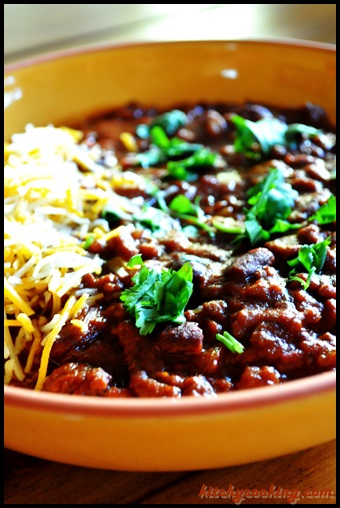 What makes this chili so great for guests (or even just you and your family) is how rich and versatile it is. The richness comes from the three different kinds of chocolate. The cocoa powder and chocolate bits give it a very nice chocolate flavor, but the stout is what makes it rich and thick. While I wouldn't recommend changing out any of the chocolate, the one thing you can change out are the chiles. See, Hatch chiles comes in mild, medium and hot.  So, if you're like me and not a big fan of spice, I'd use the mild chiles. But if you're a spice fanatic, use the hot Hatches instead.
But no matter how you choose to make this chili, or what holiday you're making it for, I guarantee your guests will be begging for more.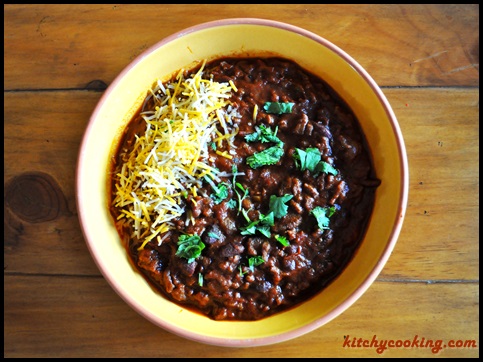 Triple Chocolate Hatch Chili (adapted from Saveur Magazine)

Ingredients:
2 tablespoons olive oil
1 yellow onion, chopped
6 cloves of garlic, minced
1-1/2 pounds ground beef
1/2 pound sausage, casings removed
1 (6 oz.) can of tomato paste
1 (28 oz.) can of whole san marzano tomatoes
10 oz. fresh mini san marzano tomatoes, chopped
2 roasted mild hatch chiles, minced
1 tablespoon mild hatch chile powder
1 tablespoon unsweetened cocoa powder
2 teaspoons oregano
2 teaspoons cumin
1 teaspoon cinnamon
1 (12 oz.) bottle chocolate stout
1 teaspoon brown sugar
1/4 cup semi-sweet chocolate chips
2 (9 oz.) packages of Melissa's steamed kidney beans
salt and pepper to taste
Directions:
Heat the oil in a large pot over medium-high heat.  Add the onions and garlic and cook until tender.
Add the ground beef and sausage and cook, breaking up with a wooden spoon, until no longer pink.
Stir in the tomato paste, all the tomatoes, the chiles, chile powder, cocoa powder, oregano, cumin, cinnamon, stout and brown sugar until combined.
Reduce the heat to low and let simmer for at least 1 hour or up to 3. About 10 minutes before you're ready to serve, stir in the chocolate chips and kidney beans. Serve with shredded cheddar cheese and chopped fresh cilantro.