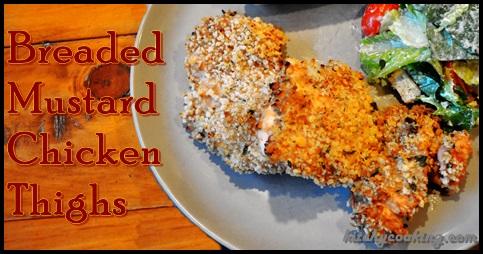 Tuesday mornings are always very busy for me. I get up, get the boys' lunches made, get them to school and then it's off to the farmer's market and the grocery store. I always go shopping on Tuesdays because while the grocery store is open seven days a week, the best farmer's market by me is only open on Tuesdays. Since the farmer's market is where I buy practically all my produce, I want to make sure I get everything I need in one trip. That means I start meal planning and making my grocery list Monday. Yes, every single Monday I pull out my stack of Fine Cooking magazines or go through my recipe box and plan out what I'm going to make for dinner for the rest of the week.
While there are one or two nights a week that I can make a recipe that requires a little more care and attention (aka takes more time), most week nights I only have about an hour to whip up a full meal that includes an entree and a side. It's on those nights that I tend to fall back on easy, less than 10 ingredients, can do it with my eyes closed recipes. This chicken dish is just one of these types of dinners.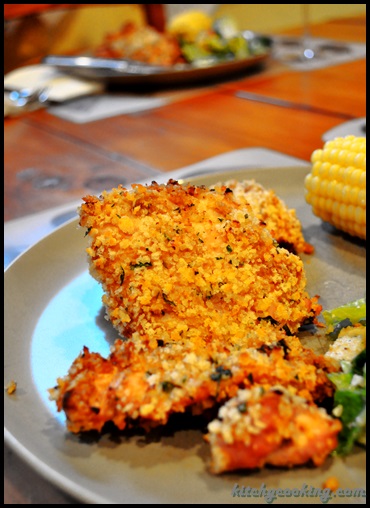 I found this recipe in Food and Wine and have made it several times. My family loves how flavorful this dish is. But I love that how easy it is. The fact that I don't have to cook the chicken first makes it even easier. Yes, this chicken is breaded and yes, more often than not you have to sear the chicken first so you don't risk burning the bread crumbs while the chicken cooks all the way through. But not with this dish. Because it's made with boneless, skinless chicken thighs, they don't take that long to cook. All you need to do is whisk together the mustard sauce, dredge the chicken in said sauce, dredge it in the bread crumbs and put it in the oven. Then about 20 minutes later you have a delicious, flavorful entree that is simple enough for a weeknight dinner, but fancy enough to serve if you're having guests.
Any recipe that pulls double duty like that and is tasty as well, makes this a recurring weeknight option in the Kitchy house. Add it to your meal plan this week. After you taste it, I bet it starts showing up again and again on your dinner table, too.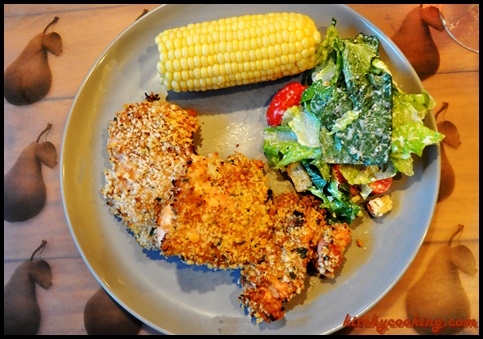 Breaded Mustard Chicken Thighs
Ingredients:
3 tablespoons grainy mustard
1 tablespoon Dijon mustard
1 tablespoon Worcestershire sauce
1 garlic clove
1 cup Panko
3 tablespoons unsalted butter, melted
2 tablespoons Italian parsley, chopped
1 teaspoon lemon zest
6 boneless, skinless chicken thighs
Directions:
Preheat the oven to 450°F. Place a wire rack on a foil-lined baking sheet and set aside.
Whisk the mustards, Worcestershire sauce and garlic together in a large bowl and set aside.
Whisk the Panko, butter, parsley and lemon zest together in a another bowl.
Season the chicken with salt and pepper. Dredge the chicken in the mustard mixture then dip just the skinned side of the thighs in the Panko mixture. Transfer the chicken to the wire rack, Panko side up. Repeat with the remaining chicken thighs.
Place the thighs in the oven and bake for 20 – 30 minutes or until the crumbs are golden and the chicken is cooked through. Serve immediately.