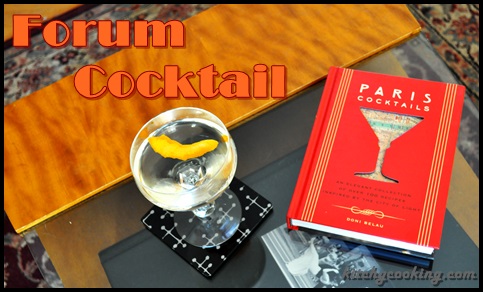 In case you didn't know, the newest Bond movie opens today, and as I'm sure you all know, Bond loves his martinis. He takes them with vodka "shaken not stirred". I'm also a vodka martini fan. But the original martini was actually made with gin. I don't know about Bond but I've never been a big gin fan. I'm a vodka girl. But ever since I started mixing up all these classic cocktails, I've developed a palate for gin. Don't get me wrong, I still take my dirty martinis with vodka, but now I enjoy a plethora of gin cocktails as well. The reason: it's all about the brand of gin.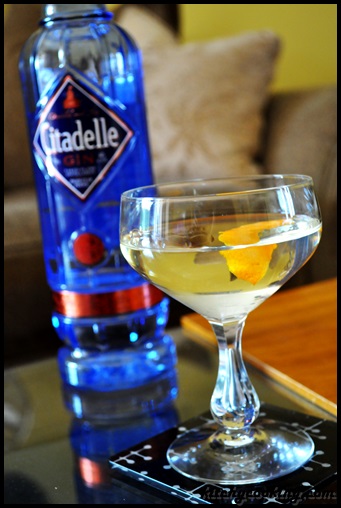 I've never been a Tanqueray fan. I know it's very popular, but I'm just not wild about the taste. I do like Bombay and Aviation. But recently I received a bottle of French gin: Citadelle and I think I'm in love. This gin is unlike any other I've had before. It's smooth and sweet and has a definite floral finish. The flavor comes from a few factors. First this gin isn't made like most others. It's a small batch made in copper stills in a cognac distillery.
Alexandre Gabriel, the man behind Citadelle, owns a cognac distillery in Chateau de Bonbonnet, France. But his copper stills were only being used 6 months out of the year to make cognac due to the strict French AOC laws. So Gabriel made a bold choice and decided to use those same stills to make gin the other 6 months. Once the decision had been made, Gabriel did his research and found a recipe from the 18th century using a complex medley of spices. Gabriel updated the recipe using juniper berries of course, but he also added coriander, orange peel, cardamom, nutmeg, licorice, violet, star anise and several other flowers, herbs and spices to achieve this amazing gin that is wonderful on its own but makes a fabulous martini.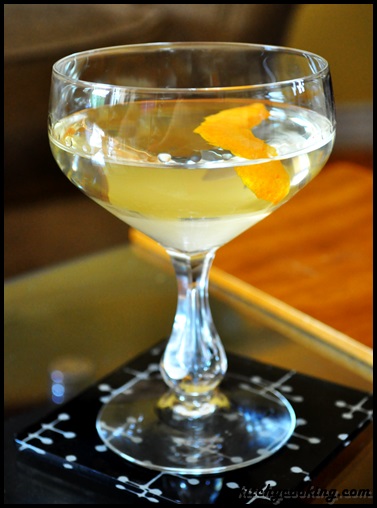 I know it makes a delicious martini because that's essentially what this week's classic is. I say essentially because the only difference between the Forum and the martini is one extra ingredient: Grand Marnier. According to Doni Belau and her new Paris Cocktails book, this recipe was created at the iconic Le Forum Bar in Paris, France in 1929 as their spin on the classic martini. The Grand Marnier and the twist of orange gives the martini a nice citrus flavor that brightens up the classic, especially when combined with the deliciously smooth Citadelle gin.
This recipe is just one of over 100 French cocktails in this awesome new book. But what I really like about Paris Cocktails is that unlike other cocktail cookbooks, Belau doesn't just focus on the drinks. She talks about the Parisian bars in eloquent detail and even describes popular parties they hold. Her descriptions combined with the beautiful photographs make me want to get on a plane tomorrow and do the same Parisian bar tour that Belau did. Maybe now that I have the girls guide I will. If not, at least I have the cocktails to make me feel like I'm there. If the rest of drinks are anything like the Forum, something tells me I'll be tripping off to Paris quite often.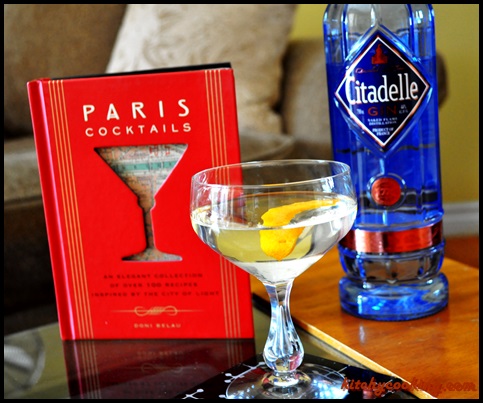 Forum Cocktail
Ingredients:
1-1/2 oz. gin
2 teaspoons vermouth
4-5 drops Grand Marnier
Directions:
Pour all the ingredients into a cocktail shaker. Add ice and stir to combine the flavors.
Strain into a cocktail glass, add a twist of orange and serve.
Disclosure: This is not a sponsored post. I was provided with the Paris Cocktails book and Citadelle gin. All opinions expressed are my own and are not influenced in any way by the manufacturer or PR firm.