Strawberry Lemonade Bars
February 24, 2016
by Jennifer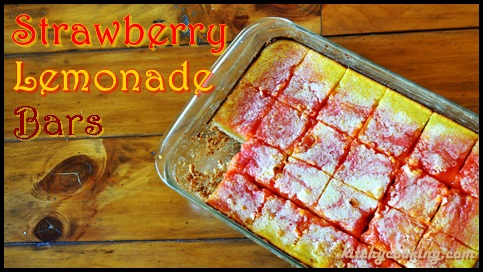 Every year in February something amazing happens. Little girls in brown and green (sorry it's blue now) start showing up at my door and in front of supermarkets all over the country selling some of my favorite cookies in existence. That's right, I'm talking about Girl Scout Cookies. Every February I stock up on Thin Mints and Samoas because they're only here for a short time and I love me some Thin Mints… especially if they're frozen.
You can understand then, why I was super excited when my friends over at Melissa's asked me to create a recipe using their fresh produce in combination with those awesome cookies from the Girl Scouts of Greater Los Angeles Council.  See, now I could get my favorite flavors and try some new ones, all in the name of recipe testing.  How did I choose which flavors? Easy. It all came down to what recipe I wanted to make.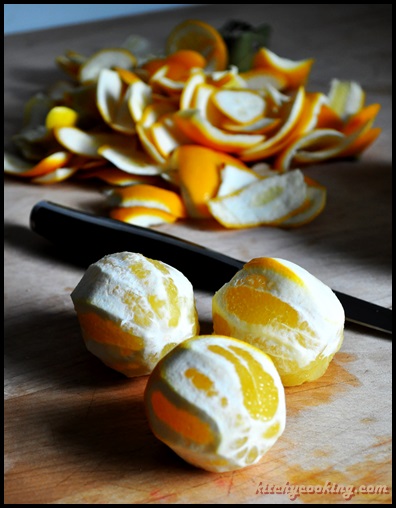 Meyer lemons are in season and if there's one thing I love to make with Meyers it's lemon bars. But recently I was thinking about that other popular lemon recipe, lemonade. I don't know if you've noticed, but a lot of restaurants aren't just serving plain old lemonade anymore. They're serving flavored lemonade, the most common of which is strawberry. So, I thought, instead of making the same old lemon bars, I'd make strawberry lemonade bars. And because I just can't get enough of that lemon flavor, I knew the Girl Scouts' Savanah Smiles would make the perfect crust. Not only are they crunchy and buttery, they're also super lemony which means you're going to have that awesome tart citrus flavor from the first bite all the way to the last.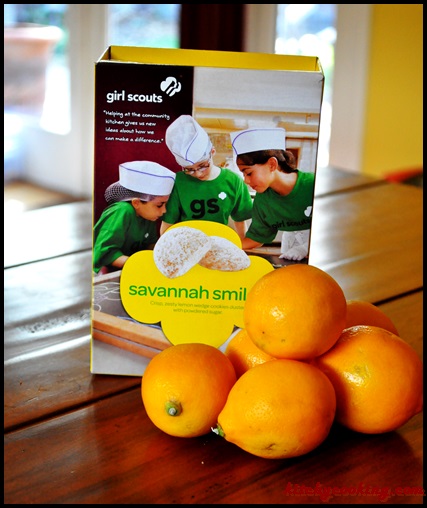 If you're anything like me, you've been buying (and selling) Girl Scout cookies since you were little. But I was by no means the first Girl Scout to sell cookies to my friends and neighbors. This business has been going since 1917 when the first Girl Scout cookie was created. Believe it or not the first cookie wasn't today's popular Thin Mint. Instead it was a sugar cookie similar to the Trefoil. That simple sugar cookie was the beginning of the Girls Scout Cookie Program which is the largest girl-run business in the world. By selling these cookies, girls all over learn about business, improve their people and business entrepreneurial skills, and gain leadership experience. As a matter of fact, more than half the women out there who are in business today, say that the Girl Scout Cookie Program was big part of developing those skills.
So, it turns out February isn't just about satisfying your cookie craving. Buying a box (or two), set girls all over on a path toward success; and the good news is you still have another week to stock up, as they're available through March 6th.  Want to find a troop selling them? Just go to girlscoutcookies.org, type in your zip code and you too can buy as many Thin Mints, Samoas or Savannah Smiles you want. Enjoy them straight or do what I did and convert them into something else entirely. Either way, you're not only benefitting yourself, you're helping the little girl who sold them to you make her way in the world.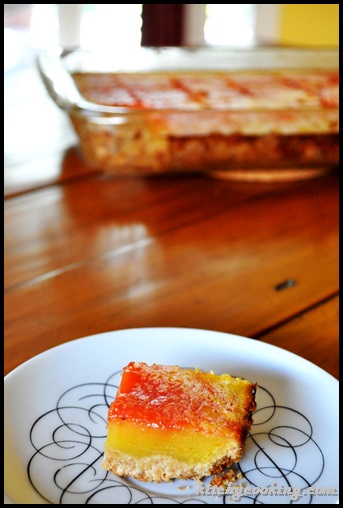 Strawberry Lemonade Bars
Ingredients:
Crust
1 box of Savannah Smiles
1/2 cup (1 stick) butter
1 cup flour
1 egg, divided
Filling
1 cup lemon juice
2 tablespoons lemon zest
2-1/4 cups sugar, divided
1 cup flour
5 eggs
1 pint strawberries, juiced
Directions:
Preheat the oven to 350°F. Lightly grease a 9 X 13 pan and set aside.
Grind up all the Savannah Smiles in a food processor until it resembles fine bread crumbs.
Add the butter, flour and egg yolk and pulse until well combined. Toss the dough in a resealable bag and chill in the fridge for 20 minutes.
Spread the crust in the pan and up the sides. Pour the egg white over the dough and spill off the excess. Put in the fridge to chill for another 20 minutes.
While the crust chills, whisk together the the lemon juice, lemon zest, 2 cups of sugar, flour and eggs until well combined.
Pour the lemon mixture over the chilled crust.
In another bowl whisk together the strawberry juice and remaining sugar. Pour the strawberry mixture over the lemon mixture. Then take a butter knife and swirl the strawberry mixture into the lemon mixture to make whatever pretty design you like.
Place in the oven and bake for 45 minutes or until the edges are golden brown and a toothpick when inserted comes out clean.  Let cool and serve.