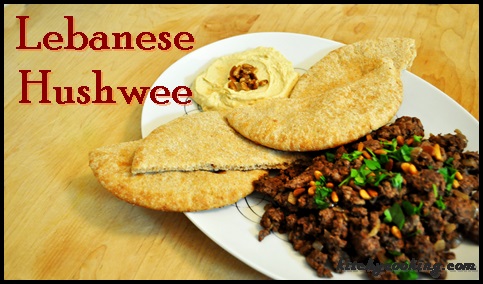 When there's a nut allergy in your house, you have to be careful what you cook with. Since Hubs is allergic to nuts, there's no peanut oil in the house, and every time I find a recipe that calls for something to be "nut-crusted" I skip right over and cook something else. Every so often though, Hubs has to work late or is out of town. It's on those nights that I go crazy and cook something for me and my boys that has nuts. Yes, I'm being especially naughty, but it's a nice change of pace that the boys usually lap up.
Recently I found such a recipe. This one called for pine nuts. They're small, crunchy, buttery nuts that are rich in vitamin E. I'm a huge fan, so when I find a recipe listing them as an ingredient, I jump on it. But using pine nuts wasn't the only reason I chose to whip up the Hushwee, (and it wasn't because of the cool name, either) it's because it was so simple and versatile.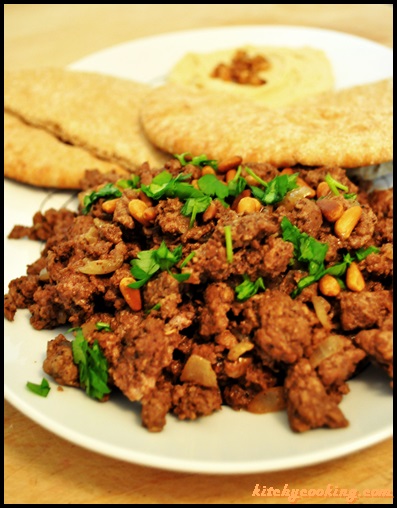 This recipe only took me about 30 minutes to make from start to finish. That's a huge plus on a busy weeknight when I'm rushing to and fro getting my boys to all their after school classes and practices. I also decided to change the meat. While the recipe called for ground sirloin, I opted for lamb. I like lamb when it's mixed with cinnamon and ground cloves. There's a spicy sweetness that makes my heart smile.
While the Hushwee is a great choice for a nice week night dinner, since I made it with lamb, it's also be a great option for Easter lunch. I know the Easter meal is usually made up of eggs, a salad and chocolate, but who says that's all you can serve? Yes, the chocolate is a must, but a nice platter of hummus, pita bread and Hushwee will brighten up your Easter table and satisfy those hungry meat eaters.
But whether you choose to serve Hushwee on Sunday or just whip it up for an easy weeknight dinner, the combination of flavors will definitely have you hopping for more.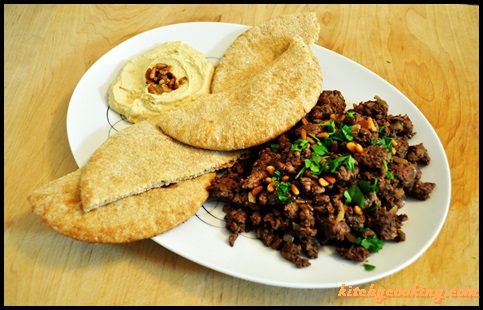 Lebanese Hushwee (adapted from The Lemon Bowl)
Ingredients:
1 tablespoon butter
1 onion, chopped
1 pound ground lamb
1 tablespoon cinnamon
1/2 teaspoon nutmeg
1/4 teaspoon ground cloves
salt and pepper to taste
1/4 cup pine nuts, toasted
Directions:
Preheat the oven to 350°F. Spread the pine nuts on a cookie sheet and bake about five minutes or until golden brown, set aside.
Melt butter in a large skillet over medium-high heat. Add onions and sauté until tender, about five minutes.
Add the ground lamb, cinnamon, nutmeg, cloves, salt and pepper and cook until browned, 8 – 10 minutes.  Remove from heat and stir in the toasted pine nuts. Serve immediately with hummus and pita bread.