Baked Risotto with Sausage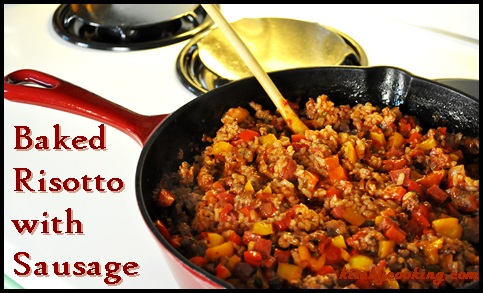 Now that the holidays are over, we're all focused on eating healthier, less fattening foods. It's actually the number one new year's resolution. Well, the number one new year's resolution is to lose weight, but that usually involves eating healthier so it all kind of goes together. Unfortunately that means no cakes or cookies or heavy dishes with creamy sauces. Sounds kind of boring, doesn't it? I mean let's be honest… none of us really look forward to the new year, because it suddenly means we have to start eating healthy. But eating healthy doesn't mean that you have to give up flavor.
I've been a fan of The Chew since it originally aired. While I don't have as much time to watch it as I used to, whenever I do catch it there are always at least one or two recipes that strike my fancy. A little over a year ago, Fabio Viviani was on the show and he made a baked risotto that I've made several times since. It's simple, uses fresh ingredients, is full of flavor and is perfect for this time of year.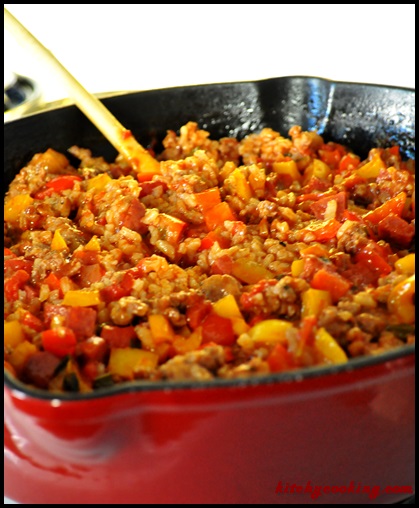 See, when it's cold outside, I like eating casseroles, mac & cheese or baked pastas. All things that are heavy, creamy and the definition comfort food. But those just aren't ideal after a good six weeks of heavy dinners, cookie swaps and sweet desserts. But this risotto is comfort food without being rich or heavy. It's full of meat, vegetables and rice and sticks to your ribs without making you feel like you need to unbutton your pants. Plus, if you use fresh ingredients, you don't have to worry one iota about breaking those new year's resolutions of yours.
I know risotto is usually a time consuming meal to make, but since this version is baked, you don't need to spend an hour standing over a stove, stirring until your arm feels like it's going to fall off. Yes, there is some stirring involved, but most of the cooking time takes place in the oven, which means you have more time to relax and set the table or toss together a salad before dinner. The cooking process alone is reason enough to whip up this dish. But the flavors and the fresh ingredients are what keep me coming back winter after winter.
Yup, I love this dish. As soon as the new year starts and the Christmas decorations are put away, I break out my cast iron casserole, make sure I have several cans of diced tomatoes, plenty of rice and whip this recipe up at least once if not a few times over the winter months. Give it a try and I bet you'll do the same.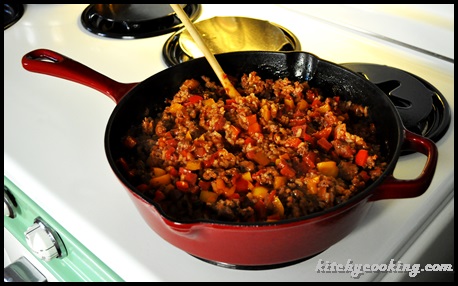 Baked Risotto with Sausage
Ingredients:
1/2 cup + 2 tablespoons olive oil, divided
9 cloves garlic, divided
1 (28 oz. can) diced tomatoes
fresh basil, torn
salt and pepper to taste
1 pound sweet Italian sausage, casings removed
4 oz. salami, diced
2 red bell peppers, seeds removed and diced
1 red onion, chopped
2 teaspoons fresh thyme, chopped
1-1/2 cups Arborio rice
1-1/2 cups red wine (like Merlot)
1-1/2 cups chicken stock
1/2 cup grated Parmesan cheese
Directions:
Smash six of the garlic cloves with the back of a knife.
Heat 1/3 cup olive oil in a 3 quart sauce pan. Add the garlic and cook over medium heat until the garlic is a nice golden brown.
Stir in the tomatoes and a generous pinch of salt and pepper. Cook the sauce until thick, about 15 minutes. Add 3 more tablespoons of olive oil and increase the heat to high. Continue to cook the sauce until the oil turns red. Remove from the heat and add the torn basil. Set sauce aside and let cool. (This sauce can be made several days ahead. Just seal in an airtight container and refrigerate.)
Preheat the oven to 350°F.
Heat the remaining olive oil in a large, oven safe pan over medium heat. Add the sausage and salami and let cook until no longer raw.
While the meat cooks, dice the remaining garlic. Then add the garlic, bell peppers, onion and thyme to the pot and cook until tender, about 10 minutes. Stir in the tomato sauce and cook, stirring continuously, for another 5 minutes.
Add the rice and cook for another minute. Pour in the wine and stock, give a quick stir to combine the flavors and bring to a boil. Cover the pot with a lid and bake in the oven for 35 – 40 minutes or until the liquid is absorbed.
Stir in the Parmesan and serve immediately.