Grilled Chicken and Strawberries with Balsamic Syrup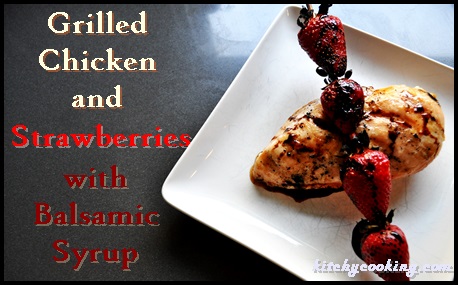 It's so funny the way summer works here in the South Bay. One day it'll be cold and foggy and in the low 60's, or what we call June Gloom. Then the next day, usually right around the official start of summer, it'll be sunny and hot, like in the 90's hot. When it gets that hot it's time to cook outside, and that means grilling.
I love grilling all kinds of things from steak to vegetables to fruit to chicken. Everything is better on the grill. No matter what you're cooking, you get a nice smokey flavor, a great char and if it's fruit or vegetables, that fire brings out the produce's natural sugars making them just a little sweeter. This recipe gives you all that and more thanks to a moist, smokey chicken breast and some seriously sweet strawberries.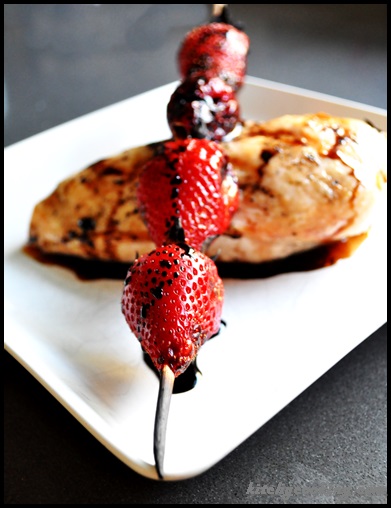 I know it's common practice to serve proteins with vegetables but I love serving them with fruit because you get a savory meal with a burst of sweet flavor. Those sweet/salty flavor combos are some of my favorites. That combination is the reason I tend to add a little more salt to my desserts, why I cook pasta with peaches and tuna with plums. It's precisely why when I saw this recipe in Fine Cooking, I jumped at the chance to make it.
But the flavors aren't the only reason I love making this dish. It's the fact that it takes under 30 minutes. That's right, less than 30. As a matter of fact it's waiting for the charcoal and the grill to heat up that takes the longest amount of time. After the grill's ready to go, the chicken and strawberries take mere minutes.  Once they're cooked, plate 'em up, drizzle with the syrup and serve. Oh, that syrup. I almost forgot about that syrup. It really ties the whole dish together by adding some seriously rich notes that highlight those sweet and salty flavors I mentioned earlier. Those flavors that remind you summer is here and it's time to get grillin'!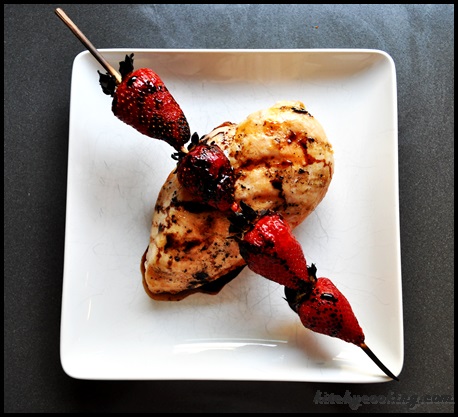 Grilled Chicken and Strawberries with Balsamic Syrup
Ingredients:
3 tablespoons balsamic vinegar
20 strawberries
4 boneless, skinless chicken breasts
1 tablespoon olive oil
salt and pepper to taste
Directions:
Boil the balsamic vinegar in a small saucepan until reduced by half, about 2 minutes, and set aside.
While the vinegar boils, preheat the grill to 400°F.
Thread 5 strawberries onto 4 different skewers.
Wrap each chicken breast in plastic wrap and pound until about an inch thick. Brush the breasts with olive oil and season with salt and pepper.
Grill the chicken and strawberries until the chicken is cooked through, about 6 minutes, and the strawberries have slight grill marks, about 2 minutes. Drizzle with balsamic syrup and serve.