Green Beans Two Ways
November 22, 2017
by Jennifer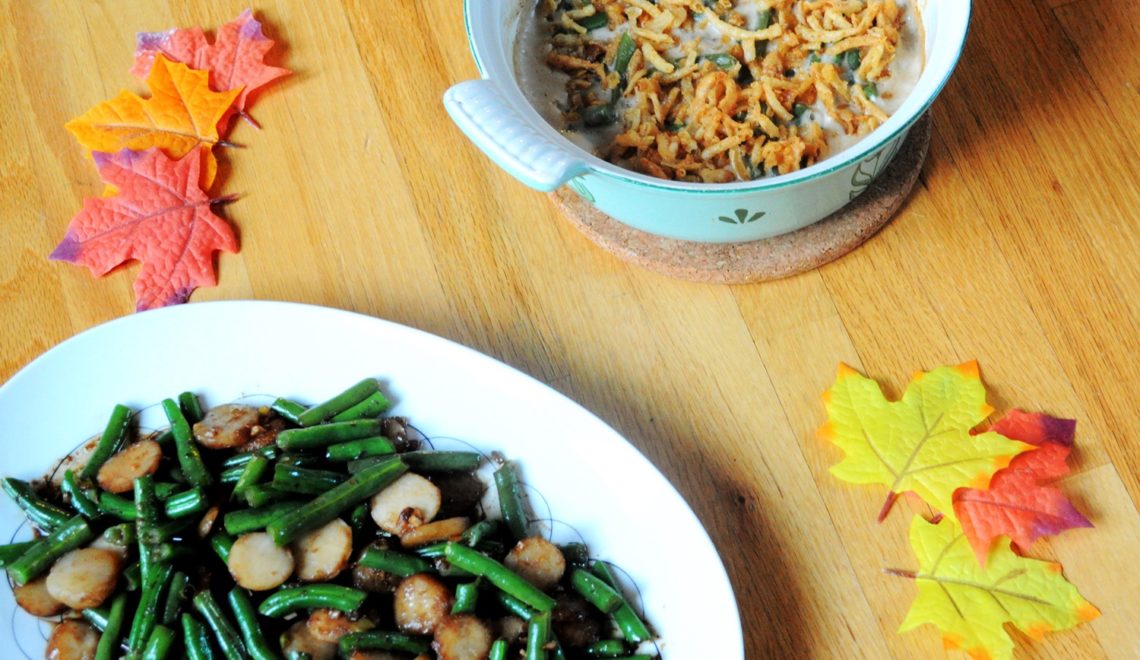 Thanksgiving may be tomorrow, but there's still enough time to squeeze one more recipe in. If you're worried these recipes will take tons of time, let me assuage your fears. Both recipes can be done and on the table in 30 minutes or less and both are delicious! While one is a classic from the 50's and the other has a modern twist, both use the same main ingredient: green beans!
Yes, the green bean seems to be a classic staple on the Thanksgiving table. But with so many ways to prepare them, how do you choose? Do you roast to bring out the natural sugars? Do you saute in a sauce so they're still crisp and light or do you mix them up into that classic casserole that's been around since my parents were kids? I know, it's a tough decision! That's why I'm giving you two choices today: do you want to go lighter and more modern or stick with a classic that's so popular it's still on Thanksgiving tables across America?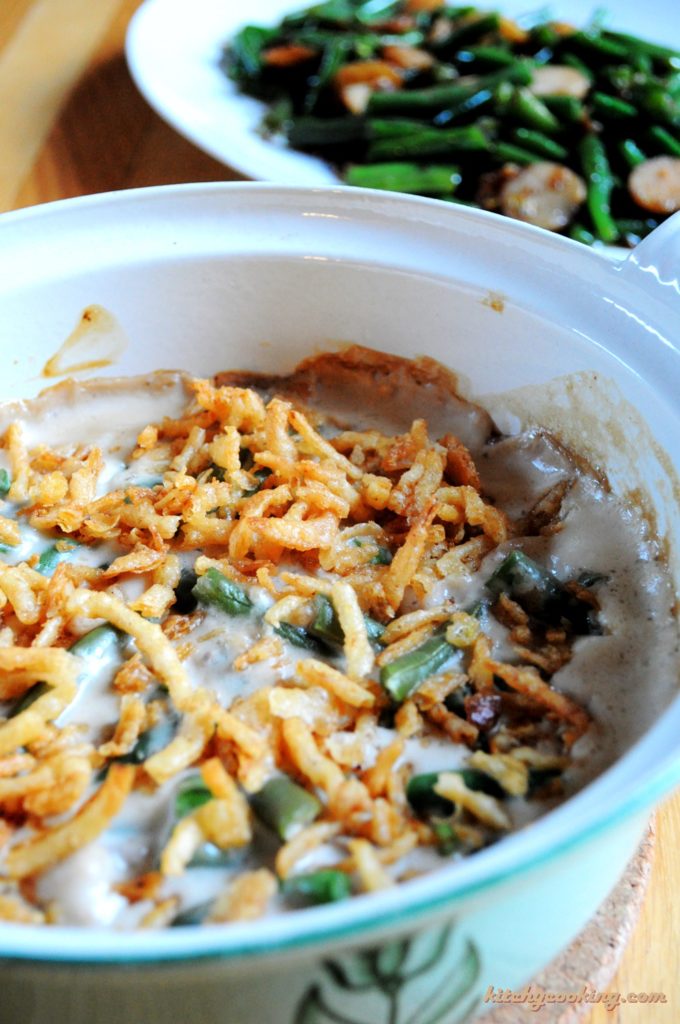 Green Bean Casserole
Personally, I've always been a fan of the vintage casserole. I know it's a heavier recipe but there's just something about those chopped up green beans, smothered in that creamy sauce and covered with fried onions that I love. I think it's a nostalgia thing.
See, I hated those little green beans when I was a kid. They were a green vegetable, and when you're a kid under the age of 10, you hate almost all green vegetables. Spinach, peas, green beans… I didn't want any of them. So, how was my mother going to get me to eat my green beans on Thanksgiving? She was going to hide them in a rich, creamy sauce and deep fried onions of course. No matter what kind of vegetable you're eating, if you smother it in cream and crispy topping you're probably going to eat it. I mean, I know I liked my potatoes, peas and carrots better when they were part of a chicken pot pie, so of course I was going to eat my green beans if they were in casserole form. And while there's definitely a healthier way of making the classic casserole with fresh mushrooms and real cream, nothing beats the original recipe made with Campbell's Cream of Mushroom soup and French-fried onions. I know, blasphemy! But like I said it's a nostalgia thing.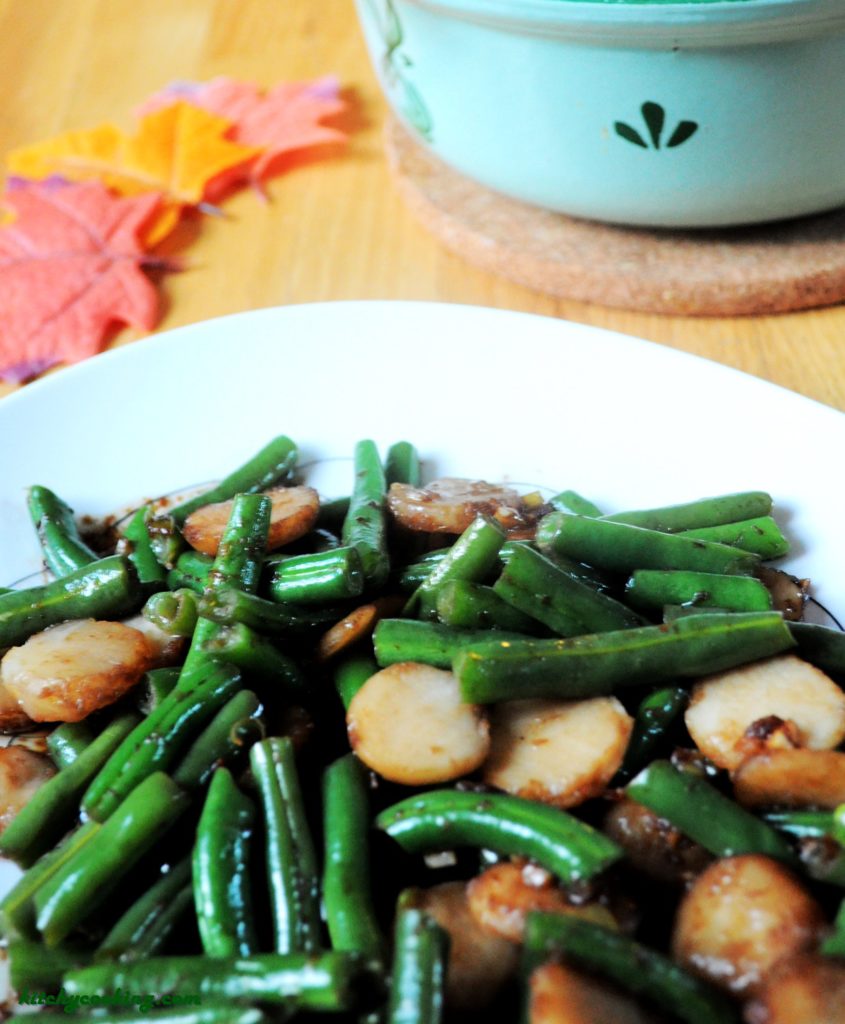 Sautéed Green Beans
While I love the casserole and will go back every so often and make it, I'm a modern girl who loves to cook with real ingredients. That means fresh vegetables, real spices and all around healthier cooking options. To that end, I've started sautéing, grilling and roasting the infamous bean. It doesn't take a lot of time and you still get great flavor and a wonderful side for any meal, not just Thanksgiving or Christmas.
A few years ago I found this recipe in one of my favorite cooking magazines, Fine Cooking. I liked it because it was so simple and had great Asian flavors thanks to the ginger, water chestnuts and soy sauce. I've made it several times as a side to steaks or chicken and every time it's a great compliment, that's why I know it'll go well with turkey.
So, this year, if you're still in need of one more vegetable and you love green beans as much as I do, whip up one of these. No matter whether you go with the classic that's been around for decades or this modern twist, you won't be disappointed.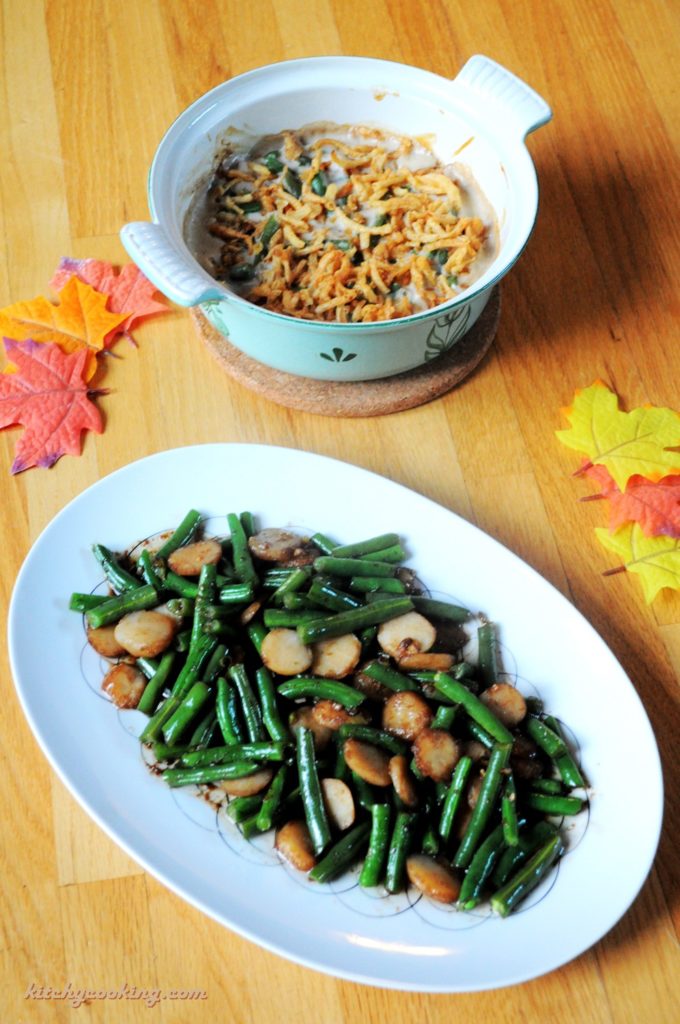 Ingredients
4 pounds green beans, trimmed and chopped into 2-inch pieces
2 cans (14.5 ounces) cream of mushroom soup
1 can (2.8 ounces) French-fried onions
Instructions
Preheat the oven to 350 degrees F.
Mix soup and beans together in a large bowl. Transfer to a 2-quart casserole dish and bake for 20-25 minutes until hot and bubbly, topping with the onions the last five minutes of cooking.
http://www.kitchycooking.com/2017/11/green-beans-2-ways/
Sautéed Green Beans
Ingredients:
1 pound of green beans, trimmed and cut into 2-inch pieces
2 tablespoons vegetable oil
1 tablespoon garlic, minced
1 tablespoon ginger, minced
1 (8 ounce) can sliced water chestnuts, drained and rinsed
2 tablespoons soy sauce
1 tablespoon sesame oil
Directions:
Bring a pot of salted water to a boil over high heat and cook the beans until crisp-tender, about 3 minutes. Drain and rinse with cold water.
Heat the oil in a large skillet over medium-high heat. Add the garlic and ginger and cook, stirring occasionally, until the garlic begins to brown, about 1 minute.
Add the water chestnuts and green beans and cook until warmed through, about 2 minutes.
Remove from the heat, add the soy sauce and sesame oil, and toss to coat.
Transfer to a serving platter and serve.