Roasted Chicken with Sweet Potatoes and Oranges
January 24, 2018
by Jennifer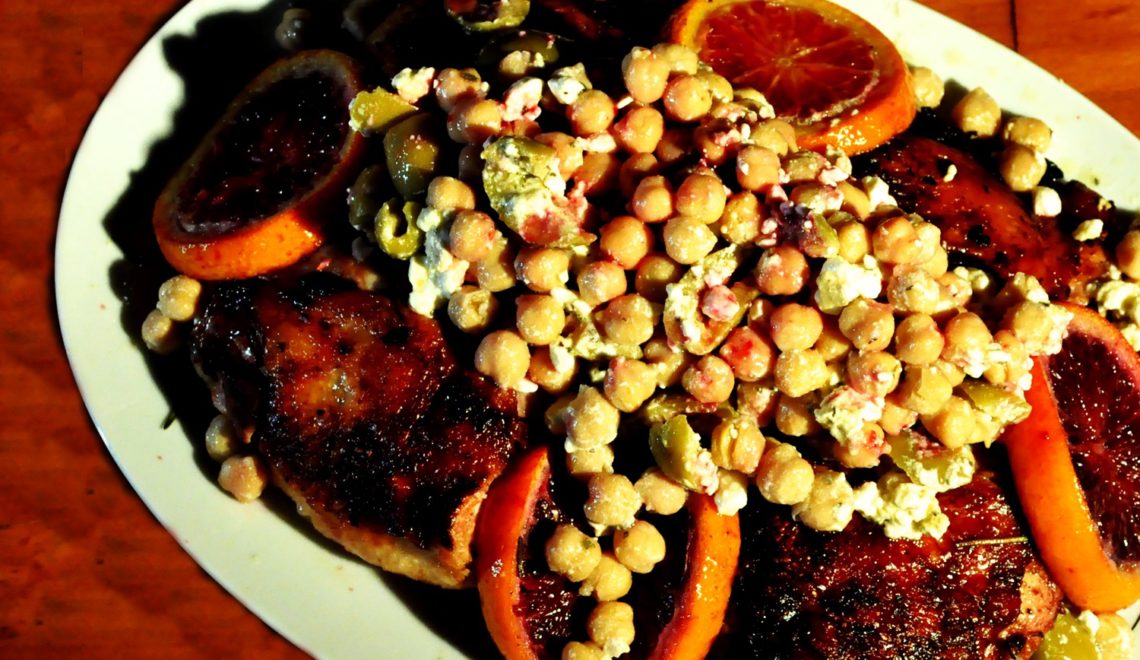 We're right in the middle of citrus season. This is one of my favorite times of year. Sure, I love the spring and summer when there's an abundance of berries and stone fruits, but when those sweet berries and peaches aren't available, oranges and lemons are a wonderful alternative.
While citrus aren't as sweet as those delectable berries and plums, they provide a wonderful tart flavor that's needed during these cold, winter months. With so many options, how could you not love them? I mean, there are tangerines, Meyer lemons, sweet lemons, blood oranges, Cara Caras, Sumo oranges… it's a plethora of citrus! But if you think those yellow and orange spheres are only good for drinks and desserts, I have a surprise for you: they go great with proteins, too.
I use lemons all the time when I'm making chicken. It doesn't matter if I roast it whole or sauté breasts in a skillet. The lemon juice adds a much needed pop of acid that ties the whole meal together. And while I use lemons and limes all the time, I don't normally use oranges. They're just too sweet. However, in this recipe from Bon Appétit, they compliment the salty olives and feta cheese as well as the lemon juice in which the chicken marinates.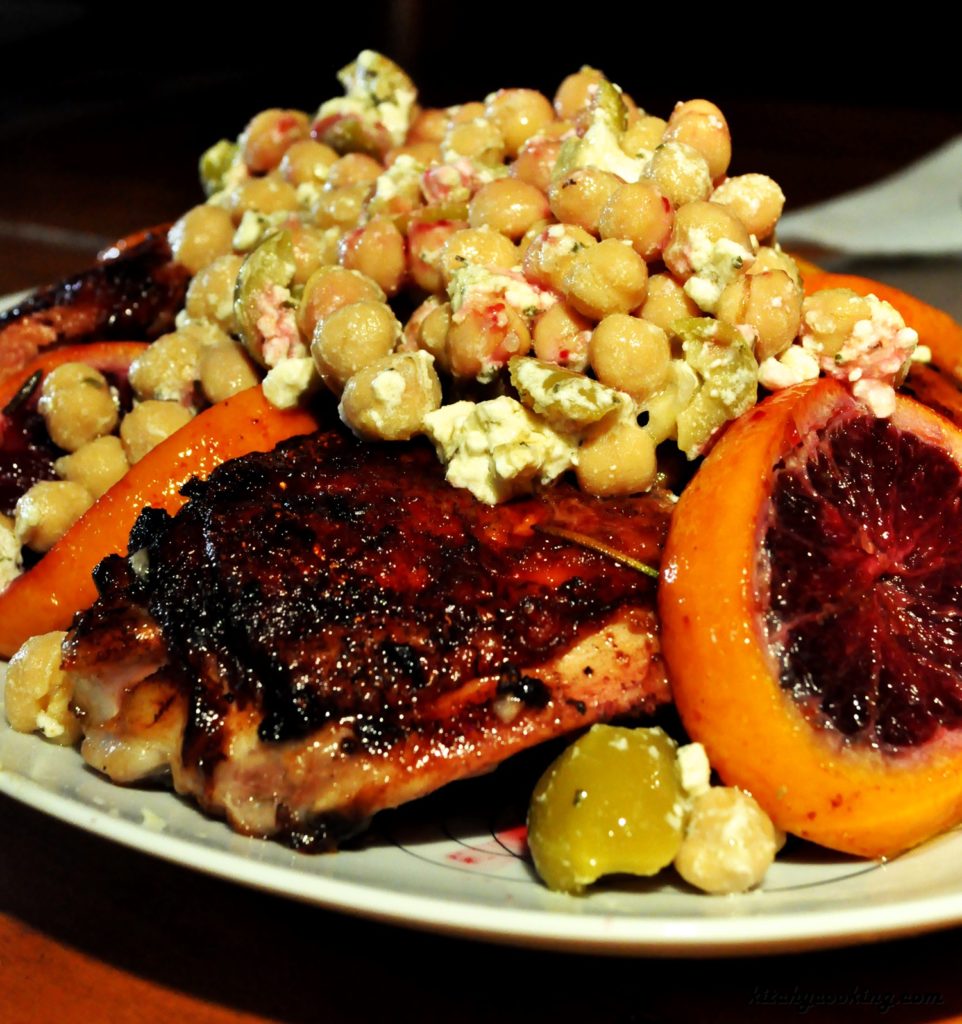 That's right, I said marinate.
I know there's a rule about not marinating raw proteins like chicken or shellfish in lemon, lime or even orange juice because the acid starts to cook the meat. But in this case, it only adds to the delicious flavor of the chicken thighs. And now that I've seen it doesn't ruin the chicken, I think I'll start marinating it in citrus more often.
The cool thing about marinating chicken is, you can do it for however long you have. If you only have 30 minutes on a busy weeknight, great. If you have tons of time and want to start marinating the night before, even better. See, the longer you marinate the chicken, the more flavorful; and who doesn't love moist, flavorful chicken? I know I do. But no matter how long you marinate the chicken, you'll get a nice, tart flavor that runs through the whole dish. Add the sweet potatoes, salty olives and cheese and you've got a hearty dinner any night of the week.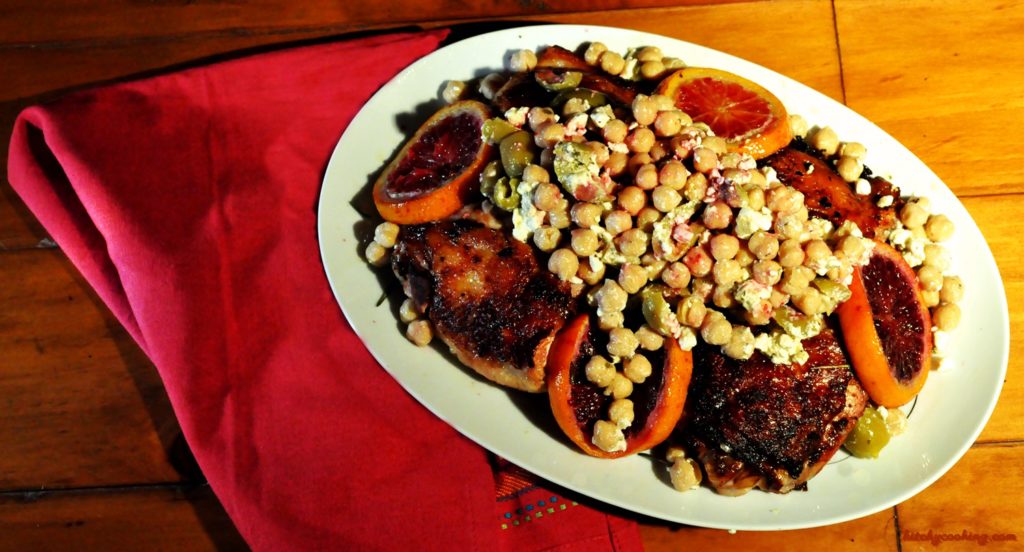 Roasted Chicken with Sweet Potatoes and Oranges
Ingredients
4 skin-on, bone-in chicken thighs
4 garlic cloves, minced
3 tablespoons lemon juice, divided
5 tablespoons olive oil, divided
1 large sweet potato
3 sprigs of rosemary
1 blood oranges, thinly sliced
1 (15 ounce) can of garbanzo beans
1/2 cup green olives, pitted
3 ounces feta cheese, crumbled
Instructions
Preheat the oven to 450 degrees F.
Sprinkle salt and pepper over the chicken thighs. Place them in a large bowl. Add the garlic, 2 tablespoons of lemon juice, and 2 tablespoons oil. Toss the chicken to coat. Let sit for at least 30 minutes or cover and chill overnight.
Prick the sweet potato all over with a fork and roast until tender, about 1 hour; let cool.
Heat 1 tablespoon olive oil in a 12-inch cast iron skillet over medium heat. Cook chicken, skin side down, until skin has a nice, brown char on it, about 5 minutes. Transfer the chicken to the oven and roast, skin side down, until cooked through, 18–22 minutes. A minute or two before taking chicken out of the oven, toss rosemary sprigs into skillet. Place chicken, skin side up, on a plate with rosemary sprigs.
Place the orange slices in the same skillet over medium-high heat. Cook oranges until just golden and slightly softened, about 30 seconds per side. Transfer to plate with chicken.
Toss olives, feta and garbanzo beans with remaining olive oil and lemon juice in a bowl to make a salad.
Arrange big pieces of sweet potato on a large serving platter. Place chicken along with any accumulated juices on platter. Top with oranges, garbanzo bean salad and rosemary leaves. Cut a second orange into wedges and squeeze over whole platter. Serve immediately.
Notes
Adapted from Bon Appetit magazine.
http://www.kitchycooking.com/2018/01/roasted-chicken-with-sweet-potatoes-and-oranges/