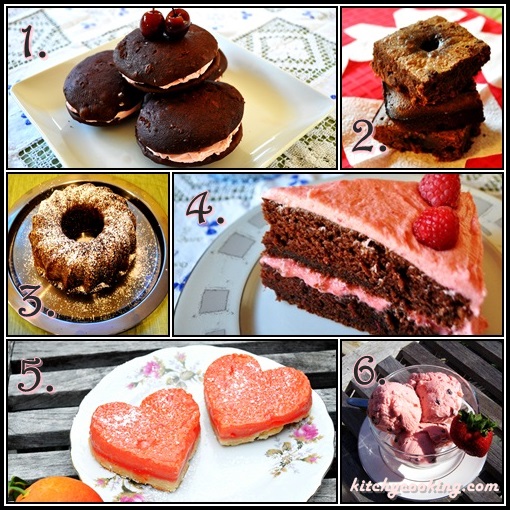 Okay, I'm not gonna deny it. I didn't make a Valentine's-Day-specific dessert this year. Bad Kitchy Cooker. Bad. But while I was hanging my head in shame I realized I've made plenty of desserts for the blog and some of them have even been chocolate. (Who am I kidding? Most of them have been chocolate.) And since I've seen plenty of Valentine's Day roundups this year, I thought why not do one of my own? I mean, I've always been a big fan of Valentine's Day. And no, it's not because of the cards… although getting cards and presents are always nice. It's because of all the chocolate.
Yes, my name is Jennifer Richmond and I'm a chocoholic. So of course I live for the one holiday a year where it's all about chocolate. The only thing that makes chocolate better? Why adding fruit to it of course. And if you can combine those two things while adding a splash of pink… oh my god, I'll do whatever you say.
But if you're not the chocolate fan that I am, I won't hold it against you. There are plenty of Valentine dessert options out there that don't have one ounce of chocolate in them.  (I've even made a few. Please don't tell anyone.) Below is a list of some of my favorite sweet treats perfect for the upcoming heart-shaped holiday. I even included one that isn't chocolate but is just as tasty because I am trying to venture outside my comfort zone. Really… I swear.