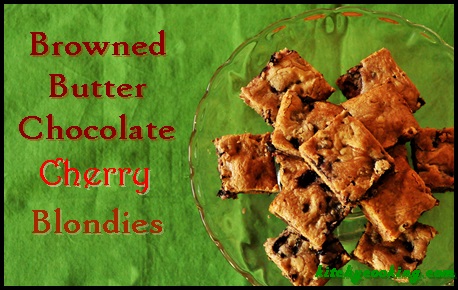 As you know I've been on a bit of a cherry kick lately. That's because cherry season is only a few short weeks and I just love those little red orbs. They're so sweet and tart and absolutely delicious. It's because of the quick season that I'm bringing you yet another cherry recipe, but this time there's chocolate and browned butter involved.
Since one of my favorite flavors are chocolate covered cherries, I knew I had to make something with both those flavors before cherries disappear for another year. A few years ago I made Black Forest Brownies, but this time I wanted something a little nutty. Something that still had chocolate but was more cookie than brownie. I love blondies, so I thought why not? I mean if cherries are great with chocolate who's to say they won't be good with cookie dough? Or better yet browned butter cookie dough.
I'm so happy I took the leap. I still got that great chocolate-cherry flavor, but now I had that delicious browned butter cookie dough surrounding it. What makes these blondies really awesome though, are the fact that they're the perfect finger food. I've made them twice now for meetings and get-togethers and everyone gobbled them up. Since you can just pick them up and nibble, they are the perfect dessert for parties or barbecues. As a matter of fact, both times I made them they were gone before the night was over, which means there were none to take home. While I was bummed, my husband was really upset. See, he wanted one (or two) for himself.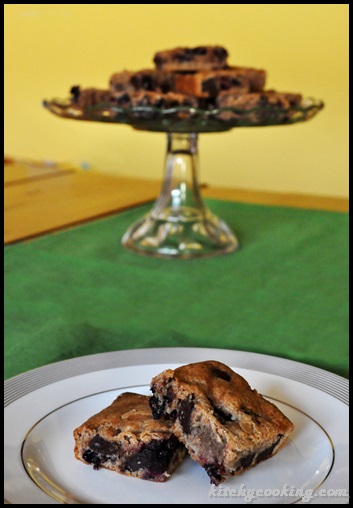 So, now that I've made and tasted them twice, there's no doubt I'm addicted. I actually bought another pint of cherries yesterday just so I could make them one more time before the season ends. Yes, I'll have to pit those cherries and I'll have to brown the butter, but the end result is sooooo worth it. While you could use frozen cherries in these bars, there's no comparison to using fresh; and that means you have about 2 weeks to grab a basket and make these babies. Trust me, after one bite you'll be dashing back to the farmers market hoping there are enough cherries around to make one more batch.
Browned Butter Chocolate Cherry Blondies
Ingredients:
1/2 cup (1 stick) unsalted butter at room temperature
1/2 cup sugar
1/2 cup brown sugar
1 egg
1 teaspoon vanilla
1 cup flour
1/2 teaspoon salt
1 cup bittersweet chocolate chips
1 cup cherries, stemmed and pitted
Directions:
Preheat oven to 350°F. Grease an 8×8 pan and set aside.
Melt the butter in a small saucepan over medium-low heat, swirling the whole time until it turns a golden brown and develops a nutty smell. (Make sure you watch it, otherwise your brown butter will turn to burned butter and we don't want that.)
Pour the butter into a mixing bowl. Add the sugars and beat on medium speed until combined. Add the egg and continue to mix. Add the vanilla and beat for another minute.
Sift together the flour and salt in a separate bowl. Gradually add it to the sugar mixture until just combined. Don't overmix.
Fold in the chocolate and cherries.
Pour batter into prepared pan and bake for 30 -35 minutes or until golden brown and a toothpick comes out clean (as long as you don't hit any chocolate or cherries.) Cool on a wire rack for 10 minutes, slice and serve.