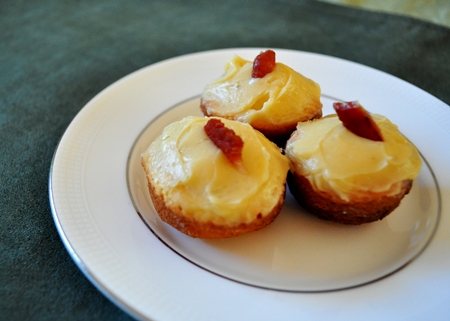 Last year I was lucky enough to attend Charlie Palmer's Pigs & Pinot event in Healdsburg. If you don't know about Pigs & Pinot, it's a weekend long charity event that's devoted to pinot noir and pork. While it lasts all weekend, hubby and I only attended the Taste of Pigs and Pinot which is a night dedicated to tasting 60 different pinot noirs and the delicious pork tidbits to go with them. They had everything from roasted pork loin to grilled pork chops. But they didn't just have appetizers and main courses dedicated to the pig. Every dessert that was presented also had some semblance of the swine attached to it.  There was chocolate covered bacon, bacon chocolate chip cookies and my favorite, Twinkies filled with a bacon bourbon cream. These little Twinkies were so delicious, I must've had at least half a dozen. I wanted to go back for more, but they disappeared quickly.
Anyway, they left such an indelible mark on my palate, I just had to try and recreate them; and what better time than a few weeks before Super Bowl Sunday. Why did I want to make them for the Super Bowl? Because if you're having a party there's going to be plenty of savory tidbits for people to munch. So why not add something sweet they can pop in their mouths when they're done with the burgers and chili? And since there's both bacon and bourbon involved, it's really the perfect sports-themed dessert.
But as you can see from the photos I didn't want to make Twinkies. They're just too big to pop in your mouth while you're watching the game. I thought it'd be easier to make mini-cupcakes. But just because they're cupcakes doesn't mean you can't stuff them full of bacon, bourbon whipped cream. I mean Hostess did it. Well, without the bacon or bourbon but imagine how good those chocolate cupcakes would be if they did.  Hey, there's an idea… But I digress.
These little morsels are the perfect size to grab one or two or three, pop 'em in your mouth, and take a swig of beer without missing a single play. So if you're full up on chips, dips, and potato skins, add these sweet & salty cupcakes to your table. They'll be gone before the end of the half.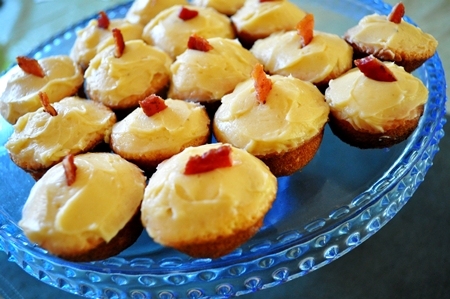 Mini Vanilla Cupcakes with Bacon Bourbon Cream
Ingredients:
For Cupcakes
1/2 cup pastry flour
1/4 cup all-purpose flour
1 teaspoon baking powder
1/4 teaspoon Kosher salt
4 tablespoons unsalted butter
1/2 teaspoon vanilla extract
4 large eggs
1/2 cup sugar
1/4 teaspoon cream of tartar
For Bacon Bourbon Cream
3-4 slices thick cut bacon
1 cup heavy whipping cream
2 tablespoons bourbon
1 tablespoon sugar
For Salted Caramel Frosting
1/4 cup sugar
2 tablespoons water
1/4 cup heavy cream
1 teaspoon vanilla
2 teaspoons smoked sea salt
1 cup butter, at room temperature
3/4 cup powdered sugar
Directions:
For Cupcakes:
Preheat the oven to 350°F. Spray mini muffin tin with cooking spray and set aside.
Whisk the flours, baking powder, and salt together in a bowl.
Melt butter in a small saucepan over low heat. Remove from heat, add the vanilla and set aside.
Separate the eggs. Beat the egg whites on high speed until foamy. Gradually add 1/4 cup of sugar and the cream of tartar and continue to beat until the whites reach soft, moist peaks, set aside.
Beat the egg yolks with the remaining sugar until the mixture is very thick and a pale yellow color, about 5 minutes. Add the beaten egg whites to the yolks, but

do not mix

. Sprinkle the flour mixture over the egg whites and then mix everything on low speed until just combined. Remove the bowl from the mixer and gently fold the melted butter mixture into the egg mixture until everything is evenly mixed, about 15 strokes.
Spoon the batter into the prepared muffin tin and bake until the cake tops are light brown and spring back when touched, 12 to 15 minutes. Allow the cupcakes to cool for at least 10 minutes.
While the cupcakes bake make the Bacon, Bourbon Cream:
Cook the bacon in a large skillet over medium-high heat until nice and crispy, about 3 minutes per side. Transfer the cooked bacon to a paper towel to drain.
Pour the bacon grease, bourbon, whipping cream and sugar into a large mixing bowl. Beat on high until cream is stiff, about 5 minutes.
To fill the cupcakes:
Once the cupcakes are cooled, take an apple corer and gently push it into the center of your cupcake. Rotate the corer a full 360 degrees and pull it out of the cupcakes. Remove the tiny cake round from the corer and repeat with the rest of the cupcakes. Make sure not to go all the way to the bottom of the cupcake as this will cause your filling to leak out.
Pipe the bacon bourbon cream into each cupcake and frost with the Salted Caramel Frosting.
For the Frosting:
Stir together sugar and water in a small saucepan over medium-high heat. Bring to a boil and continue cooking, swirling pan occasionally, for 5 minutes until the mixture turns a dark amber color.
Reduce the heat to low and slowly pour in the vanilla and cream. Stir until combined and smooth. Remove the pan from the heat and let cool for 10-15 minutes.
While the caramel cools, beat the salt and butter together in a large mixing bowl on high speed for about 3 minutes. Reduce the speed to low and add powdered sugar. Continue mixing until completely combined.
Pour the caramel into the butter mixture and mix for another 3 minutes.
Frost your cream-filled cupcakes and top each with a little piece of bacon. Serve immediately.
Note: If you're rushing the day of the big game, and don't have time to make these cupcakes, you can make the cupcakes, bacon bourbon cream and frosting all a day or two ahead. Then just assemble the day of the big game.