Mexican Hot Chocolate Brownies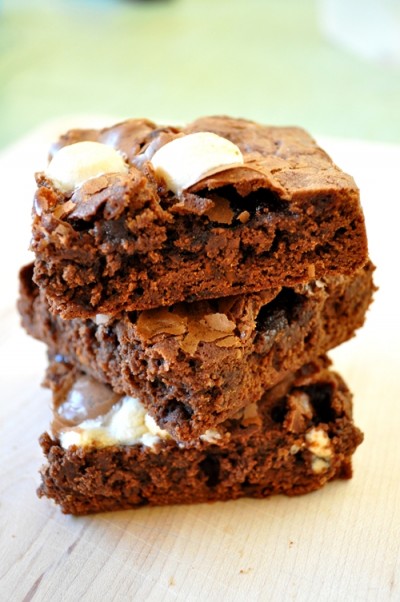 Over the past couple months, I've been adding cinnamon to pretty much everything. My morning mocha? Check. Oatmeal? Check.  Dry rub for steak? Yup threw some in there too. I don't know why I'm suddenly on this cinnamon kick, but I can't get enough.
My favorite combo has been chocolate and cinnamon. The sweet chocolate combined with the spicy cinnamon makes for a flavor that tickles my tongue and brings a big smile to my face. It made me remember how much I loved Mexican hot chocolate, of which I drank a ton when I spent a summer in Oaxaca while I was in high school. So, since I'm on this cinnamon and chocolate kick, I ran right out and bought a box of Ibarra so I could make a few (okay several) cups of the delicious elixir.
I was recently consuming a cup when I thought how amazing the hot chocolate would be in brownie form and so, the Mexican Hot Chocolate Brownie born.  I threw in marshmallows because who doesn't love marshmallows floating in their hot chocolate? I know I do.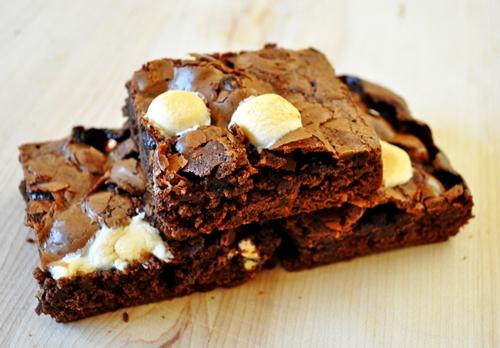 Mexican Hot Chocolate Brownies
1 cup butter (2 sticks)
2 squares unsweetened chocolate
1 round of Ibarra Mexican chocolate
1 cup sugar
4 eggs
1 tsp vanilla
1 cup flour
1 tsp cinnamon
1/2 tsp chili powder
1 cup cinnamon chips
1-1/2 cups mini marshmallows, divided
Preheat the oven to 350°F. Grease a 9×13 pan and set aside.
In a medium sauce pan melt the butter, chocolate and Ibarra over low heat, stirring occasionally.  Once melted, pour the chocolate mixture into a large mixing bowl.  Mix in the sugar.  Add the eggs one at a time. Mix in the vanilla.
In another bowl, sift together the flour, cinnamon and chili powder.  Gradually add the flour mixture to the chocolate mixture and mix until just combined. Mix in the cinnamon chips and 1 cup mini marshmallows.
Pour the batter into prepared pan and cook for 30 minutes. Pull the pan out of the oven and sprinkle the remaining marshmallows over the top of the brownies. Cook for another 10 minutes or until marshmallows are toasted. Let them cool in the pan for at least 10 minutes before cutting and serve.