Minny's Chocolate Pie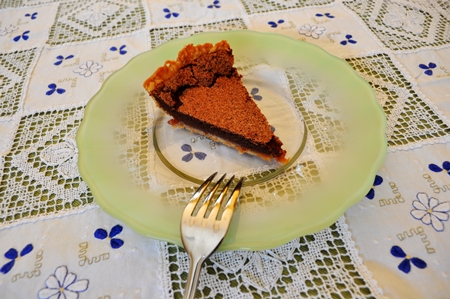 I have a confession to make. I hate to read. Okay let me clarify that, I hate to read books. Magazines, scripts, blog posts, all these I have no trouble with and actually quite enjoy. Don't ask me why I'm repulsed by books, because I actually can't tell you.  Maybe it's the thought of cracking something that's going to be at least 300 pages. Maybe it's the fact that the pages and pages of description turn me off. Or maybe it's because books just don't grab me. I, like most people of my generation, have a short attention span, so if a book doesn't grab me within the first 10 pages, I'm out. I know, I know there are plenty of books that take at least 50 pages to get going. But with a toddler and a job it's hard to commit to something that doesn't excite me. So, since I'm not a book fan, you'll probably be surprised to hear that I belong to a book club. Here's why: I was sick of all these people, who's opinions I value by the way, being shocked when I hadn't read (or even heard of) some big book that was on the top of every best seller list ever created. That and I really like hanging out with the girls for a few hours, talking and eating.
Turns out joining that book club was one of the best things I've ever done. Yes, I've read (or rather not read) some stinkers, but there have been several books that if it hadn't been for this club, I never would have even heard of, let alone read. The Hunger Games Trilogy is one (or rather three) examples, The Guernsey Literary and Potato Peel Pie Society, Mildred Pierce (yes, it was a book before both Joan Crawford and Kate Winslet took on the role), and The Help.  I've adored each and every one of these novels but I especially loved The Help.
I didn't like it for the controversy surrounding the book, or the time in history it painted so beautifully. I loved it for the rich characters, the beautiful descriptions and the food. Yes, the food. If you've read the book you know that Minny, one of the maids, is known for her Southern cooking. She's the best in the county. And the descriptions of her fried chicken, grits, and pies made me drool every single time they were mentioned. There were a few times I was almost afraid to finish the book because I knew I was going to need to eat whatever it was she was making. And while I want to make just about everything she did, there were two recipes I had to make sooner rather than later: her fried chicken and her chocolate pie.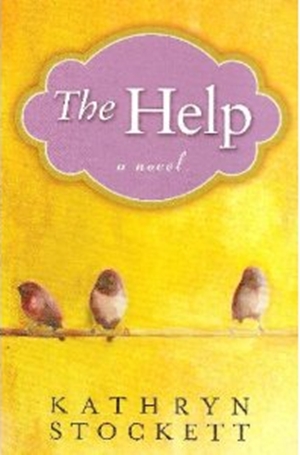 Now I've made fried chicken before and actually make it quite often. But I want to make Minny's fried chicken because she fries hers in Crisco.  Crisco! Something she calls "the most important invention in the kitchen since jarred mayonnaise." I haven't used Crisco since I was a kid when my mom told me it was what you used to grease a pan.  But can you imagine how amazingly evil fried chicken would be if we all fried it in Crisco? Unhealthy, sure.  But let's be honest, fried chicken isn't really all that healthy anyway.
Then there's her chocolate pie, which if you know the story, is very, very important.  If you don't, let's just say she does something to the pie which gets her fired from her first job. And as disgusting as it is, I still wanted to make it because before Minny was fired she was known for her chocolate pie. So I was determined. I was going to make this pie… without Minny's secret ingredient of course.
Food & Wine Magazine must've known I wasn't the only person out there who wanted to recreate Minny's recipes because at the end of the summer they had an article that not only talked about the book and the movie, but also included several of the classic Southern recipes, including her chocolate pie. I was so excited, I of course ran right out, got all the necessary ingredients and recreated Minny's Chocolate Pie. And guess what? I now know why this was her most requested dish. It is out. Of. This. World. Whether you've read the book or not, if you like chocolate, you must make this pie. It's thick and rich, and melts in your mouth. I can't wait to make it again… and again… and again.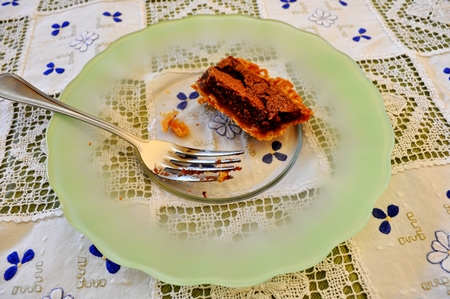 Minny's Chocolate Pie
Ingredients
1 package pie dough crust (or you can make your own)
1-1/2 cups sugar
3 Tbsp unsweetened cocoa powder
4 Tbsp unsalted butter, melted
2 large eggs, beaten
3/4 cup evaporated milk
1 tsp vanilla extract
1/4 tsp salt
Directions
Preheat oven to 350°F. Ease the pie crust into a 9-inch pie plate and crimp the edges decoratively. Line the crust with parchment paper and fill with pie weights or dried beans. Bake for 15 minutes or until set. Remove the parchment and weights and bake for 5 minutes longer, just until the crust is dry but not brown.
While the crust cooks, in a large bowl whisk together the sugar, cocoa powder, butter, eggs, evaporated milk, vanilla, and salt until smooth.
Pour the filling into the pie shell and bake for about 45 minutes, until the filling is set around the edges but a little jiggly in the center. Cover the crust with strips of foil half-way through baking so it won't burn.  Transfer the pie to a rack and let cool completely before cutting into wedges and serving.