Fig Jam & Blue Cheese Corners
April 26, 2012
by Jennifer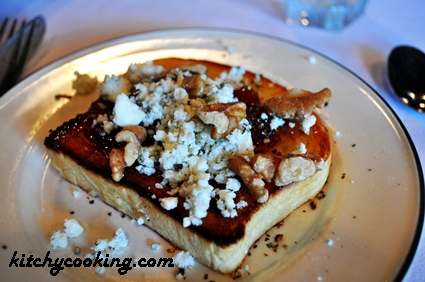 Did you know it's National Grilled Cheese month? Not that I need a specific month or day to make and eat a grilled cheese, but the fact that the whole month is devoted to this delectable sandwich makes me want to eat them as much as possible. And any combination will do. I don't care if it's American cheese on whole wheat, jack and cheddar on sourdough, with meat, without meat, all of them bring a big smile to my face. So you can understand why I immediately signed up when I heard The Depot, my favorite South Bay restaurant, was hosting a cooking class devoted entirely to this classic sandwich. But since it's a cooking class at a high class restaurant, we didn't just make your standard American cheese on whole wheat. We made five, evil, ooey gooey grilled cheeses, each being more delicious than the last.
Chef Michael Shafer called this fig jam & blue cheese grilled cheese his version of peanut butter and jelly and it was awesome. Although not your standard grilled cheese in that the cheese wasn't melted on toast, cheese was involved and the bread was toasted so that was enough for me… and everyone else in attendance.
Just like a standard PB&J, this sandwich was sweet and salty and would be the perfect addition to a spring or summer tea party since it pairs perfectly with a nice hot cup of tea or a champagne cocktail. Serve this open faced sandwich as your main course or starter and you'll have your guests begging for more.
Fig Jam & Blue Cheese Corners
Makes 4 servings
Ingredients:
1 slice of egg bread or brioche, lightly toasted
2 tbsp fig jam
4 teaspoons crumbled blue cheese
2 teaspoons walnuts
Directions:
Place the toasted bread on a cutting board.
Spread the jam all over one side of the bread. Sprinkle with blue cheese and walnuts. Cut into quarters and place on 4 plates. Serve with tea.