Blood Orange Valentines
February 11, 2013
by Jennifer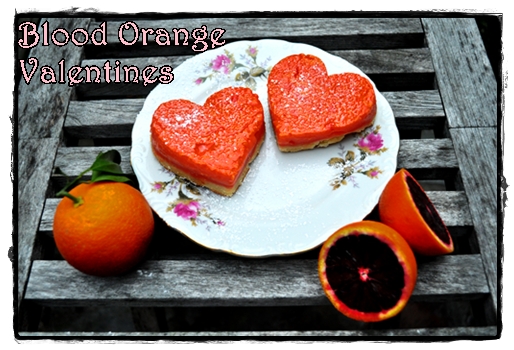 You know what I love about this time of year? All the citrus available.  I'm such a huge lemon and orange fan, I'd love to have a tree or two of my very own.
Actually we do have a lemon tree, but for some weird reason it's never taken root. I don't know why, we've tried everything from planting the tree in two different spots, to fertilizing it and pruning it back. But for whatever reason, the tree refuses to grow. So, I'm forced to do what most people do and buy my lemons, limes and oranges at the market.
Lucky for me, my farmer's market is overflowing with citrus so I don't have to suffer the long winter months without a daily dose of vitamin C. But what to do with all that citrus? Juicing is an option, however I prefer using these wonderful orange and yellow spheres in things I can eat. I don't care if it's an entrée like this blood orange beef stir fry or a dessert like these tangy lemon/lime bars.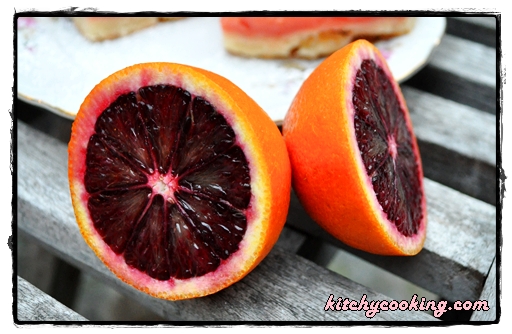 Anyone who knows me though, knows I'm a baker first and that I especially love cookies and bars. So, when I saw a recipe for blood orange bars I thought why not make some of my own? It's true they're not nearly as tart as the lemon version but they're just as tasty. And since the juice is a beautiful fuschia, I figured the bars would be a lovely pink – perfect for Valentine's Day.
I was wrong.
I made two batches of these bars and both pans were nowhere near pink. They were orange, dark orange. Not to worry, though, a few drops of red food coloring made them the pretty salmon color you see in the photos.
Once I was done trouble-shooting the color, I had to decide how to cut them. If I were serving them at a Valentine's Day party, I absolutely would have cut them into squares because you get a lot more bang for your buck. But it's Valentine's Day, and there's nothing sweeter than a heart-shaped treat, especially if you want to do something extra special for your honey.  Besides, taking that extra step guarantees your sweetie will be tickled… pink.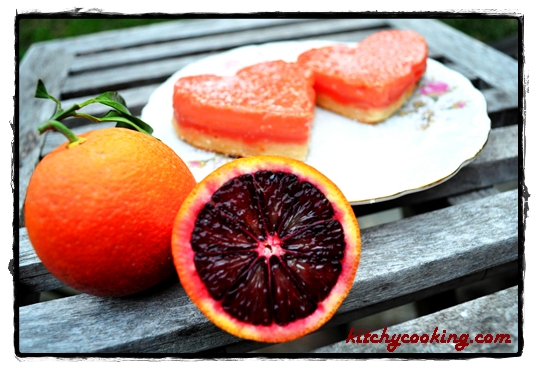 Blood Orange Valentines
Ingredients:
For the Crust
1 cup (2 sticks) of butter at room temperature
1/2 cup of sugar
2 cups of flour
pinch of salt
For the Filling
6 eggs
1 cup of sugar
1 Tbsp blood orange zest
2-1/2 cups of blood orange juice.
1 cup of flour
4-6 drops of red food coloring
Directions:
For the Crust
Preheat the oven to 350 degrees F.
Cream the butter and sugar together until they're a pale yellow.  In a separate bowl combine the flour and salt.  With the mixer on low, gradually add the dry ingredients to the butter mixture until just combined.
Press the dough into a 9×13 pan and chill in the refrigerator for 30 minutes.  Cook the crust for 15-20 minutes or until it's light brown in color.  Let crust cool, but leave the oven on.
For the Filling
Whisk the eggs, sugar, zest, juice and flour together in a large bowl.  Add the food coloring and stir until you reach the desired pink color. Strain through a mesh sieve, pour over the cooled crust and bake for 35-40 minutes.
Let cool.
Dust with powdered sugar.
Using a heart-shaped cookie cutter, cut into hearts and serve.