New Props to Show off my Strawberry Bruschetta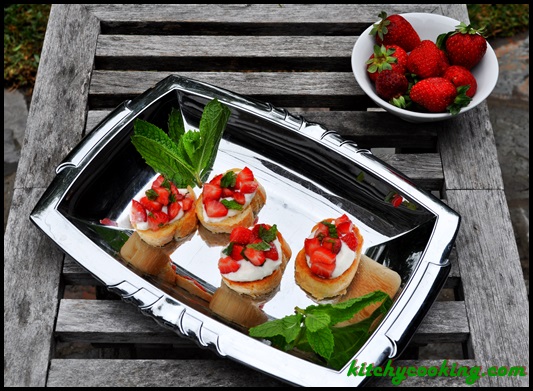 I love food bloggers. They're so generous, friendly and just an all around nice group of people. Here's a perfect example of what I'm talking about.
A couple months ago I heard about this awesome event thought up by Alyssa of www.EverydayMaven.com and Faith of www.AnEdibleMosaic.com. It was a Food Blogger Prop Swap. What's a Prop Swap? It's when a bunch of food bloggers get together and share their props. As a food blogger, I've been collecting props for years.  I have everything from table clothes and place mats to glassware and cocktail shakers. But I'm always on the lookout for something new. I mean, how many times can I use the same place mat in a photograph? Tons, evidently.  So, I was thrilled to find out there was a way for me to not only relinquish some of my overused props but get some new stuff in return.
I couldn't wait to go through my prop arsenal and share a few of my favorite things. I found some great items, filled up a box and sent them off to Stephani of Cupcake Project.  Then a few days later I received a box of goodies from Dorothy of Shockingly Delicious.  That tray my Bruschetta are on was just one of the awesome props I found nestled in my new box of goodies. I chose it to showcase my fruity hors d'oeuvres because I wanted to use it the same way Dorothy told me her mother used it in the 60's – to serve appetizers.  Also in the box were some cute, brightly colored egg holders, a few sea shells and some interesting new cook books that I can't wait to thumb through.  While I couldn't use all the props for this post, I guarantee they will make an appearance on my blog over the next few months.
But let me tell you why I chose the tray for this post: it finally gave me the ability to show off a tidbit I'd been dying to make since I saw the recipe in Fine Cooking. See, I love tomato bruschetta but that's a recipe everyone's had and eaten for decades. I wanted a sweet appetizer that screamed summer, and nothing says summer to me like fresh, sweet berries from the farmer's market.  This appetizer brings the fresh flavors of summer right into your home and is the perfect choice for your next outdoor tea party.
So, thanks Alyssa and Faith for thinking up this cool swap and extra special thanks to Dorothy for the lovely vintage tray. As you can see it's already being put to good use.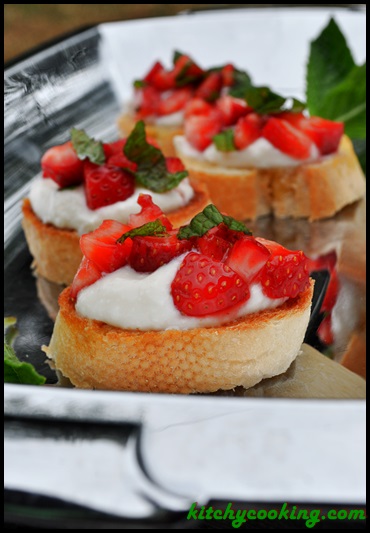 Strawberry Bruschetta
Ingredients:
1 baguette
2 tablespoons olive oil
1 cup strawberries, chopped
2 tablespoons white balsamic vinegar
2 teaspoons fresh mint, chopped
1 cup skim-milk ricotta
2 tablespoons honey
pinch of sea salt
Directions:
Preheat the broiler to high.
Slice the baguette into 1/2-inch thick slices and place on a baking sheet. Brush with olive oil and broil until lightly toasted, about one minute.
Toss together the strawberries, vinegar and mint in a medium bowl and set aside.
In another bowl, whisk together the ricotta, honey and salt.
Spread the ricotta mixture on each slice of bread, top with the strawberry mixture and serve.