Slow Cooker Meatballs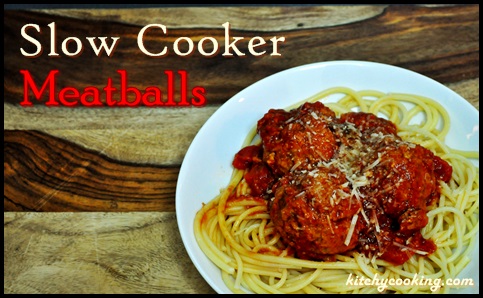 My husband hates meatballs, meat loaf… even super thick hamburgers. He always says they're too heavy for him, too thick, you get the picture. But the boys and I love meatloaf and meatballs, so I still try and make them occasionally, especially since spaghetti and meatballs are my sons' favorite.
Well, recently I found a recipe in Fine Cooking for meatballs made in the slow cooker. As I said the boys and I love meatballs, and anything in the slow cooker makes my life so much easier because I can mix everything up in there, turn it on and take off. I can run errands, go shopping, take my boys to the park, whatever… and not worry because I know when I return, dinner will be all ready to serve. It seemed as if these slow cooker meatballs were made specifically with me (and all mothers) in mind. So, of course I went right out, bought all the ingredients, mixed up the meatballs and the sauce, placed it in the slow cooker and waited to see what happened.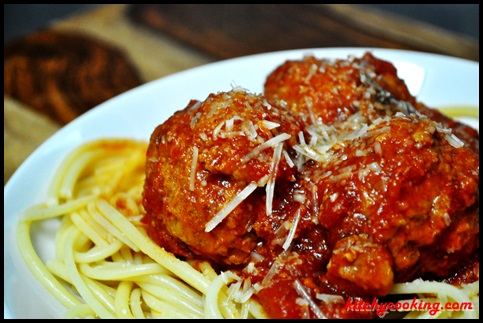 When it came time for dinner, I served up the spaghetti and meatballs. While my sons looked up at me with huge grins, Hubs just looked at me. He knew I knew how he felt about meatballs but he didn't want to roll his eyes or give me a look of distain because the boys were so happy and he didn't want to influence them. So, Hubs grabbed his fork like a good father, and took a bite. Then he took another, and another, until his plate was empty. Then he did something he never does. He went back for seconds! I couldn't believe it. I'd made a meatball he actually liked!
Why were these meatballs different from all other meatballs? They were tender. They were juicy. They were full of flavor. They weren't the hard lumps of meat he was used to. All that flavor and melt-in-your-mouth tenderness came from the fact that the balls weren't simply cooked for 4 hours. They were cooked in tomato sauce for 4 hours, thereby infusing those delectable little balls with an abundance of flavor. They were delicious; so delicious in fact that for the first time my entire family finished every last piece of spaghetti and meatball on their plate. And you know what that means. It means these easy-to-make meatballs will definitely be a staple in the Kitchy kitchen from now on.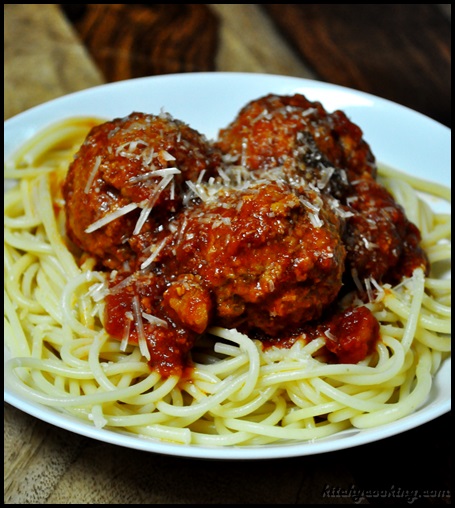 Slow Cooker Meatballs
Ingredients:
1-1/2 cups panko breadcrumbs
1/2 cup sweet vermouth
1 pound ground pork
1 pound sweet Italian sausage
1 egg
6 tablespoons shredded Parmesan cheese
1 tablespoon oregano
1/2 teaspoon salt
1/4 teaspoon grated nutmeg
2-1/2 cups of your favorite tomato sauce
Directions:
Mix the breadcrumbs and vermouth together in a large bowl and let sit at room temperature for 20 minutes.
Add the pork, sausage, egg, cheese, oregano, salt and nutmeg to the breadcrumb mixture and mix with your hands until well combined. Form into 16 balls.
Pour the tomato sauce into a 5 – 6 quart slow cooker. Nestle the meatballs into the sauce.
Cover and cook for 3 – 4 hours on high or 8 hours on low. (They can stay on the warm setting for up to 2 hours.)
Season with salt and pepper and serve.