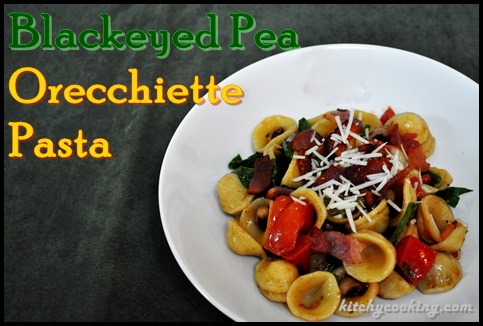 Anyone out there a fan of blackeyed peas? I am. Or rather, I am now. Up until a couple months ago I'd never even tasted the delectable little beans. But thankfully Melissa's Produce changed all that when they sent me some of their Steamed Blackeyed Peas for New Year's. I loved them so much I asked Melissa's to send me more. But this time instead of making a hearty stew, I thought I'd make a pasta dish I'd seen in Food and Wine Magazine.
What intrigued me about this dish wasn't just the blackeyed peas, but all the other ingredients incorporated in it. When looking at the recipe it seemed sort of hodge podgish, like it wouldn't necessarily go together. I mean, there's bacon, fresh baby spinach and tomatoes. The good news though, is that when finally put together the pasta not only tastes delicious, it looks more like a salad than your standard pasta entreé. But that's okay with me because I love a good, hearty pasta salad, and the fact that it's warm makes it even better.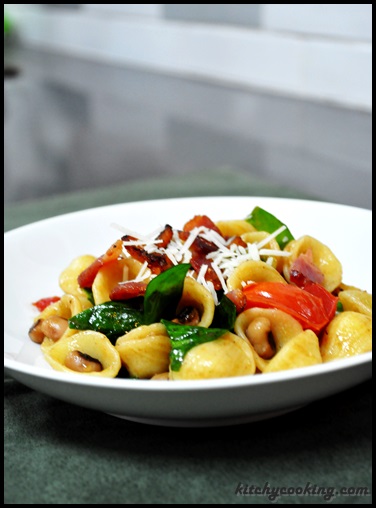 But what really sold me on this recipe, was how easy it was to throw together. Most of the recipes from Food and Wine are complicated and involved. Yes, they're delicious and well worth the effort, but during the week, I just don't have two or three hours to get dinner on the table. This recipe wasn't like that, especially since Melissa's Blackeyed Peas are steamed and all ready to go. All you really need to do to get this dinner on the table is boil the orecchiette and fry up the bacon. That's right, you don't need to soak these beans overnight like most other brands. With Melissa's you simply slice open the package, rinse the beans and you're good to go. Since I have two boys whose extracurricular activities take them until at least 6 most nights, any recipe I can get on the table within 30 minutes gets a big ol' smiley face next to it.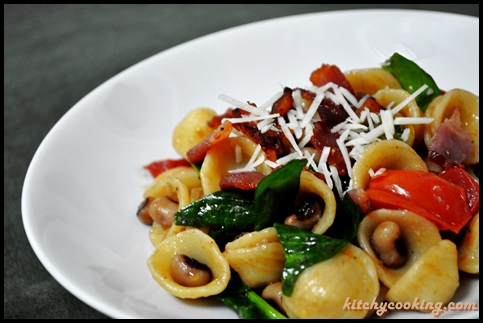 Blackeyed Pea Orecchiette Pasta
Ingredients:
1/2 pound bacon sliced thinly crosswise
1/4 cup olive oil
1 garlic clove, thinly sliced
2 large tomatoes, chopped
1 package of Melissa's Steamed Blackeyed Peas
2 tablespoons balsamic vinegar
1 pound orecchiette pasta
5 ounces baby spinach, chopped
Directions:
Cook the bacon in a large skillet over medium heat until browned and crisp. Using a slotted spoon transfer the bacon to a paper towel to drain.
Add the oil to the bacon grease and heat. Once shimmering, add the garlic and cook until fragrant, about 1 minute.
Pour the garlic oil into a bowl. Add the blackeyed peas, tomatoes and vinegar and toss to coat.
Boil the orecchiette in a large pot of salted water; drain.
Add the pasta and spinach to the blackeyed pea mixture and toss until the spinach is just wilted.  Season with salt and pepper and toss again.
Spoon into shallow bows, sprinkle the bacon and some Parmesan cheese on top and serve.
Disclosure: This is not a sponsored post. Melissa's provided me with the blackeyed peas for recipe testing. As always, any opinion expressed is my own and is not influenced in any way by the manufacturer/PR firm as I only review products that I have personally tested and endorse.